Let's cut through the rubbish of football quotes, which for the most part are becoming more fabricated and ridiculous with every passing week – and go back to a spring morning in a hotel room in Rome in 2010. For it is there that we get closest to the truth, where Yaya Touré and Manchester City are concerned.
City, needing world-class players to reach the big time in a hurry, wanted to buy one who had won the European Cup with Barcelona but were made to feel small time when their representative knocked on his agent Dimitry Seluk's hotel room door. "Manchester City?" Seluk scoffed. "Why should he leave Barcelona for you?"
City were acquainted with the Wild West top end of the transfer market by then and they knew the answer, "Because we will pay him £220,000 a week," would cut the mustard, while, "We want to go places in a hurry," would not. They will tell you that's how things were, in the first two years after the Abu Dhabi money rolled in. They have been rewarded for paying out those immense wages. Touré has been a big part of each big breakthrough. But the dynamic has always been the same. City have needed Touré more than he has needed them.
Which brings us to some of the rubbish that has been spoken about him – and by him – in the past few days. Manuel Pellegrini, his manager, declared on Friday that Touré's poor start to the season had stemmed from the death in the summer of his brother, Ibrahim, "not what was said in the media, but in what he feels about it," as Pellegrini put it. Referencing "the media" was unusual for a manager who positions himself above football tittle-tattle and it was a revealing piece of manoeuvring. Such is the desperation to keep a player earning nearly £1m a month onside that the blame for a very serious and damaging accusation made by Touré had to be turned back on to the usual foe, as Pellegrini said "ignore it".
Manchester City 1 Chelsea 1 player ratings
Manchester City 1 Chelsea 1 player ratings
1/24 Manchester City: Joe Hart 5

Didn't have much to do, and couldn't have prevented Andre Schurrle's goal.

2/24 Pablo Zabaleta 5

Got forward again and again to support the City attacks, but put his side in trouble when he was sent off in the 65th minute for a second booking.

3/24 Vincent Kompany 6

Dealt well with the threat of Diego Costa in what was a typically accomplished performance.

4/24 Eliaquim Mangala 5

A solid debut from the Frenchman, who looked strong when called upon.

5/24 Aleksandar Kolarov 5

Didn't offer a great deal going forward but solid defensively.

6/24 Yaya Toure 5

Still a long way from his best, and unable to dictate the pace of the match.

7/24 James Milner 7

Impressive stuff from the England midfielder, who played in three different positions throughout the match, and never stopped working. Provided excellent volleyed assist for Lampard's goal.

8/24 David Silva 5

A few nice touches, but drifted in and out of the game. Picked up first-half booking.

9/24 Fernandinho 5

Booked in the early stages, which forced the midfielder to curb his naturally combative instincts. Less effective as a result.

10/24 Sergio Aguero 6

Almost scored in the second half with effort from inside the box, but mostly starved of chances.

11/24 Edin Dzeko 5

Worked hard, but didn't pose much of a threat. Sacrificed for Bacary Sagna after the Zabaleta sending off.

12/24 Frank Lampard 9

Took his goal brilliantly with a trademark volleyed finish, and nearly scored with a couple of other decent efforts. A truly unforgettable 12-minute cameo against his former club.

13/24 Thibaut Courtois 6

Made decent save to deny Aguero in the second half, and looked calm and composed throughout.

14/24 Gary Cahill 6

Kept Dzeko quiet, and stood up well whenever Aguero tried to take him on.

15/24 Branislav Ivanovic 7

Galloped forward to support the attack that led to Schurrle's goal, and didn't put a foot wrong defensively.

16/24 Cesar Azpilicueta 6

Dealt well with Silva, and never looked like getting caught out down his side.

17/24 John Terry 6

Marshalled the defence effectively, and largely untroubled.

18/24 Cesc Fabregas 5

A quiet afternoon from the former Arsenal man, who did very little apart from a lovely through ball to Diego Costa late on.

19/24 Willian 5

Worked hard defensively but offered very little going forward. Taken off after an hour.

20/24 Eden Hazard 6

Created Schurrle's goal with a sumptuous cross, but was peripheral for the most part.

21/24 Ramires 5

Did brilliantly to clear in his own box when Dzeko was about to pounce. Booked in the first half and substituted with an hour gone.

22/24 Nemanja Matic 7

Outmuscled Yaya Toure, which takes some doing, and afforded good protection to his back four. Booked in the first half.

23/24 Diego Costa 6

Gave as good as he got physically against Kompany and Mangala, and unlucky not to score when left-footed effort cannoned off the post.

24/24 Andre Schurrle 6

Scored just eight minutes after coming on, but lost Milner for Lampard's goal.
The accusation, let's remind ourselves, was that at the end of last season Touré wanted to stay at his brother's hospital bedside "for four or five days" before flying to prepare for the World Cup with Ivory Coast – "except that City did not want to grant me a few days," as he told it to France Football. Touré flew to Abu Dhabi on City's post-season trip instead and the ugly, unpleasant inference was that his club were more concerned about impressing owner Sheikh Mansour than allowing a man a chance to be with his dying brother at the Christie Hospital, Manchester. Except that's not how it happened. Touré did not request compassionate leave. Had he asked for those few days off, they would have been granted without hesitation.
The true story fits with the picture of City's player support operation I have come to know in the past few years. City have never wanted me to write about the unit and I suppose I understand that. They feel that the confidentiality of the relationship between the department and players is sacrosanct. But the lengths the club have gone to in helping make the players' lives easier – legal advice, schools for the children, psychological support, with Paul McGee, writer of SUMO (Shut up, Move On) sometimes part of the picture – reflect a greater appreciation than most clubs have that football is only part of the story. I do not know a better club than City at trying to understand their players.
Touré's accusation was disgraceful and untrue, in my view, and Pellegrini's "not what was said in the media" was pathetic. At the highest level of City they have various rationalisations for what Touré said about them. That Seluk is an agent – and an influence – like no other. That the decision to make Luis Suarez, not Touré, Player of the Year hurt their man more than people know. That it's just Touré's way to say things and then convince himself that he never said it.
 But he did say it and, to get back to the subject of football quotes, Touré was still talking rubbish on the BBC's Football Focus at the weekend about the episode laughably known as "cakegate" – City's apparent refusal to present him with a birthday cake this summer. "My agent made a little joke about it and people took it seriously," Touré told the programme. "I was quite surprised about the way people and the media reacted to that."
So let's revisit those details, too. Seluk: "None of them shook his hand on his birthday. It's really sick." Touré on Twitter: "Everything Dimitri said is true. He speaks for me. I will explain after the World Cup." It wasn't a joke at the time, though one of his quotes raised a laugh in our house on Saturday. "I've been in Manchester for four years now and I have never demanded a birthday cake," Touré told Football Focus.
I always think that a player's willingness to embrace his new nation's language is a fairly good gauge of how committed he is to a place. Carlos Tevez was as clueless about English when he left after seven years as when he arrived. Suarez, too. Touré doesn't quite fall into that bracket but the impression is of a player whose mind will be elsewhere if the opportunity – Paris Saint-Germain, Barcelona – were to come. He will recover from his poor start to the season. He will perform well in big games. And then, when City have only reached the Champions League quarter-finals at best, they will face the same uncertainties about him next summer. It's a fragile basis for a team. Pellegrini can do better than blame the media for that.
Chronicle retains independent voice over Newcastle troubles
A journey into the heart of Newcastle's estrangement from the football club within its midst revealed to me the benefits of being banned. The Evening Chronicle's crime is to have reported a protest march against the owner Mike Ashley, but that has brought the local paper a freedom from the unwritten restrictions associated with keeping the club onside.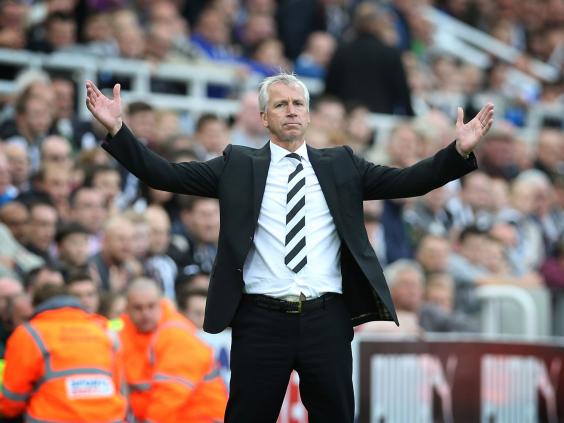 Getting the fans to rate the players after the desultory 4-0 defeat at Southampton was one of many pieces of invention. Genius. The new editor of football for Trinity Mirror's North-east titles, Mal Robinson, has said talks are under way to lift the ban, but added: "We are going to retain our independent voice whether we are back on board or not." That's good. The Chronicle has been a reminder of the vital worth of local titles.
Reuse content