Liverpool's PR department emailed a link to Steven Gerrard's valedictory interview late on Saturday, but it was nothing the club should have wanted to promote. The last link to a glorious past has gone: that is the most unsettling part. Though it is no slight on Raheem Sterling to say that he was too busy cycling his bike around north London to watch one of Gerrard's most legendary feats against Olympiakos a decade ago – he was only 10 at the time – the anecdote only goes to show that Anfield and Melwood will be desperately short of perspective from May.
Don't bet against the last springtime of Gerrard's Liverpool career being a quite extraordinary one. His football will be viewed through a different lens, now that he is going. The old aura will be refreshed and the noises from those who have said he is finished, these past few months, will fade away into the background. "Leave with them wanting more": that's what Jamie Carragher will have told his old friend, having announced his own departure, three months before he left, a couple of winters back. Gerrard will also want to leave his Liverpool as a Champions League club. What we are about to see could be special.
But that is immaterial against the wider perspective of what happens beyond May and how Liverpool fill the vast space Gerrard vacates. If nothing else, the barren-looking landscape must force the club to address the scandal of their transfer committee, whose decisions, taken with Brendan Rodgers and chief executive officer Ian Ayre, have allowed Liverpool to fall so far away from competing for the Premier League title, just one season after they came so close. It has been the collective judgement of Dave Fallows, head of recruitment, Michael Edwards, the director of technical performance, and Barry Hunter, chief scout, that replacing Pepe Reina, Daniel Agger and Luis Suarez with Simon Mignolet, Kolo Touré, Dejan Lovren and Mario Balotelli was wise.
Steven Gerrard in pictures
Steven Gerrard in pictures
1/11 England Under-21s

Steven Gerrard of England celebrates his 13th minute strike during the England v Luxembourg European 2000 Under-21 Qualifying match at the Madejski Stadium, Reading, England. The match finished in a 5-0 win for England

Getty Images

2/11 England 5 Germany 1

Gerrard celebrates his goal in the 5-1 win over Germany, one of his England highlights

Getty

3/11 Euro 2004 qualifiers

Gerrard celebrates after scoring the equaliser during the Euro 2004 European Championships Group 7 against Macedonia at St Mary's Stadium in Southampton, England

Getty Images

4/11 2006 World Cup qualifiers

Gerrard celebrates with Michael Owen during the FIFA World Cup 2006 group six qualification after scoring against Austria in Vienna

EPA

5/11 Beckham and Gerrard

David Beckham and Gerrard in England colours together. The pair were at the heart of England's 'golden generation'

Getty Images

6/11 Beckham and Gerrard

And now Gerrard could follow Beckham in a move to the MLS and LA Galaxy

GETTY

7/11 Champions League success 2005

Gerrard captained Liverpool to their famous penalty shootout European Cup victory in 2005

Getty

8/11 England Player of the Year

Gerrard was named England player of the year in 2013

AFP

9/11 2014 World Cup

Gerrard captained his country to the 2014 Fifa World Cup in Brazil last summer

AP

10/11 An early exit

But was unable to prevent defeats to Italy and Uruguay that paved the way to England's early exit from the tournament

Getty Images

11/11 International retirement

Gerrard would go on to announce his international retirement after the ill-fated trip to Brazil

Getty Images
There are extenuating circumstances, here and there. It was not Liverpool's fault that the representatives of Alexis Sanchez – their first choice to replace Suarez – are notorious flirts. Liverpool were strung along by them last summer, just as Manchester City had been three years earlier, before things cooled. Some of those involved in City's pursuit of Sanchez testify to how the mood changed and phone calls were suddenly not returned. There were unconvincing explanations – "Sorry, mobile on the blink". The truth was that Sanchez only ever wanted to sign for Barcelona back then, just like he only had eyes for London – and Arsenal – last year. Fortunately, the other plate City had spinning at the time was Sergio Aguero, a 23-year-old keen to leave Atletico Madrid, whose agent happened to be with City's people at the M56 Marriott hotel. Juventus wanted Aguero too, so City pounced, closing the Aguero deal immediately and telling their senior man in Spain to quit trying to call the Sanchez camp.
What City displayed back then was a real decisiveness about who they were after and the knowledge that money talked – because, at £38m, Aguero did not come cheap. It was not Liverpool's fault that the back-up option to Sanchez – Loïc Rémy – presented concerns about a heart condition when he underwent a Liverpool medical last summer. But the very fact that an £8.5m striker like Rémy should have been the alternative reveals the flawed conviction of the club and its owners, Fenway Sports Group, that they can locate the bargains who have evaded everyone else's attention and make them into winners. Rémy went to Chelsea, where he has sunk without trace.
Liverpool may seek to do more business this month. They could bring in as many as four players during the transfer window – including a striker, a midfielder and a goalkeeper to replace Mignolet, who has been so dreadful even the journeyman Brad Jones is deemed his superior. But the usual principles seem likely to apply.
The preference would be those players whose contracts are running out in six to 18 months, allowing them to be signed on the cheap. Sensible, prudent signings who will not deliver Liverpool to a level which reflects their status as the 12th-biggest revenue earners in world football.
It is why the club need a technical director to match Rodgers' football intelligence – not a transfer committee. An individual with the experience, dynamism, boldness and connections to persuade the world's best players that Liverpool should be their choice – because powers of persuasion play a big part in bringing players to Anfield, rather than London or Old Trafford – but also the authority to challenge the owners' reluctance about splashes in the transfer market.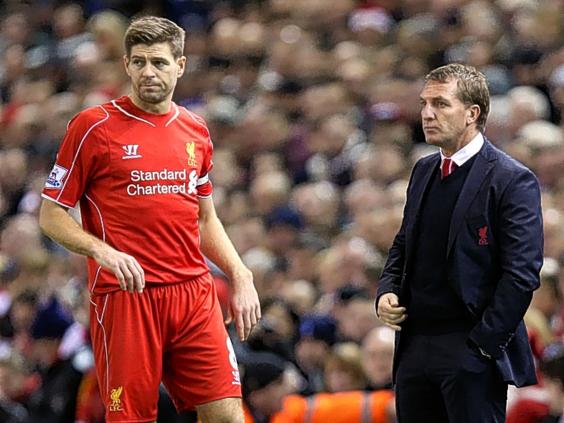 They needed that individual when Victor Valdes' uncertainties about the Melwood set-up allowed him to leave for Manchester United to continue his recovery from injury and be in place to play. They needed him to push for an activation of the £20m buyout clause in Wilfried Bony's Swansea City contract last summer, when the acquisition would have brought £100,000-a-week wages. They will need him to supervise Liverpool's most important signing of all next summer – a centre-back of the calibre of Borussia Dortmund's Mats Hummels.
Money always talks in the end. City were made to feel very small-time when their then technical director knocked on the hotel room door of Yaya Touré's agent, Dimitry Seluk, in Rome five years ago. "Manchester City?" Seluk scoffed. "Why should he leave Barcelona for you?" City, well acquainted with the Wild West top end of the transfer market by then, knew the answer. "Because we will pay him what you ask," their man replied. Liverpool, awaiting a Uefa statement on their Financial Fair Play status, have more limitations than City had then. But why shouldn't this great club be audacious too? It's the kind of mindset they now need more than ever.
After Trott's awful treatment, I hope 2015 is kind to him
There can be few sportsmen more worthy of the pieces falling their way in 2015 than Jonathan Trott. Amid all the sound and fury of the autobiography his team-mate Kevin Pietersen wrote last October, the one unalloyed truth seemed to be that Trott had been owed a greater duty of care than the one he received by England, as he suffered a mental breakdown in Australia.
He had never breathed a word about that and after a difficult summer has knuckled down to the challenge of rebuilding his career with the England Lions, in the month ahead. It is to be hoped that he will flourish, return to the international fray and perhaps then receive the apology which was always due from those in the game who sneered in the face of the struggle he was facing.
Reuse content