Johan Cruyff died on Thursday.
The Dutch master will go down as one of the most influential people ever in football - not only as a one of the best players ever, but as a manager and shaper of other people's principles. 
Cruyff, who was 68, invented the famous 'Cruyff turn' that first bamboozled players in the 1970s and led his Ajax teams to huge success at home and Europe and while he never managed to win the World Cup, his famed Netherlands team of the 1970s, exponents of 'Total Football' are remembered as one of the best and most entertaining teams ever.
Johan Cruyff - life in pictures
Johan Cruyff - life in pictures
1/12 Unrivalled success at Ajax

After joining the Ajax youth system on his 10th birthday, Johan Cruyff made his debut in 1964 before going on to win eight Eredivisie titles and the European Cup on three occasions with the Dutch giants

Getty Images

2/12 Setting the European agenda

Cruyff was an integral figure behind Ajax's dominance in continental football as the Dutch outfit lifted three consecutive European Cups between 1971-73.

Getty Images

3/12 Reaching the World Cup final

The forward's colourful exploits allowed the Netherlands to reach the World Cup final in 1974 but he couldn't help see off an imperious Germany side at Munich's Olympic Stadium. He scored 33 goals for Oranje in 48 appearances between 1966-1977.

Getty Images

4/12 Dutch royal approval

Cruyff and his fellow team-mates nonetheless earned legendary status among the wider Dutch public and they were given a heroes' welcome by Queen Juliana of the Netherlands when they returned home in 1974.

Getty Images

5/12 The 'Cruyff turn'

Now a global superstar, the enigmatic forward wrote himself into football folklore after perfecting the 'Cruyff turn' which is still being copied by modern day footballers today.

Getty Images

6/12 Success across the globe

Before being voted as European Player of the Century, Cruyff also represented Barcelona, Los Angeles Aztecs, Washington Diplomats, Levante and Feyenoord. At the Nou Camp, he added La Liga and Copa del Rey triumphs to his glittering CV.

Getty Images

7/12 Trying his hand at management

Just a year after retiring from playing, Cruyff returned to Ajax as manager where his unyielding success continued with two KNVB Cups and the Uefa Cup Winners' Cup before leaving to take charge at Spanish juggernauts Barcelona.

Getty Images

8/12 Revolution at Barcelona

Cruyff led a period of revolution at the Catalan giants, lifting four La Liga titles and one European Cup as rivals Real Madrid were muzzled both domestically and on the European stage by his Barca side.

Getty Images

9/12 Becoming a TV personality

Fresh from his spell at the Nou Camp, Cruyff then became a prominent television personality, providing his unrivalled experience to Dutch audiences.

Getty Images

10/12 Stripped of honorary presidency

Cruyff was a controversial figure at Barcelona, however, and was named honorary president before being stripped of the title just months later after new president Sandro Rosell took office in July 2010.

Getty Images

11/12 Ajax return

Ajax called upon Cruyff's services again in 2011, appointing him as an advisor, but the Amsterdam legend left just a year later after quelling with senior figures at the club.

Getty Images

12/12 Legacy in football

Cruyff remained a prominent figure in the world of football and was given the support of Barcelona's current generation when news of his deteriorating health was made public in 2015.

Getty Images
Later as a manager, he led Barcelona to title success and the European Cup, while his attacking principles and influence on Ajax and Barcelona can still be seen at those two clubs and others across Europe.
Here are some of the best quotes from the great man: 
"In a way I'm probably immortal."
"Playing football is very simple, but playing simple football is the hardest thing there is."
"The most difficult thing about an easy match is to make a weak opponent play bad football."
"Technique is not being able to juggle a ball 1000 times. Anyone can do that by practising. Then you can work in the circus. Technique is passing the ball with one touch, with the right speed, at the right foot of your team mate."
"Football is a game of mistakes. Whoever makes the fewest mistakes wins."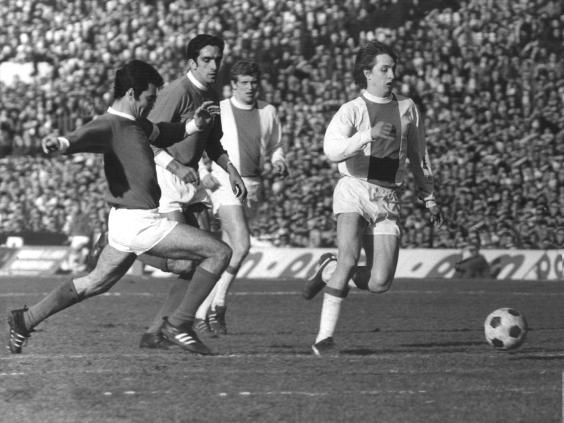 "It's better to go down with your own vision than with someone else's."
"If I wanted you to understand it, I would have explained it better."
"Quality without results is pointless. Results without quality is boring."
"Why couldn't you beat a richer club? I've never seen a bag of money score a goal."
And some about him:
Pep Guardiola: "Johan Cruyff painted the chapel. And Barcelona coaches since merely restore or improve it."
Franz Beckenbauer: "He was certainly the best footballer Europe has produced."
Eric Cantona: "If he wanted he could be the best player in any position on the pitch."
Frank Rijkaard: "He is like the Godfather of Dutch football."
Miguel Angel Nadal: "Cruyff reinvented the concept of football in this country."
Reuse content