John Terry couldn't hold back the tears (not for the first time) after Chelsea's elimination from the Champions League.
The Chelsea captain stood in the centre of the Stamford Bridge pitch after his side's 3-1 semi-final defeat to Atletico Madrid and put his emotions on full display.
Despite the show of emotion, it would seem that the former England international has received little sympathy from certain sections of the internet.
Numerous images quickly appeared on the web mocking the centre-back.
One of those doing the rounds is a crying doll, mocked up to include the face of Terry...
Another picture to emerge is the latest in a long line of images featuring the Chelsea captain celebrating in unlikely places - this time with the Atletico Madrid players in the away dressing room...
It is not the first time Terry has been unable to stop the waterworks. After he missed what would have been the winning penalty in the 2008 Champions League final against Manchester United, he also cried.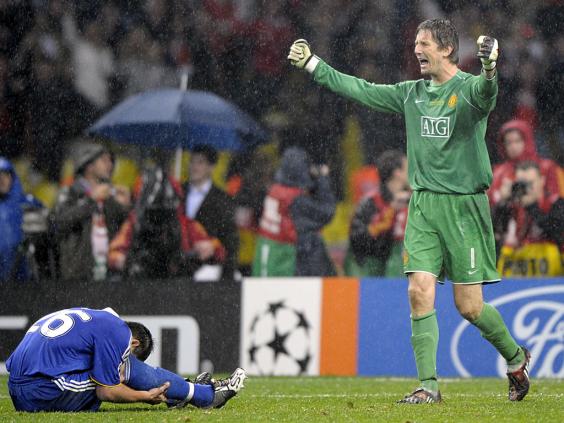 Terry is yet to sign a new contract at Chelsea, and although he is expected to agree a deal to keep him at the club for another year, the 33-year-old may have missed his last chance for another Champions League final appearance.
When sportsmen and sportswomen cry
When sportsmen and sportswomen cry
1/6 Andy Murray - 2010, 2012

Andy Murray 2012 – Federer made Murray's face wet again in the Wimbledon's Men's Final. 2010 – Tears fell after the Scottish giant's defeat in the Australian Open final against Roger Federer.

Getty Images

2/6 Bubba Watson - 2014

Bubba blubbered after his 2nd Masters Triumph at Augusta.

Getty Images

3/6 Carsten Jancker - 1999

The goal keeping Giant 'let it out' after Man United snatched the win against Bayern Munich in the Champions League final.

Getty Images

4/6 David Beckham - 2006, 2013

After England crashed out of the 2006 World Cup. Beckham sported his latest 'wet look' following his last game at Paris Saint–German and his retirement in 2011

Getty Images

5/6 Tiger Woods - 2006

The Claret Jug held Tiger tears in 2006.

Getty

6/6 Tonya Harding -1994

After the lace on Harding's right boot snapped at the start of her free-skating programme at the Winter Olympics; a cry persuaded the judges in Lillehammer permit Harding to fix her boot and skate again.

Getty Images
Terry is not the first sportsman to break down in tears though, as you can see the other athletes who couldn't hold on to their emotions in either victory defeat above.