Liverpool have lately been obsessed by the setting son; Steven Gerrard's long goodbye, his bid to retire with the FA Cup, is being woven deep into the fabric of their season.
And yet Gerrard's final Merseyside derby, a largely drab, goalless affair at Goodison Park, was remarkable for the sunrise of Jordon Ibe. The thunderous shot that clattered against the frame of the goal at the Gwladys End was one indication of the teenager's ability. His performance three days later in the frantic 3-2 win over Tottenham, which showed just why the Premier League might just be worth £5bn, was another.
The game, featuring fine performances from Emre Can and Lazar Markovic, was an eloquent answer to the question that had stalked Brendan Rodgers a couple of months ago, as Liverpool's season slid towards mediocrity. Why had the Luis Suarez money been splurged on unreliable young talent?
Ibe was then at Derby. There had been a queue of clubs asking for him on loan, but Steve McClaren's side had won the scramble. It was a shrewd choice for both parties. Derby got their hands on a young footballer of exceptional ability, Ibe got to play in front of large, passionate crowds in one of the Championship's best teams.
Rodgers argues that, although Ibe is at his best as a right-winger or wing-back, he can play in any of the front four positions. At Pride Park, he was employed on both wings, delivering two high-velocity displays in the League Cup, against Reading and Chelsea. In the former, a 2-0 win, he exhausted a seasoned full-back in the shape of Chris Gunter. In the quarter-final, he did the same to one of Europe's best, Branislav Ivanovic.
Liverpool 3 Tottenham 2 - player ratings
Liverpool 3 Tottenham 2 - player ratings
1/22 LIVERPOOL: Simon Mignolet

Will be disappointed that he got beaten by Kane's sub-par finish but made up for it with a spectacular save from Eric Lamella as Spurs searched for a reply. Not to blame for Tottenham's second. 6

2/22 Emre Can

A mixed bag defensively, but helped his team press forwards in the second half. Created a number of attacks by breaking forwards. 7

Getty Images

3/22 Martin Skrtel

A strong performance in the centre, Skrtel remains the lynchpin of the Liverpool defence. 6

Getty

4/22 Mamadou Sakho

Was having a decent game until he ended up on his backside as Harry Kane slotted home Tottenham's first. Followed that up with a rugby tackle on Dembele that earned him a yellow card. 5

Getty

5/22 Alberto Moreno

His passes weren't particularly sharp on the day and the majority of Liverpool's chances were created by his fellow midfielders. 5

Getty

6/22 Steven Gerrard

Hung back for the most part leaving the attacking duties to Philippe Coutinho, but took his penalty well. 7

7/22 Jordan Henderson

Was an effective bridge between the defense and attack as Liverpool broke forwards. 6

Getty

8/22 Lazar Markovic

Nice attacking performance, he created a good number of chances for his teammates and his low, driven shot had enough on it to beat Hugo Lloris. 8

Getty Images

9/22 Jordon Ibe

Rewarded Brenden Rogers faith in him with another fine performance in his second successive start. Showed pace, strength and dribbling skill which stretched the Tottenham defence. 8

Getty Images

10/22 Philippe Coutinho

Displayed his usual craft as he produced a number of good opportunities for his attackers. Divided the midfield work well with Steven Gerrard. 7

Getty Images

11/22

Looked lively from the off and was denied by the sprawling Hugo Lloris on a number of occasions. Almost scored a delightful back-heel but his effort cannoned off the post. Earned Liverpool the penalty. 7

Getty Images

12/22 From the bench: Mario Balotelli

Came on and snatched the game for Liverpool. It was a simple, simple finish, but he timed his run well and was in the right place at the right time. 7

Getty Images

13/22 Kyle Walker

Liverpool's efforts were focussed down the opposite flank so Walker was quiet on a day where he didn't offer much to the attack. 6

Getty Images

14/22 Eric Dier

Part of the calamity that saw Sturridge go close a handful of times. Looked nervy at the back and was very lucky not to give away a second penalty after dangerous sliding challenge on Sturridge. 6

GETTY IMAGES

15/22 Jan Vertonghen

5 Gave the ball away to Markovic for the first goal with a lapse of concentration in an up and down performance. Didn't look assured whenever Liverpool got the ball near the goalmouth. 5

Getty Images

16/22 Danny Rose

What a bad day for left-back. Jordon Ibe had free reign down the right flank and Danny Rose could do nothing to stop the 19 year old's frequent jaunts through the defence. Tripped Sturridge and gave away a penalty in a poor performance. 4

Getty Images

17/22 Nabil Bentaleb

Had his moments providing some link-up play but his defensive work was a liability. 5

Getty Images

18/22 Ryan Mason

Had a torrid time of it. He left his defence exposed on a number of occasions and hit a several poor passes. 4

GETTY IMAGES

19/22 Mousa Dembele

Harry Kane casts a big shadow, and Dembele displays much less energy than his strike partner, but the Belgian forward showed good instincts to nick an equaliser for Spurs. 6

GETTY IMAGES

20/22 Christian Eriksen

Keeps producing for Tottenham's attack and his build up play was excellent as usual. Hit another well-struck free kick that led to Spur's second goal. 7

GETTY IMAGES

21/22 Harry Kane

It's easy to run out of superlatives for the young striker. It's becoming a surprise not to see his name on the score sheet, and he took his finish with aplomb, albeit with a pinch of fortune. He then provided the assists for Spur's second goal and looks every bit of England's best striker. 8

Getty Images

22/22 From the bench: Paulinho

Couldn't inspire a fight-back from his tired teammates and picked up a yellow card for his troubles. 5

Getty Images
The Jordon Ibe that McClaren sent back to Merseyside understands the value of the team rather more than the one who arrived. "When he first came, we gave Jordon one ball and the team the other," said the Derby manager. "Now, he has learnt how to be a team player and that he needs an end product to his game."
But what Ibe has about him is electricity. "We wanted to get in a player who would get the crowd on the edge of their seats when they pick the ball up," said McClaren. "He is like the old jinky wingers we used to get in the game."
He is close to Daniel Sturridge, who tweeted: "Go follow Jordon Ibe. He is the future of LFC and England" when Ibe scored a hat-trick against Montenegro in a European Under-19 Championship qualifier.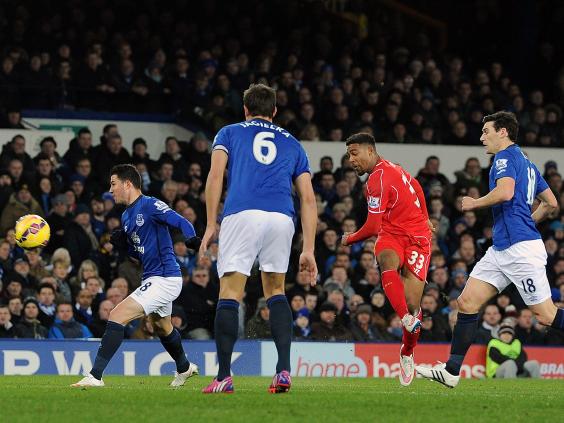 However, the comparisons are likely to be with Raheem Sterling. Both grew up in London, Ibe in Bermondsey, brought up by Nigerian parents, Sterling in Wembley. Both have pace, technique and an ability to play in a variety of forward positions. One difference is that Ibe possesses a truly vicious shot.
The rise of Ibe can only strengthen Rodgers' hand when it comes to dealing with Sterling and his agent, Aidy Ward, who it seems will not be content until his client is either playing with Cristiano Ronaldo or being paid like him.
Ibe, you trust, will take Rodgers' advice on what happens to young footballers who get "too much too soon". Nigeria could offer him full international football but since the Nigerian FA possesses a level of competence that makes our own FA seem like German rocket scientists, Sturridge's prediction that Ibe is the future of English football is likely to be tested.
What is remarkable is that Rodgers chose to throw him into two of the biggest games of Liverpool's season – the Merseyside derby and a punch-for-punch encounter with their rivals for a Champions League place.
The only concession Rodgers made was not telling Ibe until the Friday he would be starting the derby. "It doesn't matter what the game is," he said. "If you believe in them enough, and they know the team is with them, it can really push them on."
The fact that he made his debut for Wycombe Wanderers as a 15-year-old suggests why Ibe might handle the big time better than some teenagers. His first booking was for running over to hug his mum after scoring against Sheffield Wednesday. He has been around a bit.
When he scored, the word "Dreams" was written across his chest. It was admittedly only because the bed showroom company was Wycombe's shirt sponsor but there was something prescient about it.
Reuse content