Penalty or not, the Cesc Fabregas affair has returned to us the essential Jose Mourinho, suffused in paranoia, bound by bias, remorselessly engaged.
It was ever thus, of course, and utterly shatters the pretence of the majority of this season when victory after routine victory produced  pre- and post-match press conferences characterised by benign indifference.
The incident at Southampton that provoked all the fury would have been less of an issue had his players converted dominance into points. For what it's worth, it looked to me like a blameless issue.
The referee has to make a split-second decision. With the benefit of 360-degree video replays it appears that Matt Targett made no attempt to tackle but rather steadied himself as Fabregas changed direction. Neither player took his eye off the ball.
Targett's right leg was passive as Fabregas advanced. He went to ground as a result of tripping himself over the prone limb of the defender, not as a consequence of any lunge. Thus the episode was entirely accidental and outside the sphere of culpability.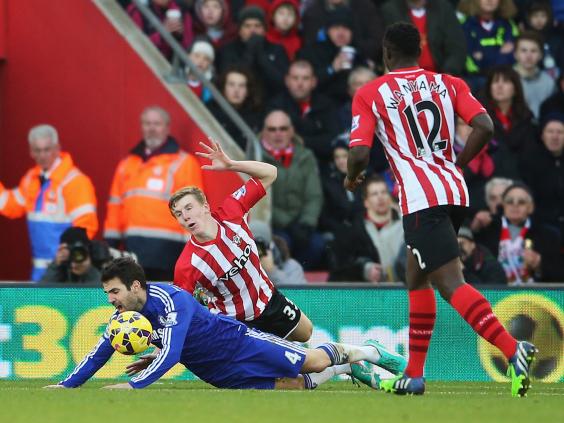 The referee saw it differently, but his response was instinctive, not by design. It turned out to be wrong. Fabregas did not deserve to be booked, but to claim that Anthony Taylor was acting in accordance with a strategic campaign against Chelsea is plainly absurd, revealing more about the inner workings of Mourinho's mind, about how he sees the world rather than the nature of the world itself. 
If Mourinho wants to talk about strategy and coordinated action playing out, then the accusation more readily applies to him. No manager in the game today has built more of a reputation on the quality and thoroughness of his approach or the adept manner in which he reads the bigger picture.
If there is, therefore, a plan coming together, might it not be in his attempt to set the agenda, to mark out the territory before fixtures at a crucial period in the year – to make it that bit harder for the refereeing community to decide against his team next time?
This part of the job comes under the chapter heading "dark arts" in the coaching manual. It has particular application to the übergaffer, the big personality at a huge club, who uses his power and prestige to control the game environment. Sir Alex Ferguson was a master of the practice at Manchester United, a man for whom Mourinho has boundless admiration.
Mourinho betrayed the insouciance of the recent past with a roll-call of incidents in which his players have been wronged: "For example, the game against Hull, do you think the most important thing in the game was Cahill [for his dive] or Filipe Luis almost with a broken leg?
Southampton 1 Chelsea 1 player ratings
Southampton 1 Chelsea 1 player ratings
1/22 Fraser Forster

Was always present when needed and could not be held responsible for Eden Hazard's goal. 6

GETTY IMAGES

2/22 Maya Yoshida

His nervy performance led to a careless tackle from behind on Hazard which resulted in a yellow card and was substituted to make sure nothing worse happened. 5

GETTY IMAGES

3/22 Jose Fonte

An impressive performance by the Portuguese who withstood Chelsea's constant bombardment and was vital in getting the point for his team. 7

GETTY IMAGES

4/22 Toby Alderweireld

The Belgian played as a centre back and a right back today and albeit a quiet performance he managed to make sure the Chelsea strikers didn't get the winner. 6

GETTY IMAGES

5/22 Matt Targett

The left-back can thank his lucky stars that the referee didn't give a penalty for his collision with Cesc Fabregas. 5

GETTY IMAGES

6/22 Victor Wanyama

A strong performance by the Kenyan who was brilliant defensively and tried his best to help the strikers get the winner. 7

GETTY IMAGES

7/22 Morgan Schneiderlin

He had a very clumsy performance today and was rightfully sent off with a second yellow that he didn't even complain about. 4

GETTY IMAGES

8/22 Sadio Mane

A good goal by the Senegalese but was unable to keep the ball and produce anything decent for his team afterwards. 6

GETTY IMAGES

9/22 Dusan Tadic

He produced a brilliant assist with a long ball during first half but looked more defensive during the second. 6

GETTY IMAGES

10/22 Steven Davis

Just like Targett, he almost made his team lose when he carelessly gave the ball away in defence, but thankfully Diego Costa slipped. 5

GETTY IMAGES

11/22 Graziano Pelle

Another quiet performance by the Italy international who is expected to produce much more in the future. 5

GETTY IMAGES

12/22 Thibaut Courtois

Could do little about Mane's goal and was a spectator during most of the rest of the match. 7

GETTY IMAGES

13/22 Branislav Ivanovic

A consistent force on the right in both his defensive and offensive duties. 7

GETTY IMAGES

14/22 Gary Cahill

The duo of Cahill-Terry did not really have to worry much during the match except the Southampton goal. 6

GETTY IMAGES

15/22 John Terry

He had an easy day in defence and tried to help as much as possible up front. 6

GETTY IMAGES

16/22 Filipe Luis

Had a few problems on the left during second half and needs to do more to convince Jose Mourinho. 5

GETTY IMAGES

17/22 Nemanja Matic

Was one of Chelsea's strongest players today and was vital in their pursuit of scoring a winner. 7

GETTY IMAGES

18/22 John Obi Mikel

Not a convincing performance by the Nigerian which led to his substitution. 5

GETTY IMAGES

19/22 Andre Schurrle

He only lasted for one half until he was substituted for Willian and can therefore not be judged. 5

GETTY IMAGES

20/22 Cesc Fabregas

A very strong performance by the Spaniard who produced a brilliant assist, showed good positioning and had excellent chemistry with Hazard. Was arguably denied a penalty during second half. 8

GETTY IMAGES

21/22 Eden Hazard

He scored a beautiful goal during first half and was a constant danger from both flanks. 8

GETTY IMAGES

22/22 Diego Costa

A goalless day for the striker who didn't manage to really threaten the Southampton net. He also slipped when Davis gave away the ball in a perfect spot for him to capitalise. 6

GETTY IMAGES
"After West Ham, Enner Valencia made a very bad dive at the end of the game and Sam Allardyce is talking about [Branislav] Ivanovic. Why? Luis and Eden Hazard could be in hospital with broken legs and you are speaking about Cahill."
Who among the coaching priesthood has not made the same complaint? It is the default position of a manager when the distribution of points does not go his way. It was all in there, the bad breaks classified in date order, ready to roll out at the appropriate moment.
Had Mourinho known Manchester City would surrender a two-goal lead at home to Burnley later in the day, it might not have been necessary to reveal so much of his bottom lip.
"Today, penalty, points. No penalty, no points," was his summary analysis of the St Mary's experience. Another, more accurate summation might be: "Today, goals, points. No goals, no points."
Assuming City do not continue to indulge the Christmas spirit and hand Mourinho the gift of surrender at home to relegation favourites, there will be more days like this.
Three points apart at the season's half way stage is neither here nor there, and next up for Jose it's Tottenham at the Lane. Oh, the drama of it all.
--
CAMPAIGN? CHELSEA TOP THE DIVING LEAGUE
Premier League yellow cards for diving since Jose Mourinho took over at Chelsea at the start of the 2013-14 season:
6 Chelsea
5 Man United
4 Everton
3 Man City, Sunderland
2 Crystal Palace, Hull, Spurs
1 Arsenal, Aston Villa, Burnley, Cardiff, Fulham,  Liverpool, Stoke, West Brom
Reuse content