Former France manager Raymond Domenech has aimed a dig at Jose Mourinho, calling the Chelsea manager a translator with a big ego.
Domenech, who has been without a job since his embarrassing group stage exit in the 2010 World Cup, also takes aim at former France internationals Nicolas Anelka and Franck Ribery in his new book.
In Mon dico passione du foot or 'My Passionate Dictionary of Football, Domenech openly mocks the Portuguese boss, who followed an undistinguished playing career as the translator at Barcelona under then-manager Sir Bobby Robson.
"That's the problem with translators, there comes a time when they convince themselves they wrote the text themselves," writes Domenech, who managed the French Under-21 side from 1993-2004 before taking the top job.
Anelka is described as a "Doctor Jekyll and Mister Hyde" character, while Ribery is one of a number of French greats to come in for huge criticism.
Domenech accuses Ribery of having "forced the national team to put up with his bad character, even his acts of stupidity, in South Africa and afterwards, but since then, Sir is in a mood because he wanted to win the Ballon d'Or".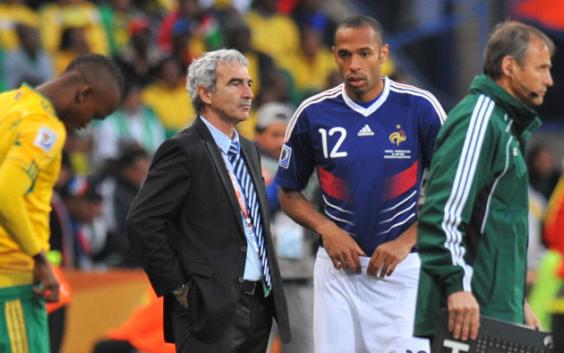 Zinedine Zidane's headbutt on Marco Materazzi was selfish and costly, in comparison to Thierry Henry  who "sacrificed his image for the benefit of the France team", while Zidane "sacrificed the team's chances for the benefit of his pride".
Reuse content