It was always going to happen sooner or later.
Here is Jamaica player Deshorn Brown taking a selfie with the best player in the world Lionel Messi following Argentina's 1-0 win over the Reggae Boyz at the Copa America last night.
Accompanied by the image, the caption on Brown's Instagram page said:"Not the result we were looking for, but I get to meet the best player in the world and it was a great feeling to play against him! Best of luck to @leomessi and Argentina in the rest of the tournament."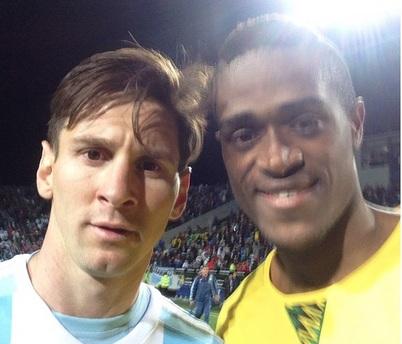 In the match last night, striker Gonzalo Higuain scored an 11th-minute winner for the title favorites, who had already secured a spot in the quarter-finals of the South American tournament, to secure the victory.
Argentina reached seven points in Group B with the victory, two points more than Paraguay, which earlier in the day drew Uruguay 1-1 in La Serena. Uruguay ended with four points but advanced as one of the best-two third-place finishers.
Already-eliminated Jamaica finished the tournament with no points and no goals scored.
Argentina is trying to end a 22-year title drought. It hasn't won a significant trophy since the 1993 Copa America in Ecuador, when Messi was only six years old.
Reuse content