Liverpool's team motto of 'You Never Walk Alone' can prove inspirational at the worst of times when sung by 45,522 fans at Anfield, but Brendan Rodgers given the phrase a whole new meaning after writing a letter of condolence to the family of a fan who passed away this week.
Rodgers was last night overseeing hit side's 2-1 FA Cup comeback victory over a resilient Bolton Wanderers to move into the fifth round of the competition. But a picture emerged before the game showing the personal letter from the Reds' manager to Joe Nelson, the grandson of Liverpool season-ticket holder Roy, who died recently.
In the heart-warming gesture, Rodgers labels Liverpool a "family club" and added that Roy – who held a season ticket for over 60 years – is "part of our LFC family and always will be".
Brendan Rodgers sends personal condolence letter to Liverpool fan #Respect #YNWA #LFC pic.twitter.com/zEKr1EYzP5

; Julien (@King_Julien1984) February 3, 2015
Rodgers wrote: "Dear Joe,
"I am sorry to be writing to you under these extremely sad circumstances.
"On behalf of everyone at Liverpool Football Club, the directors, players and staff, I would like to offer our sincere condolences to you and your family following the loss of your granddad Roy. As one of our supporters and a season ticket holder for many years, Roy is part of our LFC family and always will be.
"Nothing we say will recompense your loss but I extend my deepest sympathies and I want you to know that all our thoughts are with you and your family at this sad time."
Rodgers then signed off the note "with sincere feelings" and ended it with "You'll Never Walk Alone".
Speaking to the Liverpool Echoe, Joe thanked the Northern Irishman for his touching gesture and admitted it made the sad time "more bearable".
"I couldn't believe it at first," said Joe. "I took it straight to my dad to show him.
"We were both absolutely made up that such an important person for the club had thought about the family at this sad time.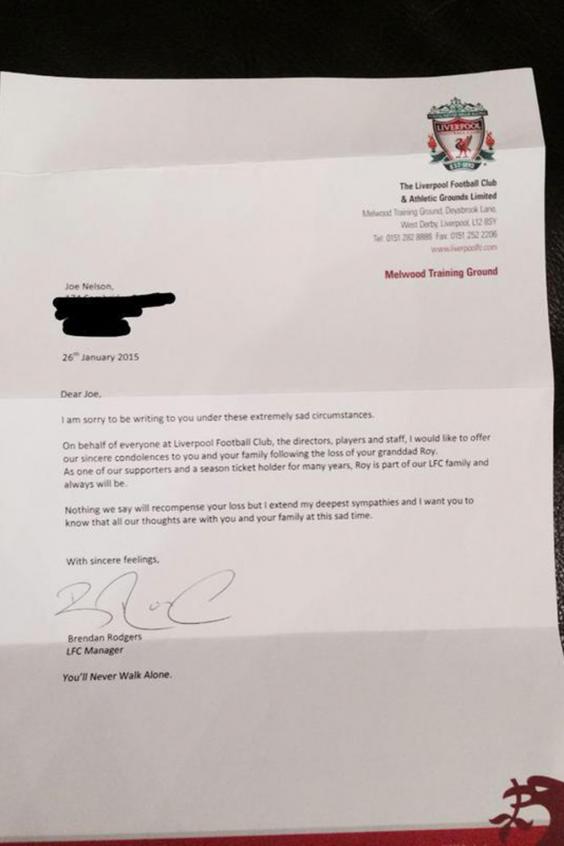 "It shows what a family club Liverpool are.
"It was a great gesture on behalf of the manager and club that they took the time to write a letter at this busy period for the club.
"I'd like to thank them on behalf of the family as it means a lot to us.
"I would love to get the chance to personally thank Brendan Rodgers for making a hard time a little more bearable."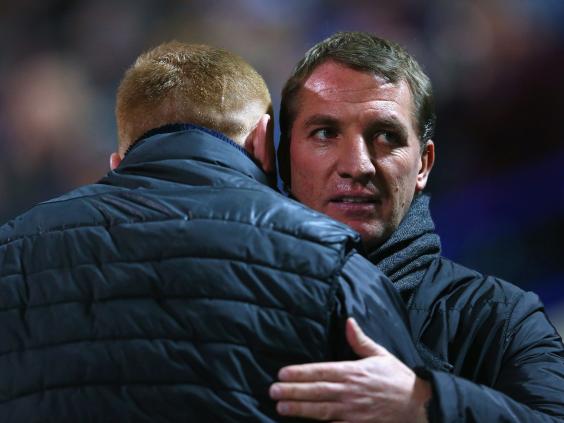 He added: "We'd had a shirt signed by the players and backroom staff for me when my granddad was in hospital but the letter was completely out of the blue.
"My granddad was still going to games last season and the last game he went was when we beat Spurs 4-0 at home. He'd had a season ticket for well over 60 years."
The gesture echoes former Liverpool manager Bill Shankly, who made a habit of sending letters to supporters, while Sir Alex Ferguson and Arsene Wenger have also sent similar letters in the past few years.
Reuse content