Liverpool today revealed that work is to begin on an expansion of Anfield which they believe will increase annual matchday revenues by £20m per season and help them begin competing financially with the world's top clubs.
Hopes of expanding the 130-year-old stadium have seen off two owners since they were first tabled in 1999 but work on the £114m project will finally begin in January, be completed in the summer of 2016 and funded through interest-free loans from the club's owners Fenway Sports Group (FSG) which will be paid off over five and a half years.
The Main Stand expansion will add 8,500 to the capacity – taking the overall Anfield capacity to around 54,000. But the club is still wrestling with the way of exploiting the outline planning permission it has secured to expand the Anfield Road end by a further 6,000. Only when that second phase is complete will Liverpool be able to compete with Arsenal on matchday income.
The Anfield Road development is more difficult because it will not include the corporate hospitality element which will deliver two thirds of the income needed to pay back the loans being extended from the cash reserves of FSG, the American sports investment company. Though Liverpool are examining whether the uplift in Main Stand capacity could allow them to introduce a junior supporters section, half of the extension will be taken up by corporate seats.
Ticket prices for the extended stand – and the proportion of hospitality seats - are a sensitive issue for Liverpool. Fans led by the Spirit of Shankly and Kop 1906 groups have pledged to remove all banners, flags and team colours from the Kop unless principal owner John W Henry agrees to meets them to discuss ways of reducing the cost of attending games at Anfield. Henry is understood to be ready to meet the groups, who have written an open letter to him.
Liverpool chief executive Ian Ayre insisted that hospitality seats were a commercial necessity. "I don't think there's a football club in the country who could afford to spend money on a new stand without the assistance of corporate hospitality," he said. "It will probably pay two thirds or more of the payback of this facility and that is a fact of life. You can't find economic solutions that work in big new stadiums that don't have corporate."
The club are also already actively seeking a return on their investment, by pursuing naming rights deals for the stand itself and subsidiary deals for parts of the stand. The principal naming rights deal would secure the club £10m, for a ten-year deal, though the club remains steadfastly set against any the idea of seeking naming rights for Anfield itself.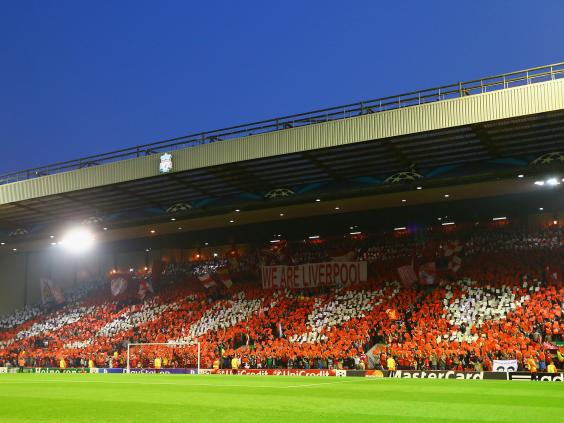 The construction project's managers Carillion will be at Anfield on Monday, with work beginning within a month on a stadium which will cost £75m in pure terms, with the additional £39m taken up by the acquisition of land and other costs
Liverpool remain a huge distance behind United and Arsenal in terms of matchday revenues. Latest figures from the 2012/13 season revealed that United's matchday earnings were £109m, Arsenal's £93m, Chelsea's £71m and Liverpool's way behind at £45m, just ahead of Manchester City. Ayre acknowledged that the constraints of space mean that Liverpool would never eclipse United's 75,000 capacity – but he insisted that bigger did not necessarily mean better.
"At the end of every season the one target we want is to make as much revenue to reinvest in the team," Ayre said. "If you have got a huge cost burden from something you've built, that's eating into that [it's not ideal.] It's nice to have the biggest house but you've got to pay for it.
"If we are staying at Anfield, we can't build 70,000 seats on a site that can't take 70,000 seats. It's also about finding a model that works economically for the club. It's one thing to build 70,000 seats but you've got to fill that every week, every game, to get a return on your investment. That works in the Premier League in very big games - but it doesn't work every single game. You play a midweek game in a cup competition – that's a big stadium to fill."
By winching in a new third tier on top of the existing stand, Liverpool will be able to undertake the extension without needing to close the existing stand to fans. The new stand will comprise three tiers, with the existing lower tier re-built to create a wider player tunnel, new team benches, a media platform and wheelchair viewing positions.
Reuse content