Emile Heskey tells me he is on Twitter "but not on it like some," so appears to be none the wiser about having briefly gone viral after scoring for Bolton Wanderers – two achievements which were equally improbable a few months ago, when his future options included a beach in Antigua or continuing to play veterans football for Liverpool.
The brief social media explosion was not kind on him, by any means. Heskey's perceived lack of goals after the 20 he scored for Liverpool in 2001 – the high-tide mark of his career – made him a source of ridicule when  England managers kept picking him, so the strike 14 minutes into his debut against Blackburn Rovers on Boxing Day was ripe for Twitter memes and wisecracks. "Emile Heskey has now scored more league goals than Mario Balotelli," was one of the kindest of them. "Kim Kardashian tried… Emile Ivanhoe Heskey did it. #BreakTheInternet," someone observed as the storm finally began to subside.
There is no delicate way of saying "People have been laughing at you for years, Emile", so I couch the question in terms that Heskey must be surprised to be a "cult figure". But there was no need to fear his response. The 37-year-old replies with a sense of  perspective. He is sanguine, philosophical and evidently a little more talkative these days – despite that reputation for introspection which once led former Liverpool manager Gérard Houllier to say that he would be an even better player if he only started believing in himself more.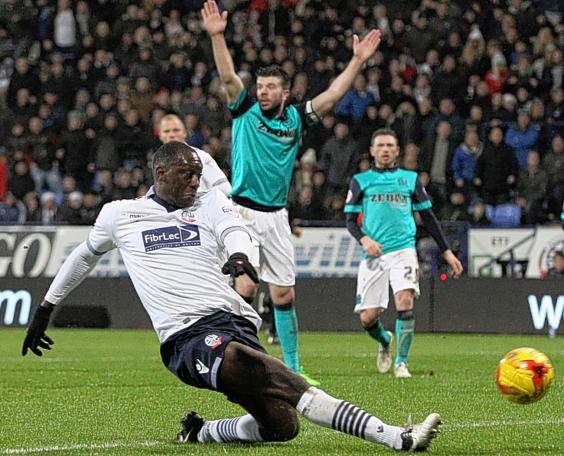 "You are aware of everything [people say about you] over the years," reflects a player whose strong performances have given birth to the chant "He used to be shite but now he's all right" from the Bolton fans. "If I could have got more goals. I would have loved to. But it never hindered me from achieving and from going to World Cups, Euros, winning the trophies I did.
"You just take it with a pinch of salt and you can either shrink or carry on doing what you're doing and see the plan ahead. People just look at certain aspects and focus on that. Within your jobs, you probably have people you delegate to, give them jobs and are happy with them. Someone might say, 'He's doing nothing', and you say, 'Leave him alone, I'm happy with what he is doing'. It's the same with me. Every manager has picked me.
"Between 2004 and 2008 I didn't get picked for England. Then I came back at 30 and played until 32. People said why am I being picked again? But the managers were  picking me and they were happy with me…"
The remarkable story of how he came back to elite football – and will start for Bolton manager Neil Lennon in the FA Cup fourth round today at Anfield, 14 years after being in the Houllier team which won the treble of FA Cup, League Cup and Uefa Cup – bears out the fact that coaches see in him what sneering fans do not. Heskey was a 17-year-old breaking through at Leicester when Lennon – who is only six years his senior – became a team-mate and the Northern Irishman tried several times to sign him for Celtic. "But the big bugger wouldn't come," Lennon reflects.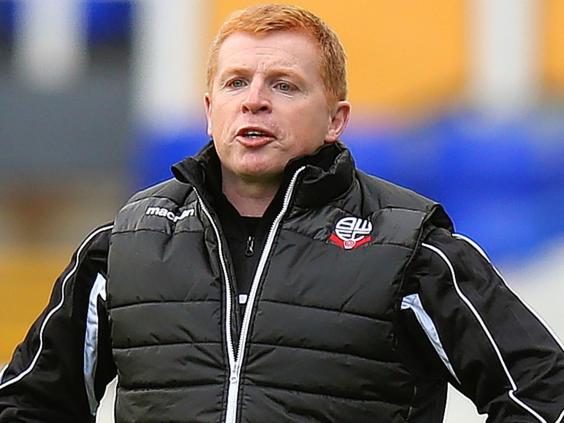 They bumped into each at a function in Leicester in the autumn, where Heskey was doing some media work, part of his search for a role in the game since packing in with Australia's Newcastle Jets six months ago. Heskey had trained with Blackburn Rovers to keep in shape but thought Lennon was joking when he asked if he was in the market to play. A "bounce match" trial game followed in the bumpy, unprepossessing surrounds of the Lancashire Football Association HQ at Leyland, where he found himself up against Martin Keown's son, Niall, playing for Bolton's development squad against Reading's equivalent.
"I'd been training for probably one week so I wasn't fit," Heskey says. "You have to ease your way into the game and try to do what you know you're capable of doing." But it was clear from the off – as 19-year-old Keown was seen bouncing off Heskey within 30 seconds – that he had not lost much. The old stager was soon holding up play and laying off chance after chance for young striker Tom Walker. "We knew after 15 to 20 minutes, the way he was moving, the way he was playing, he was fine and could do a job for us," Lennon says. "I've known Emile a long, long time. I know what he can do. It did not take much consideration. It was just negotiations – how much money he wanted – and he didn't want much.
"His link-up play, hold-up play, his aerial ability is still there. He doesn't have the pace he once had but he still has the power. For me, I think he got overcriticised throughout his career. If you asked any of the players who played with him, they will say he was one of the best partners they played with. So the criticism is way, way over the top.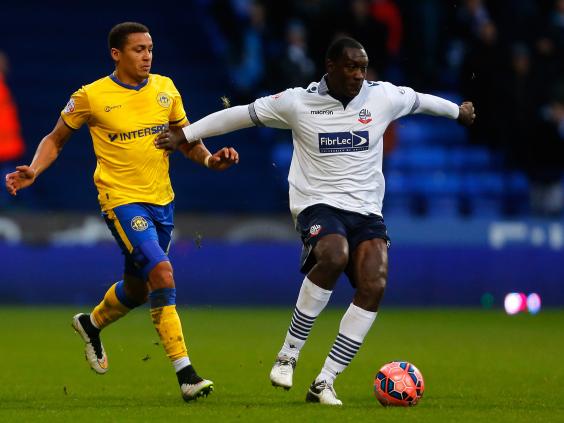 "Sixty-two caps for England, I think he got seven goals and people will say that's poor, but it's not when you weigh up his contribution in games. All these managers would not have picked him if they did not feel he would make a huge contribution to the team."
The Anfield tie has taken the romance of the story into a new dimension. Heskey's road has been a winding one since he left Liverpool for Birmingham City in 2004 but his four years there were defining. It is where he met his wife, Chantelle. Houllier and Martin O'Neill were  the best managers he worked for, he says.
The Anfield link was recast when he started work on Liverpool's in-house TV channel. It was at the behest of Robbie Fowler – not a man to take no for an answer – that he toured Singapore and Thailand for the Liverpool veterans. "When you get to a certain age, you get certain calls. I said, 'Yeah, I'm not doing anything, I'll come out,'" he says. "It was a bit difficult. [I had to] do a little bit of extra running because I [was] probably the leanest of the lot of them."
More globe-trotting followed – to Mumbai in his role as a Leicester City ambassador. But by last Saturday he was playing 90 minutes in the Hillsborough mud against Sheffield Wednesday – his third consecutive start – and is offering pointers for Zach Clough, Bolton's 19-year-old great talent who was born on the day Heskey made his Premier League debut for Leicester.
Lennon says Heskey is back with a point to prove. "Not really," he says. "The only point is, can you get over 35 and still play? [Ageism] has been there, for years. It is up to players to show they are capable of playing past 30."
He is too old – he says he has seen too much to need to pinch himself to believe he is back in the Anfield tunnel this afternoon. But there will certainly be an effect. "It will be wonderful," Heskey says. "If I had hair on the back of my neck it would stand up."
--
Born 11 January, 1978, Leicester
Club career
1994-2000 Leicester
2000-04 Liverpool
2004-06 Birmingham
2006-09 Wigan
2009-12 Aston Villa
2012-14 Newcastle Jets
2014- Bolton
Trophies
First Division play-offs 1996
League Cup 1997, 2000, 01, 03
FA Cup 2001
Uefa Cup 2001
Charity Shield 2001
Uefa Super Cup 2001
International career
62 England caps, seven goals
England debut
v Hungary (a), April 1999
First goal
v Malta (a), June 2000
Last cap
v Germany (n), June 2010
Reuse content