It's been nothing less than a transformation we've seen from Liverpool since they went to Old Trafford on 14 December and lost 3-0. They've relocated precisely what they had last season and had lost this season: pace at the top of the team, which allowed them to grab games immediately by the scruff of the neck, take a lead and keep it.
Look at the numbers and you'll see what I mean. In the 16 games up to and including that Old Trafford game, they'd scored the first goal seven times (44 per cent). In the 13 games since, they've scored the first goal nine times (69 per cent) – I'm excluding the 0-0 draw at Goodison.
That's because Brendan Rodgers has restored that pace and Philippe Coutinho – the magnificent Philippe Coutinho, I should say, my player of this calendar year to date – has been capitalising on it.
Three or four seconds can count for more than you think in the cut and thrust of a game, and what we are seeing is Coutinho having seven or eight seconds on the ball, because of the cause-and-effect principle we've talked about in this column before.
Cause: Liverpool introduce pace at the top through Raheem Sterling and Daniel Sturridge. Effect: defenders have fear, drop six yards deeper and Coutinho, operating in the pocket in front of them, has those seven or eight seconds to do his stuff. We wondered if Coutinho could score goals as well as create them. We know now. He's netted five in 41 games, three in the last 10.
It's not been too widely noticed, either, that Liverpool have suddenly started conceding far fewer goals, especially away from home, where they have not shipped one in their last six Premier League games. That's because by stretching teams they are finding themselves under less pressure.
But despite all that, there is something quite specific for Manchester United to exploit – even though Liverpool will go into this game as many people's favourites, top of the form league.
Liverpool vs Manchester United combined XI
Liverpool vs Manchester United combined XI
1/10 David De Gea

Simon Mignolet is hugely improved in recent weeks but David De Gea is arguably the best goalkeeper in the Premier League and easily Manchester United's most important player.

2/10 Emre Can

The versatile German is a true box-to-box threat, even when deployed as one of three centre-backs in Rodgers' back three. United have huge problems at the back, with Antonio Valencia beating Rafael to the right-back spot. Can, only 21, is a crucial piece in allowing Liverpool to play their 3-4-2-1.

3/10 Chris Smalling

As previously stated, United have defensive problems but the England defender has been a rare bright spot for Van Gaal, playing some of the best football of his United career. Phil Jones still seems erratic, while Marcos Rojo is not fully fit and Jonny Evans still suspended. Mamadou Sakho is a good defender but prone to mistakes.

Getty Images

4/10 Martin Skrtel

Skrtel has his critics but he has overcome poor form early in the season to become a real leader for Liverpool. He isn't always the best when in possession but he is an old-fashioned stopper, and a fierce competitor.

5/10 Jordan Henderson

With Steven Gerrard heading closer and closer to the exit, Henderson has really filled his role as captain and leader with a string of inspirational performances. The England man, whether playing wider right or in the middle, is a brilliant threat from all over the pitch, great in possession, ferocious in the tackle and has an eye for goal.

EPA

6/10 Michael Carrick

Divides opinion everywhere but surely proved against Tottenham just how important he is (and has been in the past) to United's success. Carrick was absolutely superb in possession, dictating the game and giving the inexperienced Ryan Mason and Nabil Bentaleb the run-around. Created the first and scored the second, United played their best football of the season because of a masterclass by their veteran midfielder.

GETTY IMAGES

7/10 Ander Herrera

Adds the legs and bite, as well as a touch of class, to the United midfield, even if he has been under-utilised by Van Gaal. Daley Blind is clearly a favourite of the Dutchman but Herrera's engine and tenacity give United a pace in their play that is sorely missing when he doesn't play.

GETTY IMAGES

8/10 Philippe Coutinho

Since being given the freedom of the park in Rodgers' new formation the Brazilian has excelled, scoring wonderful goals and seeing his relationship with Daniel Sturridge and Raheem Sterling flourish. A real match-winner, United will have to keep a keen eye on Coutinho. Ashley Young has been fantastic for United this season and deserves a mention but he is not quite playing at Coutinho's level.

9/10 Wayne Rooney

What a surprise, Wayne Rooney has been sensational playing as a striker. He may well be extremely capable of playing in midfield but United lose much more than they gain by deploying their captain deeper; he was brilliant against Spurs and Liverpool will view him as the main threat.

GETTY IMAGES

10/10 Daniel Sturridge

Hasn't exactly set the world alight since returning from injury, with only three goals from 12 matches, but he loves big matches and has starred in previous games against Liverpool's biggest rivals. Marouane Fellaini was excellent against Spurs but he has been very up and down this season.

Getty Images
That something is space to operate in, in the wide areas. Liverpool are playing with a three-man defence and it will be wing-backs, rather than dedicated full-backs, that United's wide men will be up against. The Liverpool players up against them are going to have a job on their hands, which they may not fancy that much. We saw in the first half against Swansea on Monday night that there can be vulnerability there.
There are two ways of making life difficult for, say, Adam Lallana, Lazar Markovic or Alberto Moreno, if they are occupying those wing-back roles. One is for United to deploy the pace of Ashley Young and Angel Di Maria and their full-backs to create difficult two-v-one situations for them. The other is for United to have those wide players – perhaps Juan Mata starting instead of Di Maria, considering how well he played last week – cutting in.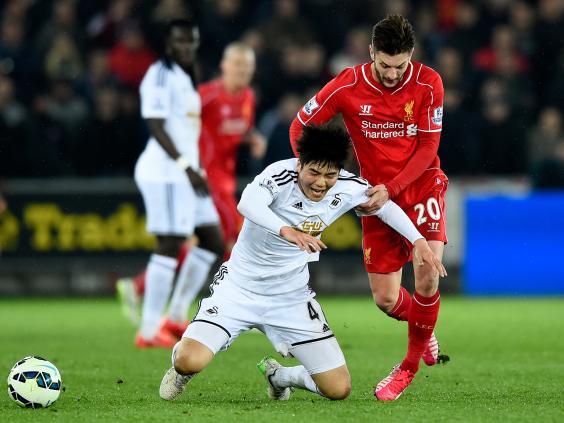 Then Lallana and Moreno have a difficult choice. Do they follow Young or Mata inside, where Mata interacting with Wayne Rooney will be dangerous, or do they stay wide? If they answer their instincts and follow them in, they will leave space for full-backs Daley Blind or Luke Shaw and Antonio Valencia to run into.
There's been a lot of talk about whether Mata or Di Maria should start. Though it would be good to think that Louis van Gaal will stick with the same United team after their game of the season against Tottenham, the choice could be immaterial. The important thing is for United is simply to find the available pace to exploit that width.
If they can get players down the flanks and behind the wing-backs, it will create a real problem for the centre-backs Martin Skrtel, Emre Can and Mamadou Sakho. I've said it before: central defenders do not like to venture beyond the width of the 18-yard box.
So that is how United will want to try to exploit Liverpool. In the first half, they will want to drop deep, keep their midfield and defence close together, deny Coutinho and others space, frustrate Liverpool, ensure they don't get that early goal. And in turn get the ball down the sides of the opposition centre-backs, putting Marouane Fellaini into the box to exploit the crosses.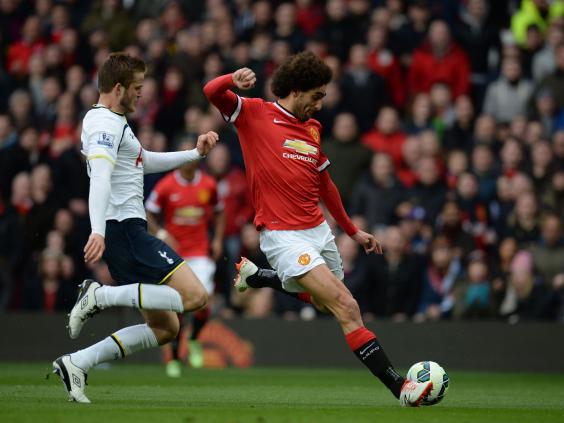 Meanwhile, Liverpool will want to get the all-important first goal they like, so United will have to abandon those deep-lying positions and come out at them. It's not always appreciated how vital the first goal is in games.
Is time off in winter the answer? Give me a break!
The issue of winter breaks has come up again this week. Manuel Pellegrini said post-match in the Nou Camp that it was the English teams' tiredness that had caused them all to crash out of the Champions League – the implication being that a winter break like Spain and Germany have would make a difference.
People seem to think a winter break means going off for a few weeks, putting your feet up and coming back the night before the first game back. Not true! When I played for a year in Belgium, at Royal Antwerp, we had a winter break and it entailed going through some gruelling "pre-season" training all over again before restarting the season.
I'm reading the Pep Guardiola biography Pep Confidential at the moment and it's clear that when Pep tried giving his players the break without the "pre-season" work to get them back into shape, it didn't work. Look at Bayern's first game back this season after their winter break: a 4-1 drubbing at Wolfsburg. They were not fit and ready. Winter breaks are tougher than just playing through.
I'll write more in a few weeks about the managers who have qualified for the Champions League quarter-finals but I'll leave you with one fact which tells the story on Pellegrini's excuses about tiredness. Before Manchester United secured the Treble in 1999 they had played 62 games. And in that 63rd they scored two goals in the last five minutes. All that when the game was much more physical and squads much smaller.
Reuse content