Manchester City's Champions League exit means their earnings from the competition are likely to be "only" £28.4m this season. Not bad for failure.
The likelihood is most of this income will be invested in transfer fees and salaries in the hope that different, better players will next season produce a different, better outcome.
But would it not be possible for City to set £150,000 aside to lift the wages of the army of match-day contractors, the men and women who make the stadium experience a largely pleasant one, to a level where they can afford to feed, heat and clothe themselves decently?
That is the estimated figure needed each season to ensure that everyone working for City, including those working indirectly, is paid the UK Living Wage of £7.85 a hour.
This is £1.35 an hour above the National Minimum Wage. Not much of a rise, £54 a week, though the raise these part-time workers would actually receive is more like a tenner. Just enough, perhaps, for a birthday cake for Yaya Touré. For the people receiving it, though, it would be significant – both in real terms and in the sense of dignity that it would provide.
City argue they have limited control over contracted workers, are better employers than many other Premier League teams and do a lot of good work which receives far less attention.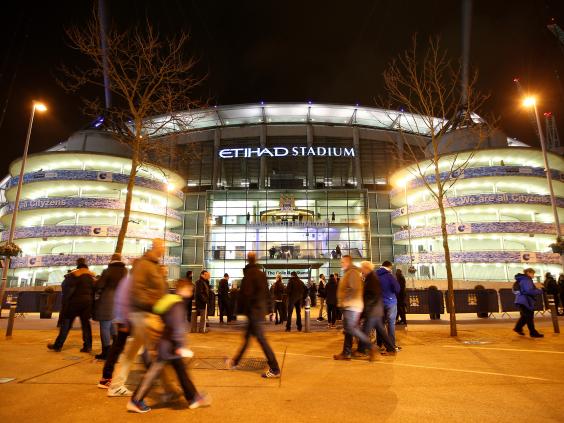 There is much truth in this. City have an excellent community scheme and the impressive Eastlands regeneration project has provided hundreds of jobs, many for people who had previously struggled to find employment. All directly employed staff receive the Living Wage, as do many contracted ones.
So why pick on City? Partly because enough of their fans are motivated enough to make a fuss about the issue. Partly because they are the Premier League champions. And, yes, partly because they pay their players more than any sports club on the globe. Even if they have to pay a "City bonus" to staff while existing contracts run down, City can afford it.
Indeed, every Premier League club can and it is slightly mystifying why there is so much resistance at clubs, not least Arsenal, who have also faced a concerted campaign and, as a club, used to be a byword for doing the right thing.
Football clubs could point to The Independent's front page on Monday, which highlighted how the main high street retailers – large employers of low-wage staff – have not committed to the Living Wage.
However, football clubs receive hugely disproportionate attention for the size of their businesses, which is why it would be such a powerful statement if they paid the Living Wage.
It would also burnish the image of a sport that has become a byword for excess and greed, to the extent that the good work which clubs such as City do and the contribution they make to the national and local economy tend to be lost amid the negativity.
There is a momentum behind the Living Wage issue. It will come. So why does football not lead the way for once?
Reuse content