A film extolling the virtues of Louis van Gaal was playing in Old Trafford's Europa Suite in the minutes before he stepped out of a side door for his first piece of public theatre as Manchester United manager.
Teddy Sheringham, Frank de Boer and Clarence Seedorf all contributed. "He is smart, very smart. He sees possibilities to make players better," it was said of him as soft music played behind an image of the Dutchman standing among his new players, a far-away look in his eyes. If David Moyes, at The Open on Thursday, had caught a glimpse of a television screen, he might have concluded that it was never like that for him.
Van Gaal hardly needed the promotional push. The development of his English might remain in its early stages, causing his momentary struggle with the word "empathetic," but the air of independence he displayed could scarcely have contrasted more with Moyes' beginnings in the very same room, 377 days ago.
Moyes's first mention of Sir Alex Ferguson came 16 words into his press conference. It was 18 minutes before Van Gaal referenced "Sir Alec," in the course of his explanation of how his own "strong personality" did not make him "autocratic."
Video: Travelling in a Tour de France team car
It was past and present managers' respective discussions of Wayne Rooney which best illustrate how United have moved on. Moyes used his press conference to make a thinly veiled pitch to the England striker, agitating to leave for Chelsea at the time, but Rooney would have taken a distinct lack of assurance away from Van Gaal's answer to the question of how important the 28-year-old's experience was to him and the team.
Premier League 2014/15 kits: In pictures
Premier League 2014/15 kits: In pictures
1/20 Aston Villa

Santi Cazorla, Mikel Arteta and Mathieu Flamini of Arsenal launch the new Puma Arsenal kits at the Puma Store on Carnaby Street. The yellow shirt will be for away matches and the blue shirt for away cup matches

Getty Images

2/20 Aston Villa (Home)

A number of clubs have opted for the thin stripe design on this season's shirt, and Aston Villa appear to have followed suit.

avfc.co.uk

3/20 Burnley (Home)

Burnley's claret and blue shirt, sponsored by Puma, is a decent viewing on their return to the Premier League.

Burnleyfootballclub.com

4/20 Chelsea (Home)

After Chelsea's famous paint campaign last season, Oscar models the simple, horizontal stripe design for the royal blue home kit. A solid effort from Adidas, but a pricey one at £55 for a short-sleeved shirt.

Chelseafc.com

5/20 Chelsea (Away)

Reminiscent of their famous 1998 shirt - and the infamous 2008 one which they played in under Luiz Felipe Scolari - Chelsea have chosen the Brazilian style design for their away shirt.

Chelseafc.com

6/20 Crystal Palace (Home & Away)

Is it Barcelona or more Steaua Bucharest? Either way, Crystal Palace's new home shirt is a simple and smart piece of innovation from manufacturers Macron. Their away kit, however, looks suspiciously like Napoli's - whose kit is also made by Macron - away shirt from 2013/14.

cpfc.co.uk

7/20 Everton (Home)

Everton players James McCarthy, Tim Howard and Leighton Baines model the 2014/15 shirt, which marks the comeback of Umbro into the Premier League.

Evertonfc.com

8/20 Leicester City (Home)

Leicester City's return to the Premier League has been marked with this rather smart effort by Puma. Carrying a similar template to Italy's shirts can never go wrong.

Leicester City Football Club

9/20 Liverpool (Home)

Warrior's latest crack at the Liverpool home shirt is an impressive one indeed, marking a return to the red and white colourway as opposed to red and gold in 2013/14.

Liverpoolfc.com

10/20 Liverpool (Away)

Their attempt at designing a decent away shirt, however, continues to falter with this ultra-bright yellow and red mix.

Liverpoolfc.com

11/20 Liverpool (Third Kit)

Liverpool's questionable choice for a sache and hoop combo has come under-fire from fans.

Twitter (@LFC)

12/20 Manchester City (home)

The Premier League champions have unveiled their updated Nike shirt, with a black v-neck collar replacing the previous blue and white trim on the crew neck.

Manchester City FC

13/20 Manchester United (Home)

Featuring new sponsors Chevrolet, the large logo has attracted a mixed response from Red Devils fans.

TWITTER/MANUTD

14/20 Manchester United (Away)

Wayne Rooney in the new Manchester United away kit

MANCHESTER UNITED

15/20 Newcastle United (Away)

A silky silver shirt replaces the plain black version from 2013/14, and seems to suit the rather bright Wonga sponsor a lot better.

nufc.co.uk

16/20 QPR (Home, Away & Third Kit)

Perhaps one of the best looking shirts so far, QPR's horizontal hoop home shirt is a joy to behold. The decision to have an all-white away shirt is quite baffling, however, given that white is also included in the home, and the third kit is somewhat Sunday League-ish.

Twitter (@QPRFC)

17/20 Southampton (Home)

Southampton's home kit for 2014/15

saintsfc.co.uk

18/20 Stoke City (Home & Away)

Stoke kits for 2014/15

Twitter (@Stokecity)

19/20 Swansea City (Home & Away)

Swansea City 2014/15 kits

Twitter (@SwansOfficial)

20/20 West Ham (Home & Away)

West Ham kits for 2014/15

Twitter (@whufc_official)
"You have to know, I am not always convinced of the experience of players," he said. "It's very important we have experienced players but not always in age and not only football experience but also as a human being. Because my philosophy is not just the football player but [the individual] in total. [In that respect], there are not so many experienced players."
He cited Michael Carrick and Seedorf, a 16-year-old when Van Gaal gave him his Ajax debut but "sometimes more experienced than a player who was 30 years." He concluded: "It always depends on the personality."
This talk of the "human being" is part of the totale mens principe, the "total person priniciple", which has always been the fundamental tenet of Van Gaal's philosophy. His assessment of the individual behind the player – his commitment to the sport, the hours he keeps, his partner and family – inform whether Van Gaal has a role for him and what that role is.
It is not a judgemental philosophy: the young Patrick Kluivert's part in causing another man's death in a car crash in 1995 was no impediment to Van Gaal believing in him. But the 62-year-old will spend the next three or four weeks observing, listening, becoming more familiar with his players' families than any manager they have known – and on that basis, rather than Rooney's individual abilities, decide whether he needs him, or not.
There was no sense that Rooney will be the next United captain he had once expected to be, with Robin van Persie the more probable candidate now. "I have to get to know them [over] four, five, six weeks," Van Gaal said. "For me the captain's role it is very important and therefore I need time," he added, his words not scratching the surface of his preparatory methods for a job he would have rather started in January.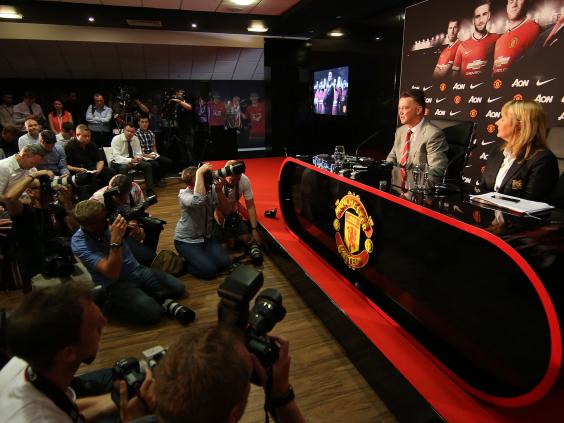 After only his second day at the Carrington training complex, on Thursday Van Gaal declared that its pitches were too exposed to the wind. "The facility needs a little more intimacy," he said. "I have asked already because now it's an open field but there is always wind. And wind is not a friend of the players or the ball."
Ferguson, who considered the creation of the Carrington base a fine legacy, was not the elephant in the room he had been a year ago. He was afforded a courtesy by Van Gaal, with brief reference to their encounters at Uefa's elite coach forums, and there was the customary joke about drinking coffee and wine with him. "Maybe the better wine I can imagine….!"
But it was Sir Bobby Charlton who arrived in the conference room with him and who, having posed briefly for pictures and metaphorically passed over the keys, was gone. Ferguson had telephoned to offer congratulations, Van Gaal said. There are loose plans about dining together some time.
Behind some of the headline messages which take United a long way from Moyes pragmatism – "for me the challenge is always first and not fourth," he said – was a palpable sense of how vast the size of resurrecting the club is.
At Ajax, Barcelona and Bayern Munich, Van Gaal looked to introduce the same football philosophy at all levels of the club. It will be at least two years before he can look to do so here, he said. "The owners and the [chief executive] Ed Woodward have asked me to give advice [on that], but the main project is the first team.
"The first team is more short term than the youth education which is long term. The first two years we have to separate them. Because now I need all my knowledge to transfer my philosophy into this selection. You have to give me time to do that. Not only you, but the chief executive and the owners."
The severe injury sustained by Carrick on Tuesday – a chipped bone in his left ankle which will keep him out for 10 to 12 weeks – had clearly grieved the Dutchman. "He is out for a long time. Too long for me," he said. But he won't be losing sleep over it.
When Moyes sat in this room last July he related how "Sir Alex just told me I was the next United manager.. and the blood drained from my face," but it is a rather different story now. "There is a lot of expectation here, but also a great challenge because of that," Van Gaal said. "And therefore I have chosen  this club."