Louis van Gaal has claimed ahead of Manchester United's visit to Arsenal today that the sale of Danny Welbeck was justified because it enabled the club to bring in Radamel  Falcao.
The Colombian, who has scored once and started only three Premier League games since his arrival on loan at the start of September, is two weeks away from recovery after suffering a calf injury. In the same time Welbeck has started all bar the Capital One Cup defeat at Southampton for Arsenal and scored five goals.
"When you keep Welbeck then you don't give any chance to youngsters and that is also our philosophy," Van Gaal said. "And then also we could buy Falcao. [If] that is not enough reason, then I don't know what is – then I'm not a very good manager. I don't have to prove that [decision was right.] Why do I have to prove that?"
The doubts about the transactions are compounded by the struggle Falcao, who joined from Monaco with view to a permanent move in the summer, has had to make any impression when he has been fit. His injury problem has been exacerbated by Van Gaal making another tactical switch to 4-2-3-1, to protect a porous defence, leaving only one striker's spot, which Robin van Persie has claimed – despite scoring only three goals himself this season.
"I have explained to my players, it's not only a question of fitness but also you have to train with the group," Van Gaal said of Falcao. "Then you have to be better than the players who are on the list. I've said that before. Until now he didn't train with the group so it's out of the question for him to be on the bench."
He retains faith that the wisdom of moving for Falcao will be justified. "I hope so. I hope so. That is clear I think. But do you think that we expected he would be so many weeks injured? Yes [we knew he had a cruciate problem last season] but because of that maybe we didn't buy him."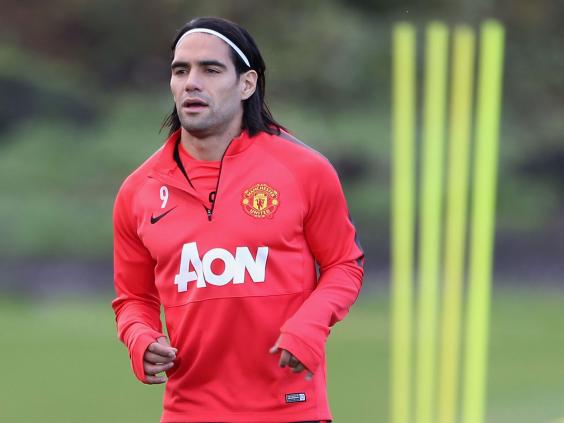 Van Gaal admitted that the wisdom of selling Welbeck would only be clear at the end of the season. "It was a very good decision [for him] because as a [starting] line-up player he develops himself much more," the manager said.
Arsenal v Manchester United: A rivalry like no other...
Arsenal v Manchester United: A rivalry like no other...
1/16 The biggest brawl

It was the year 1990 when 21 players merrily got stuck in at Old Trafford in one of the most memorable brawls in league history. It all kicked off after Arsenal's Nigel Winterburn hurled himself at Brian McClair. The United star responded by repeatedly kicking Winterburn as he lay on the floor. United were docked a point, Arsenal were docked two, the Gunners went on to win the title but a rivalry was born.

GETTY IMAGES

2/16 Ferguson on Wenger

"It's certainly not wrong that you should be seen to have a proportion of home-based players. I totally agree with that. But it would be a problem for a club like Arsenal." - Ferguson has a sly dig at Arsenal's foreign policy when questioned about FIFA's 'six-plus-five' proposal. (Ferguson pictured in 1996)

GETTY IMAGES

3/16 Wenger on Ferguson

"I'm ready to take the blame for all the problems of English football if that is what he wants." - Wenger responds after Ferguson questions Arsenal's lack of homegrown players. (Wenger pictured shortly after joining Arsenal in 1996)

GETTY IMAGES

4/16 The charm offensive

When Arsenal couldn't contain their glee at a United penalty miss, what ensued would become known as the 'Battle of Old Trafford'. Ruud van Nistelrooy had complained incessantly to the referee about some physical treatment, and then in the dying moments drilled a penalty which would have guaranteed United a win onto the crossbar. Martin Keown lead the taunting, along with Ray Parlour and Ashley Cole. The fracas continued down the tunnel and Arsenal were charged with failing to control their players, while Ryan Giggs and Cristiano Ronaldo were also hauled before the beak.

GETTY IMAGES

5/16 Ferguson on Wenger

"Arsene Wenger disappoints me when he is reluctant to give Manchester United credit for what we have achieved. When Arsenal captured the Double in 1998 I held my hands up and praised them unreservedly... I suppose I will just have to accept that, between Old Trafford and Highbury, appreciation is pretty much a one-way street." - Ferguson lets his pen to do the talking in his autobiography, 'Managing My Life', in 2000.

GETTY IMAGES

6/16 Wenger on Ferguson

"Everyone thinks they have the prettiest wife at home." Arsene Wenger speaks in response to Sir Alex Ferguson's "They are scrappers who rely on belligerence - we are the better team" comment after Arsenal's 2002 double winning season.

GETTY IMAGES

7/16 Pizzagate

In October 2004, United ended Arsenal's 49-game unbeaten run in the Premier League, with the help of a controversial penalty won by Wayne Rooney. Once again, earnest discussions were undertaken in the tunnel, before things descended into the surreal. Exactly what happened on the way to the Old Trafford dressing rooms is unclear, but some complimentary food was involved, soup went flying and according to reports a slice of pizza ended up on Ferguson's face. The thrower of said pizza has never been identified.

GETTY IMAGES

8/16 Ferguson on Wenger

"In the tunnel Wenger was criticising my players, calling them cheats, so I told him to leave them alone and behave himself. He ran at me with hands raised saying 'what do you want to do about it?' It's a disgrace, but I don't expect Wenger to ever apologise, he's that type of person." - Ferguson really gets stuck into Wenger in January 2005.

GETTY IMAGES

9/16 Wenger on Ferguson

"When we meet in airports we don't fight. Those meetings are even funny." - Wenger lifts the lid on a more cordial relationship with Ferguson as the years have gone on.

GETTY IMAGES

10/16 Ferguson on Wenger

"They say he's an intelligent man, right? Speaks five languages. I've got a 15-year-old boy from the Ivory Coast who speaks five languages." - Ferguson plays down Wenger's linguistic dexterity in 2003.

GETTY IMAGES

11/16 Wenger on Ferguson

"Ferguson should calm down. Maybe it would have been better if he had put us against a wall and shot us." - more fallout from the testy October 2004 encounter.

GETTY IMAGES

12/16 Humiliation

Ahead of this meeting in the Premier League, United were on fire and Arsenal appeared fragile. Even so, no-one could have predicted this. United were 3-0 up after 41 minutes, but despite Theo Walcott getting one back, United were in no mood to let up. They scored a further five in the second half with Wayne Rooney bagging a hat-trick in the 8-2 win.

GETTY IMAGES

13/16 Betrayal

If you can't beat them, join them. Arsenal captain Robin van Persie joined United for £24m, turning his status from a hero at the Emirates to the biggest villain around in an instant

GETTY IMAGES

14/16 Shirt swapping

Robin van Persie returned to the Emirates to a chorus of boos, but it was Arsenal left-back Andre Santos who was criticised for swapping shirts with the former Arsenal captain at half-time. Van Persie made a scoring return to his former home as United won 2-1

GETTY IMAGES

15/16 Guard of honour

Van Persie returned a season later with United as Premier League champions, with Arsenal players giving them a guard of honour as they walked onto the Emirates pitch

GETTY IMAGES

16/16 Keep a cool head

In the latest instalment of the rivalry, it was that man again van Persie who gave United a 1-0 victory at Old Trafford in November last year

GETTY IMAGES
"And if it was the right decision for Manchester United depends on how we play and we score and in what position we shall finish in the league. We [have a different philosophy] to Arsenal. They have a manager who has been there 18 years and the playing style in 18 years the same. So that is very different. Here Danny Welbeck doesn't play every match. Mostly he doesn't play."
Van Gaal's explanation of Welbeck's exit contradicted the claim that it freed up a place in the starting line-up for younger strikers like James Wilson. But his major problem heading to the Emirates is injuries. The Dutchman has doubts over no fewer than 12 of his players, with centre-half and midfield the problem areas. Chris Smalling may be recalled in defence to partner Paddy McNair, despite a sending-off in the Manchester derby which called his game judgement into question.
Reuse content