The Inner Chimp must have  worked overtime on Bank Holiday Monday. England's football team will be hoping the pesky ape decides to take the summer off.
The metaphorical chimp in question is the limiting factor so beloved by the sports psychiatrist Dr Steve Peters. And on Monday it wreaked havoc. The simian pest first saw to it that Liverpool threw away a 3-0 lead at Crystal Palace, before getting into Ronnie O'Sullivan's head in the snooker World Championship final in Sheffield.
Peters has been in Liverpool's employ since November 2012 and was name-checked by captain Steven Gerrard as the man who helped him rekindle his belief over the last 18 months, as the Anfield side closed in on a first league championship since dinosaurs stalked the earth.
Similarly, Peters was credited in reviving O'Sullivan's love for snooker, helping him win world title numbers four and five in 2012 and 2013.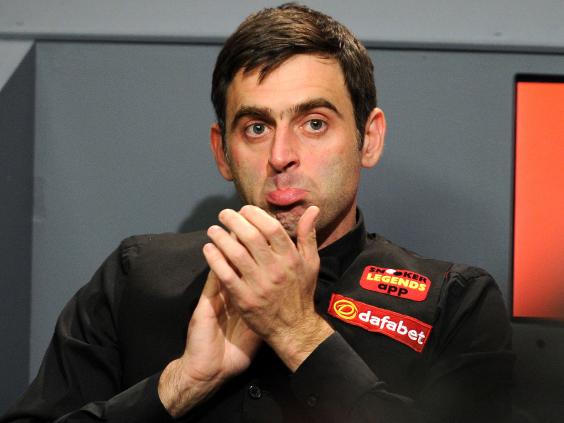 Silencing the inner chimp is at the core of Peters' methods. It worked with British Cycling and seemed to be having a transformative effect on Liverpool and O'Sullivan. He was the guru of self-belief, able to turn also-rans, or in O'Sullivan's case couldn't-care-lesses, into winners. Just what a team of perennial under-achievers like England need before the World Cup in Brazil.
But then came those nine minutes at Selhurst Park, when Liverpool did the football equivalent of chucking their trousers in the  washing machine with the winning lottery ticket still in the back pocket. Mark Selby, the "Jester from Leicester" – surely he should spell his nickname "Jeicester", by the way – swiftly proceeded to put the boot into that other Peters charge, when he came back from 10-5 down to beat O'Sullivan 18-14.
These were massive chokes. Catastrophic chokes. Chokes to have newspapers and websites hastily adding to their lists of "big sporting chokes". The 1995-96 Newcastle side, the All Blacks in 1999, Greg Norman at the Masters and Jimmy White at the Crucible suddenly had more company.  But these were also chokes to have England fans worried.
Even though we know Dr Peters is not going to be telling Wayne Rooney how to unpick the Italian defence or be  chosen to take the fifth penalty in a shootout (assuming England make it that far), it does throw a little doubt into whether he will be able to work his magic next month.
Or perhaps Liverpool's and O'Sullivan's chokes tell us we should not put too much stock in psychiatrists. They can have an effect, of course – who'd have thought Liverpool would have even been challenging for the Premier League in the first week of May? – but the amount they can change people's thinking clearly has its limits.
There is one crumb of comfort we can take from Monday's calamities though. A few years ago O'Sullivan would moan about the state of snooker and say how bored he was of the game following a defeat. But on Monday he was magnanimous and polite in losing to Selby, claiming he still felt "very content".
Something tells us England will do well to take those skills with them to Brazil.
Reuse content