Fifa is facing the most serious crisis in its embattled history, after their own investigator into corruption in the 2018 and 2022 World Cup bidding process resigned, launching a scathing attack on football's governing body, all but accusing Fifa of a deliberate cover up.
US Attorney Michael Garcia's timing is spectacular. It was he who was commissioned by Fifa to conduct an extensive investigation into allegations of corruption in the bidding process for the two tournaments.
Fifa's Executive Committee are gathering in Morocco for the Club World Cup where they are expected to vote on whether Mr Garcia's report should be published. They were expected to vote 'no', but now they will vote against the backdrop of the most extreme allegations. Namely, that the summary of his report published by Fifa contains "edits, omissions, and additions" that cannot be justified, and that he has "lost confidence in the independence of the Adjudicatory Chamber." In other words, that there are darker machinations at work.
Michel Platini, the former French footballer who is head of Uefa, Fifa's European arm, was told of the development by journalists in the gardens of the La Mamounia hotel in Marrakech, where Fifa's executives are staying. He called it, "A new failure for Fifa."
"We wanted transparency," he said.
All that has currently been made public is a short summary of his report by German judge Hans Joachim Eckert, which Garcia claimed within hours of its publication was "erroneous" and contained "misrepresentations."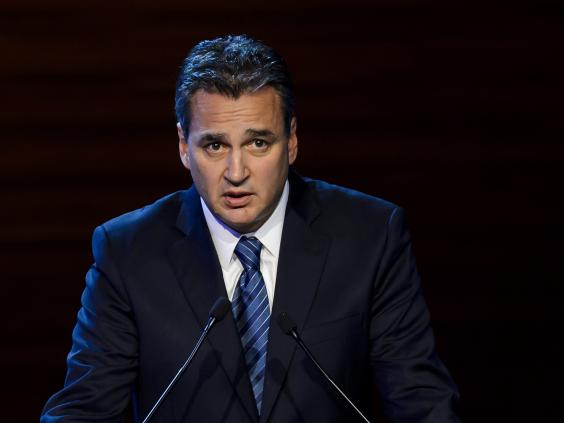 His appeal against Eckert's report was rejected by Fifa on Tuesday, and just over 24 hours later, he resigned. "No principled approach could justify the Eckert Decision's edits, omissions, and additions," he said.
Judge Eckert is a longstanding German judge with an impeccable reputation, at least until joining Fifa. He is the head of its Adjudicatory Chamber.
"No independent governance committee, investigator, or arbitration panel can change the culture of an organization," Garcia said. "And while the Eckert Decision made me lose confidence in the independence of the Adjudicatory Chamber, it is the lack of leadership on these issues within FIFA that leads me to conclude that my role in this process is at an end."
The resignation marks yet another new low for Fifa, and the accusation that Judge Eckert's summary was not done independently is a very serious one. It will take a quite extraordinary volte face from Fifa to now make Garcia's report public. But for as long as they do not do so, they remain open to the accusation made by Mr Garcia, that the summary of his report was deliberately misleading, and that when Judge Eckert produced it, he was not acting independently.
Fifa President Sepp Blatter has already declared he believes the bidding process to be "at an end", and any likelihood of Qatar or Russia being stripped of their tournaments were already slim and now even slimmer.
Mr Garcia said in his statement that he would not be taking the matter to the Court of Arbitration for Sport. "It now appears that, at least for the foreseeable future, the Eckert Decision will stand as the final word on the 2018/2022 FIFA World Cup bidding process," he said.
Garcia's resignation will now hang over Fifa's meeting tomorrow, increasing the pressure to publish the report. But both Judge Eckert and President Blatter have said in public statements that it would be legally impossible to publish the report, even in redacted form.
Mr Garcia could leak it, but the implications for a practising US Attorney in doing such a thing are serious. When he agreed to write the report, several years ago, it was made clear to him that the report would not become public, as it would risk the confidentiality of those who cooperated with him.
Fifa's President Blatter, when pressed on the matter at the Club World Cup semi-final at the Stade de Marrakech, said: "Listen we've just received this information. I can't comment on it. I will do it tomorrow at the Committee."
Later, he said in a statement from Fifa: " "I am surprised by Mr Garcia's decision. The work of the Ethics Committee will nonetheless continue and will be a central part of the discussions at the ExCo meeting in the next two days."
Reuse content