The prospect of an NFL franchise to be based at London's Wembley Stadium will be explored in detail, the sport's UK chief has said.
England football matches could be taken around the country again from 2018 if the Football Association secures the NFL franchise.
Alistair Kirkwood, managing director of NFL UK, said there was "real momentum" around American football in Britain with the sport now staging three matches at Wembley this season.
He told BBC Radio Five Live: "Moving from one game to three games in a couple of years is a sign of real momentum and fan growth.
"We are going to have a look at seeing if we can grow from that over the next couple of years and see where we go from there.
"We're very interested in exploring the idea of a British-based franchise and seeing if we can pull it off. That's the way of making our sport much more mainstream.
"Fan growth has grown considerably in recent years. But we've seen in all forms of sport, having something that's considered national transforms your potential popularity."
Oakland Raiders vs Miami Dolphins - in pictures
Oakland Raiders vs Miami Dolphins - in pictures
1/10 Def Leppard

Rockers Def Leppard brought the crowd to fever pitch with a raucous pre-game show

Getty Images

2/10 Raiderettes

The Raiderettes performing their moves ahead of kick-off

Getty Images

3/10 Wembley

Packed with more than 83,000 people, Wembley held its ninth regular season NFL game

Getty Images

4/10 Brian Leonhardt

The game started perfectly for Oakland, with Brian Leonhardt scoring a touchdown on the Raiders' first drive

Getty Images

5/10 Lamar Miller

Miami soon started to exert their dominance, Lamar Miller eventually scored two rushing touchdowns

Getty Images

6/10 Derek Carr

Oakland quarterback Derek Carr started well but hurt his leg and ankle and missed the rest of the game

Getty Images

7/10 Ryan Tannehill

Under-pressure Ryan Tannehill was excellent, throwing for two touchdowns and 278 yards

Getty Images

8/10 Cortland Finnegan

Cortland Finnegan celebrates after recovering a fumble and taking it home for a touchdown

Getty Images

9/10 Dennis Allen

Oakland head coach Dennis Allen will face questions over his future after a demoralising defeat

Getty Images

10/10 Menelik Watson

Manchester-born tackle Menelik Watson meets presenter Vernon Kay after the final whistle

Getty Images
Kirkwood warned that there was still much work to do before a plan could be put in place.
He added: "It's not just about the logistics of where a team might come from or whether it would be a new team, it's also scheduling, air travel, a tonne of other logistics.
"If we were to finish it off, it would be a big project realised."
The FA has made securing an NFL franchise at Wembley a priority and it is understood that would open the way to holding some England games away from the national stadium.
Securing an NFL franchise would be a lucrative earner for the FA, which owns Wembley, and allow the governing body to look at options for England games.
During the construction of the new Wembley, England matches were held in packed stadiums in different parts of the country including Old Trafford in Manchester, Sunderland's Stadium of Light, Newcastle's St James' Park, Villa Park, Leicester City's stadium and Southampton's St Mary's ground.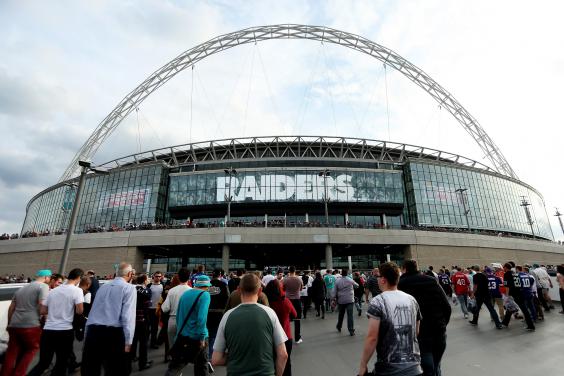 The FA agreed a deal to play all England games at Wembley until 2017 but there will be some flexibility when that current deal ends, although the majority of the matches would still be held at the national stadium.
Last year, Wembley managing director Roger Maslin said he was confident the stadium could stage a whole season of eight NFL games.
He said: "Football is our priority. But, yes, I'm absolutely confident that if the NFL wanted to have a franchise here then we could absolutely do it."
PA
Reuse content