Football agent Mino Raiola has refused to confirm whether he received a €27m fee for his role Paul Pogba's world-record move from Juventus to Manchester United.
The general manager of Juventus, Giuseppe Marotta, claimed last year that Raiola received a lofty fee for his services "Taking fees into account, the total gain for Pogba was €72m," he said in October.
"Even then we didn't want to sell him, we wanted to put in French roots at Juventus."
But in an interview with Italian newspaper Gazzetta dello Sport, Raiola refused to confirm or deny that fee.
"€27m? I'll just say that it's not an exact figure: maybe it's less, but maybe it's even more," he said.
Fifa confirmed last month that it would investigate claims that Raiola received such a large fee for his role in the transfer.
The game's governing body confirmed it had "requested additional information" about Pogba's transfer last summer, following claims made in the book Football Leaks:  The Dirty Business of Football.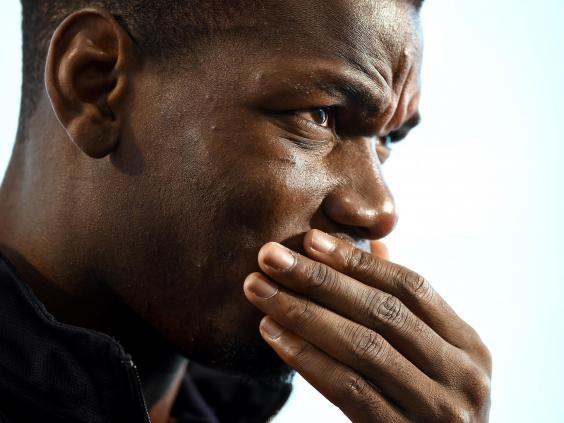 But Raiola is insistent that the transfer was above board and that, in fact, Fifa decided against opening an investigation.
"Fifa certainly didn't open any investigation into Paul's transfer to United," he added.
Most expensive players by age
Most expensive players by age
1/27 14 years old: Sheyi Ojo, MK Dons – Liverpool, 2011. £2.13m.

Liverpool beat off competition from practically every European superclub to land the signing of 14-year old wonderkid Ojo, from MK Dons' academy. Encouraging loan spells at Wigan and Wolves followed, with the winger graduating to Liverpool's first-team squad last season.

Liverpool FC via Getty Images

2/27 15 years old: Fran Merida, Barcelona – Arsenal, 2005. £2.72m.

Frightened by the number of prodigiously talented young players being signed by Barcelona, Merida's parents encouraged a move to Arsenal. But Merida struggled to acclimatise himself in England, making just six league appearances before returning home. Recently signed from second-tier Huesca by La Liga outfit Osasuna.

AFP/Getty Images

3/27 16 years old: Theo Walcott, Southampton – Arsenal, 2006. £8.93m.

A precocious talent: Nike agreed to sponsor Walcott when he was just 14-years old. Arsenal splashed the cash after an impressive debut season with Southampton in the Championship, and they have been rewarded with twelve seasons worth of hard-work and underwhelming finishing.

AFP/Getty Images

4/27 17 years old: Alexandre Pato, Internacional – AC Milan, 2007. £8.93m.

Pato began life at the San Siro encouragingly, scoring 18 goals in his debut season and winning both the Golden Boy and Serie A Young Footballer of the Year awards. But from then on his form fluctuated, and he acquired an unwanted playboy reputation after well-publicized trysts with Barbara Berlusconi, a director at the club and daughter of former Italian president Silvio. Now starring for Tianjin Quanjian.

AFP/Getty Images

5/27 18 years old: Luke Shaw, Southampton – Man Utd, 2014. £31.88m.

Shaw became the most expensive teenager in football when he left Southampton for Louis van Gaal's Manchester United. His time at Old Trafford didn't get off to a great start: the Dutchman promptly accused him of not being fit enough. Injury has dogged his time at the club, and recent reports suggest he could soon be moved on.

AFP/Getty Images

6/27 19 years old: Anthony Martial, Monaco – Man Utd, 2015. £42.5m.

Another one of Louis van Gaal's excessively expensive teenage signings. Has generally fared better than Shaw, and made a blistering start to his United career when he scored on his debut before winning the Premier League Player of the Month award in his first month in English football. But has struggled for game time under Jose Mourinho.

AFP/Getty Images

7/27 20 years old: Raheem Sterling, Liverpool – Man City, 2015. £53.13m.

Deserted Liverpool for Manchester at the end of one of the most protracted transfer sagas of recent time, after a length and tortuous dispute over a new contract. Has enjoyed an encouraging start to his City career and has been a regular under Pep Guardiola.

AFP/Getty Images

8/27 21 years old: Neymar, Santos – Barcelona. 2013. £74.97m.

The exact sum of Neymar's transfer from Santos to Barcelona is one of the most controversial subjects in football, but the following is without doubt: Neymar was the most expensive 21-year old player in the history of the game. An undoubted success at Barca, forming a formidable attacking triumvirate alongside Lionel Messi and Luis Suarez.

Getty Images

9/27 22 years old: John Stones, Everton – Man City, 2016. £47.26m.

Eyebrows were raised when Manchester City made John Stones the second most expensive defender of all-time (behind David Luiz). It was hoped that Pep Guardiola would be able to get the best out of a talented but frustratingly erratic young talent, but the costly mistakes have unfortunately yet to be eradicated.

Getty Images

10/27 23 years old: Paul Pogba, Juventus – Man Utd, 2016. £89.25m.

Manchester United infamously allowed Paul Pogba to leave for Juventus for a pittance, and then had to spend a world-record fee to get him back. It wasn't the shrewdest of business decisions, but it made sense where the football was concerned: Pogba has scored four goals since returning and has been instrumental in United's recent improvement.

Man Utd via Getty Images

11/27 24 years old: Gareth Bale, Tottenham – Real Madrid, 2013. £85.85m.

Surpassed Cristiano Ronaldo as the most expensive player in the world when he joined Real Madrid in 2013. He may not quite have reached the same formidable heights as CR7, but he has played an invaluable role in two Champions League winning campaigns.

AFP/Getty Images

12/27 25 years old: Oscar, Chelsea – Shanghai SIPG, 2017. £51m.

Joined Chelsea in 2012 as the next Kaka. Left this year as the next Paulinho. Showed flashes of his talent at Stamford Bridge – and started 28 games during Chelsea's title-winning 2014/15 campaign – but ultimately failed to impress Antonio Conte. Worth far less than the £51m he was sold for.

AFP/Getty Images

13/27 26 years old: Angel di Maria, Real Madrid – Man Utd, 2014. £63.75m.

Further irrefutable evidence that Louis van Gaal doesn't know how to spend large sums of money. Di Maria joined from Real Madrid for a club record fee, but a promising start to Old Trafford quickly faded, and United were more than fortunate to recoup £44m from the equally profligate PSG.

AFP/Getty Images

14/27 27 years old: Luis Suarez, Liverpool – Barcelona, 2014. £69.46m.

The Uruguayan came so very close to single-handedly winning Liverpool the Premier League title in 2014, before quitting and joining Barcelona. Things didn't get off to the best of starts when he was suspended for the start of the season after biting Giorgio Chiellini at the World Cup, but 40 goals in just 35 La Liga matches in his second season meant his occasional bouts of ill-discipline was quickly forgotten.

AFP/Getty Images

15/27 28 years old: Gonzalo Higuain, Napoli – Juventus, 2016. £76.5m.

In the 2015/16 season the irrepressible Higuain scored an incredible 36 goals to claim the Capocannoniere and equal Gino Rossetti's 87-year-old record for goals in an Italian top-flight season. His reward was a £76.5m move to Juventus, where he has unsurprisingly proved an instant success.

AFP/Getty Images

16/27 29 years old: Zinedine Zidane, Juventus – Real Madrid, 2001. £62.48m.

One of the best players of all-time, and for eight years, the most expensive player in the history of the game. Joined Real in the twilight of his career but still managed to fit in five highly successful seasons. Now manages the club he retired at.

AFP/Getty Images

17/27 30 years old: Samuel Eto'o, Inter – Anzhi Makhachkala, 2011. £22.95m.

FC Anzhi Makhachkala perhaps wasn't the natural next stop on a glittering football C.V. that included Real Madrid, Barcelona and Inter Milan, but there was little chance Inter were going to turn down such a large fee for a 30-year old. Spells at Chelsea and Everton followed. Now interim player-manager at Turkish outfit Antalyaspor.

AFP/Getty Images

18/27 31 years old: Gabriel Batistuta, Fiorentina – Roma, 2000. £27.63m.

Batistuta hit the ground running when he first signed for Roma, managing 20 goals in 28 Serie A games, only six less than golden boot winner Hernan Crespo. But his advancing years soon caught up with him: The Argentine scored only 10 more league goals for the club over the next two league seasons.

19/27 32 years old: Shay Given, Newcastle – Man City, 2009. £7.65m.

Given was regarded as one of the finest goalkeepers in the Premier League when he quit struggling Newcastle for nouveau riche Manchester City in 2008. Immediately displaced a junior Joe Hart – who was banished on loan to Birmingham – before the rookie was to replace him in the 2010/11 season. Given moved on to Aston Villa, for £3.5m.

AFP/Getty Images

20/27 33 years old: Claudio Bravo, Barcelona – Man City, 2016. £15.3m.

The less said about this one the better. Another case of Manchester City signing a goalkeeping in his twilight years, booting Joe Hart out on loan, and then wishing they could take him back. Bravo arrived for big money but his signing has proved an unmitigated disaster. Recently he has been benched in favour of Willy Caballero.

AFP/Getty Images

21/27 34 years old: Lilian Thuram, Juventus – Barcelona, 2006. £4.25m.

The most capped player in the history of the France national team, who enjoyed long and successful spells at Monaco, Parma and Juventus. Barca took advantage of the infamous Calciopoli scandal to sign Thuram for a discount price when Juventus dropped into Serie B, but the defender was forced into an early retirement after only two seasons at the club, after he was diagnosed with a heart defect.

AFP/Getty Images

22/27 35 years old: Ze Roberto, Bayern Munich – Hamburg, 2009. £3.4m.

Many thought Ze Roberto would see out his career at Hamburg, after the German club paid Bayern £3.4m for the then 35-year old. How wrong they were. He spent two successful seasons at the club only to depart for Qatari club Al-Gharafa, following that up with stints at Grêmio and Palmeiras. He's still playing. He's 43 this July. He signed a contract extension in December.

Bongarts/Getty Images

23/27 36 years old: David James, Man City – Portsmouth, 2006. £1.45m.

When 36-year old David James hurriedly left Manchester City for personal reasons in 2006, little did he know how successful his next move was to prove. James kept clean sheets in his first five appearances for Portsmouth, setting the tone for a fine four seasons on the south coast, which included an FA Cup win and an appearance in the Uefa Cup group stage.

AFP/Getty Images

24/27 37 years old: Brad Friedel, Blackburn Rovers – Aston Villa, 2008. £2.13m.

Friedel left Blackburn just two appearances short of Terry Gennoe's club record of 289 for a goalkeeper. Villa beat off interest from Manchester City for his signature, and the American was ever present for the next three seasons. He would move once again before his retirement, to Tottenham Hotspur. Now the head coach of USA Under-19s.

Getty Images

25/27 38 years old: Marko Simeunovic, AEL Limassol – Interblock, 2006. £765k.

The Slovenian goalkeeper enjoyed a storied career across eastern Europe and represented Slovenia at Euro 2000 and the 2002 World Cup before he became the most expensive 38-year-old player of all time upon signing for the appealingly named Interblock.

26/27 39 years old: Craig Brewster, Inverness – Dundee Utd, 2006. £340k.

This is possibly the only instance of humble Dundee United featuring on a list of the most expensive transfers in football. Craig Brewster returned to the club as player-manager in January 2006, although the move wasn't a successful one. The Tangerines went unbeaten for their first three matches, but then went on to win only one match for the remainder of the season. Brewster would cling on until October.

Getty Images

27/27 40 years old: Bogdan Stelea, Unirea Urziceni – Brasov, 2008. £85k.

Brasov forked out £85k for 40-year old Romanian goalkeeper Bogdan Stelea, but the former Salamanca number one was to make only 23 appearances before calling it a day. He immediately embarked on a managerial career, spending time at Astra Ploiești and Viitorul Constanța.
"Paul also acted correctly. When Marotta asked us to stay in 2015, he did so in the right way.
"It's very true that the year after, Pogba left with the satisfaction of all concerned."
Reuse content