As a Manchester United footballer my whole professional career I can count on the fingers of one hand the times that I walked on to a pitch and saw rows of empty seats in the stadium, but I can tell you that on those rare occasions it did have an effect on me.
An FA Cup tie we lost at Middlesbrough 12 years ago in front of less than 20,000 springs to mind, and I was reminded of that game when I watched England on Wednesday night. Being a footballer at the elite level is about playing in front of the full house: the noise, the pressure, the fire in your belly as you step out into that atmosphere.
As a professional footballer, even as an international, it can be hard to gain momentum against a team as poor as Norway – in front of a stadium that is half full and quiet. Yes, you know you absolutely have a professional obligation to play well but life, football, is rarely that simple. Don't underestimate the effect it can have on players.
That was the first thing I would say about England's 1-0 win over Norway. If it had been a Euro 2016 qualifier in front of a full Wembley then I would have backed England to win by three or four. As it was, I did not think they were too bad in the circumstances, and in the last 20 minutes with Daniel Sturridge, Raheem Sterling and Danny Welbeck together on the pitch for all but the last few seconds, I was impressed.
Welbeck, Sturridge and Sterling are a combination that could hurt any defence. The two Liverpool lads clearly have a close understanding of how the other works. Sterling can beat a man and create chances. Their link play is excellent. Put Welbeck into that and they have the potential to be devastating.
The problem? It is quite obvious to me that we do not have a midfielder with the range of passing to exploit these three attacking players. I like Jordan Henderson and Jack Wilshere and they played their positions well. But neither of them are outstanding passers of the ball. Neither takes risks or looks for the movement of the strikers.
It is a radical solution, and one I would propose just for the Switzerland qualifier on Monday, but I would play Wayne Rooney in midfield. This is not an argument to say Wayne is not a top striker. His record says that he is and, in an ideal world, I would have two Waynes: one to hit those passes from deep and another to get on the end of them. He is the best passer in the team and he can play that midfield role better than anyone.
England 1 Norway 0 player ratings
England 1 Norway 0 player ratings
1/12 Joe Hart

Had little to do in the first half but count empty seats, then came alive to make a vital save just after the break from King's near-post header. 6/10

Getty Images

2/12 John Stones

Composed and got forward well. Good opposition to make debut against and caught out of position occasionally but can be pleased with his big night. 6

Getty Images

3/12 Gary Cahill

Had a trying time against Josh King. Turned rather too easily by the Blackburn striker in the first half, then embarrassed out on the right touchline.

Getty Images

4/12 Phil Jones

Like his defensive partner, did not inspire confidence. Poor header resulted in Elyounoussi shot but went close with a header from a corner. 5

Getty Images

5/12 Leighton Baines

Always eager to get forward and had a shot blocked, yet wasted several good chances to cross. Kept looking for the ball when England toiled after the break. 6

Getty Images

6/12 Alex Oxlade-Chamberlain

Difficult night for the Arsenal man. Too often let down by a heavy touch and often required to come inside to bolster England's centre. Rather lost. 4

Getty Images

7/12 Jack Wilshere

No doubting his enthusiasm, produced several telling passes and should have won a penalty. Yet his distribution was erratic and awareness was poor. 5

Getty Images

8/12 Jordan Henderson

Played the holding role and was neat and tidy. Usually available for his team-mates yet could not step up when England drifted after half-time. 5

Getty Images

9/12 Raheem Sterling

Shone amid all the mediocrity. With Sturridge seemed to be taking on Norway on their own. Lovely touches and vision. Won England's penalty. 8

Getty Images

10/12 Daniel Sturridge

Sharp, direct and in the first half dangerous, going close with both a shot and a lob. Good link-up play and on the same wavelength as Sterling. 7

AP

11/12 Wayne Rooney

Hardly led from the front. Too many moves broke down around him and was reduced to playing Hollywood passes to no one. Emphatic penalty – then off. 5

Getty Images

12/12 Danny Welbeck

A little more space to work in than Rooney but England looked more dangerous when he came on. Good near-post shot and smart cross from the left. 6

Getty Images
One thing you can be sure about Wayne is that he is not bothered about taking risks. If he saw the pass was on, he would hit it. If it did not work out, that would not deter him from trying it again and again. He would make that pass more often than not.
The absence of a specialist midfielder capable of passing the ball with flair concerns me. Steven Gerrard could do it at his peak but he has stepped away from international football. Frank Lampard was never that kind of player. I look through the current squad and wonder who will provide the range of passing required.
Moving Wayne would be a compromise for Roy Hodgson because this England team is not so blessed with goals that it can afford to lose its top goalscorer from the front line. During and after the World Cup I argued for Wayne to be played as a centre-forward but, with these three ahead of him, he could be a huge influence. And he could still make runs into the box.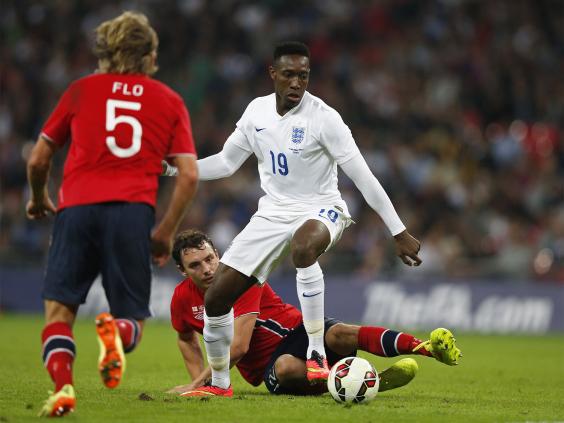 I recognise that a lack of goals has been a criticism aimed at Welbeck and it is hard to argue with that in terms of his record. But given the right kind of support from midfield I have a lot of faith in a front line of Sterling behind Welbeck and Sturridge producing goals for England. I see a lot of energy there, and quality. They seem to like playing alongside one another. There is an understanding.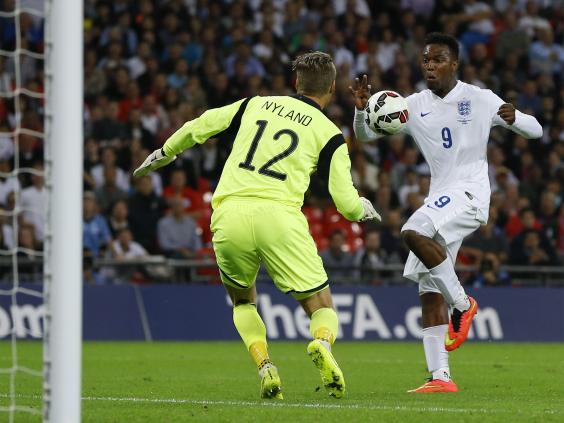 Come Monday in Basel it will be a different story for these England players. I have played at St Jakob-Park for United and there is always a very good atmosphere. I rate the Switzerland team. It will be a long way from Wembley on Wednesday night and a Norway team that had so few top-level players. I know Josh King from his time at United and Mats Moller Daehli, but essentially England were up against a team of Championship-level players.
My final thought on England is that these young players, especially the new boys like Fabian Delph, who did well when he came on, should not be weighed down by any notion of "history". It is not as if in the last 20 years, when my generation played for England, we won anything. These young lads should remember that. There is no expectation. There is, and I mean this to help alleviate the pressure, really nothing to live up to.
Reuse content