At Manchester United there is an old Christmas tradition that the apprentices – as we were known in my teenage years – put on a pantomime show for the first team full of jokes at the expense of the senior players. You could say it was a formative experience for me: I was one of the seven dwarves.
When I look back at it, the other dwarves included Gary Neville, David Beckham and Nicky Butt, although sadly I cannot recall which of us was Dopey. In charge of the production every year was the former physio Jim McGregor, who would oversee every detail, from writing the scripts to rehearsals, and it was Jim who instructed us dwarves how to walk on our haunches, as per his stage directions.
The point of the exercise was to make a bit of a fool of yourself in front of your team-mates, no bad thing when it comes to breaking down the insecurities and rivalries in a group of teenage boys. We also loved the wicked jokes about the first-team players. That tradition continued right up to my retirement and I always enjoyed the reaction on the faces of some of the biggest names at United when they realised it was them being sent up by the young lads.
There were a few who got a lot of stick, year in, year out. For the foreign players it was something they had never experienced before in their careers and it would be fair to say that some took the mickey-taking a lot better than others.
I love football at Christmas and New Year. I loved watching United and Oldham as a kid during that period, and, as a professional, I loved playing at that time. The stadiums feel different. Everyone is happier, the mood is upbeat. Even the grumpiest members of our staff seemed to have a spring in their step at this time of year. At United we had a routine that never changed under Sir Alex Ferguson.
He would always give us Christmas morning and lunchtime off to be with our families, even if we were playing a game away from home on Boxing Day. Having three children, that was always a big factor for me. I loved that time with my family and, to be honest, I never missed being able to have a glass of wine because I have always felt that Christmas time is a family time above all.
As for the food, we were trusted not to go overboard. That meant portions kept to a sensible size, no puddings and, of course, no booze. On Christmas Day we trained at teatime at Old Trafford under the floodlights. Earlier in the week there would always be the United Christmas lunch at the training ground, another one of the traditions at the club at which the manager, Sir Alex, and his staff would serve everyone their food.
Don't ask me where the tradition came from, it was just one of those things that we always did. Sir Alex would be dishing out the soup. The likes of Rene Meulensteen and Mike Phelan would be running around pouring drinks and fetching plates of food. For a couple of hours, the players and all the workers at Carrington would be able to ask them for whatever they wanted. If you needed a cup of tea, well, give Rene a shout. Another bowl of soup? Sir Alex was your man.
It was one of those things that I felt made the club what it was. It was a thank-you from the manager and his staff to all the people who worked for him. I guess they spent the rest of the year making big demands of us. This was a way of saying they appreciated our efforts.
Manchester United: Players who were linked with a January move to Old Trafford
Manchester United: Players who were linked with a January move to Old Trafford
1/17 Gareth Bale

Manchester United would love him and some reports suggest he would be open to a return home - but Real Madrid have said they wouldn't sell the winger at any price, even the mammoth £150m that has been mentioned in recent reports.

GETTY IMAGES

2/17 Sergio Ramos

Real Madrid's Sergio Ramos would be perfect for United and is one of few truly world class centre-backs around. Another player Real will not want to lose, this move may wait until the summer.

GETTY IMAGES

3/17 Juan Cuadrado

The Fiorentina and Colombia winger was a target of United's in the summer but a move never transpired. He is lightning quick, brilliant on the ball and gets his fair share of goals. May cost more than £30m, however.

Getty Images

4/17 Ashley Cole

The former Chelsea left-back was linked with a move to United last summer, but instead went to Roma. There are suggestions he is unhappy in Italy and would be open to a return to the Premier League.

GETTY IMAGES

5/17 Ron Vlaar

Out of contract at the end of the season and impressing in his Aston Villa shirt, Ron Vlaar could be a quick and cheap fix at the back. That he's Dutch won't do his chances of an Old Trafford switch any harm either. Picked up a knee injury in early January that will likely end speculation.

Getty Images

6/17 Raphael Varane

The Real Madrid centre-back has been hugely impressive since breaking through at the Bernabeu. Would take a big bid to land the young France international, but that shouldn't be a problem.

Getty Images

7/17 Ezequiel Garay

Manchester United are keen to bolster their Argentinian contingent and the arrival of Garay would do just that. United reportedly sent scouts to watch the Zenit St Petersburg player.

Getty Images

8/17 Gerard Pique

He played for Manchester United before being allowed to return to his boyhood club Barcelona in 2008. But recently things have soured for the Spain international, with new Nou Camp manager Luis Enrique leaving him out a few times this season. Could he be heading back to Old Trafford again?

GETTY IMAGES

9/17 Nathaniel Clyne

A call up to the England squad boosts your profile, and in the case of Clyne, it's led to inevitable speculation that he could leave Southampton. The Saints will be desperate to hold onto the young right-back, but as they found last summer, if players want to go they usually get their way.

Reuters

10/17 Mats Hummels

Another Germany international interesting United is Hummels. The centre-back was made captain at Borussia Dortmund last summer to help ward off interest from other clubs, but with the German side struggling this term, they might not be able to keep the suitors at bay next time around. A £35m offer has been heavily reported and this deal is certainly one that is the more probable to see in the near-future.

Getty Images

11/17 Sami Khedira

Manchester United have been linked with Khedira, but then, who hasn't? The Germany international looks certain to be playing somewhere other than Real Madrid next term, and it could be Old Trafford.

Getty Images

12/17 Julian Draxler

The Schalke midfielder has been interesting Europe's top clubs for some time. So far, everyone has failed in their attempts to prise the youngster away from his boyhood club. With the money at Manchester United's disposal, they could persuade Schalke to relinquish.

Getty Images

13/17 Paulo Dybala

Manchester United have been linked with a move for Palermo striker Paulo Dybala. The 21-year-old has been banging in the goals in Serie A this term, leading to speculation he's in line for a big move. But the Palermo president has indicated he won't be allowed to leave for anything less that £31m

GETTY IMAGES

14/17 Yohan Cabaye

After leaving Newcastle for PSG, France international Cabaye has reportedly failed to settle in the French capital. That he has struggled to force his way into the starting line-up under manager Laurent Blanc hasn't helped. That could make him open to a return to the Premier League.

Getty Images

15/17 Marcos Reus

Another highly sought German player. With Borussia Dortmund struggling this term and no Champions League football next season a real possibility, it seems likely Reus could be sold in the summer. United will have to fight to be at the front of the queue.

GETTY IMAGES

16/17 Arjen Robben

The former Chelsea player has said numerous times he has no intention of leaving Bayern Munich. But then again, nothing footballers say can be taken as sacrosanct. His Dutch links and style of play make his a good fit at United.

GETTY IMAGES

17/17 Kevin Strootman

The Netherlands international was heavily linked with United in the summer but a serious injury ruled out the prospect of a move. The Roma midfielder has since returned to action and so the rumours have started up again. A fee of £30m has been mentioned.

GETTY IMAGES
The great thing about Christmas and New Year games at United was that it was often the time we got into gear in the title race. By the time you were back into the normal schedule, you had a pretty good idea of what it was going to take to win the league. Then FA Cup third round was just around the corner. These are the highlights of the season that I look forward to.
By all means have a winter break for football in England, but if we are to do so then let's make it in January and not disrupt the great tradition of Boxing Day football. It is only my second year out of that Christmas programme now. It was this time three years ago that I was training  and preparing to come back out of retirement, so I am getting used to Christmas without playing.
Like most fans, I am looking forward to watching some games. Hopefully, I will be at United, Salford City and Oldham Athletic over the next couple of weeks, savouring the experience of watching matches at the best time of the year for football.
If you get nudged, you go down – that isn't diving
When Gary Cahill looks back at his dive against Hull City at the weekend he will have his regrets, but watching it a few times on television, I know what was going through his mind. He was expecting the challenge to come and was anticipating the impact. And then when it didn't, it became an embarrassing dive.
No-one wants to see diving or cheating in the game, but there is a very fine line to be trodden. If you get nudged, pushed or tripped in the area, you have to go down. We were told that by Sir Alex before every game. We were never told to dive, and there is a big difference. Winning penalties is part of scoring goals, and trying to stay on your feet no matter what makes no sense. A foul is a foul, and it changes the outcome of the original chance.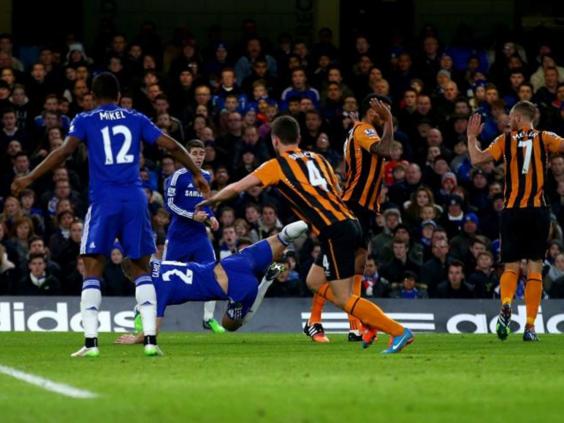 Some players are very good at turning a foul on them into a penalty decision that the referee has no choice but to give. Others are terrible at it, and it would be fair to say that Cahill has not quite mastered the art.
I felt that one of my strengths was nicking the ball away from defenders in the penalty area. It was about being cute. If you moved the ball away from where they were headed and paused fractionally, then there was a good chance that the defender would be unable to stop himself, and take you out.
There are two penalties I won for United that stand out in my mind. The first was Tomas Repka's challenge on me at Upton Park in 2002 in a 5-3 win for United. The other is Igor Biscan's foul on me at Old Trafford in a 4-0 win over Liverpool in 2003. On both occasions I got to the ball first and the defender was not quick enough to stop himself ploughing into me. That is a foul anywhere else on the pitch, and therefore a penalty in the area.
Henry could destroy players with his pace
Congratulations to the newly retired Thierry Henry on a fine career. It is rare that you get a striker with speed and composure in equal measure but Henry had both. He could flummox a defender with his pace and then had the presence of mind to slot the ball past the goalkeeper. He was a wonderful footballer.
Henry's goal against United at Highbury in 2000 was among the best of the lot. Unfortunately for us, Sir Alex had warned us before the game about Arsenal playing the ball into Henry's feet from short free-kicks. Sure enough, when we came to review the video of that marvellous goal, there was yours truly ambling across to try to block the ball going into Henry. Before we knew it, he had flicked it up and volleyed it into our net.
Playing against him was difficult, to say the least. And while we always had a plan, there is no way you go into a game against a player of Henry's quality with a foolproof approach to keeping him quiet. We had top-class centre-halves and some days they could stop him, other times not. He would sometimes go wide and then it would be Gary Neville's job. To Gary's great credit, I can never recall a time when he found himself embarrassed.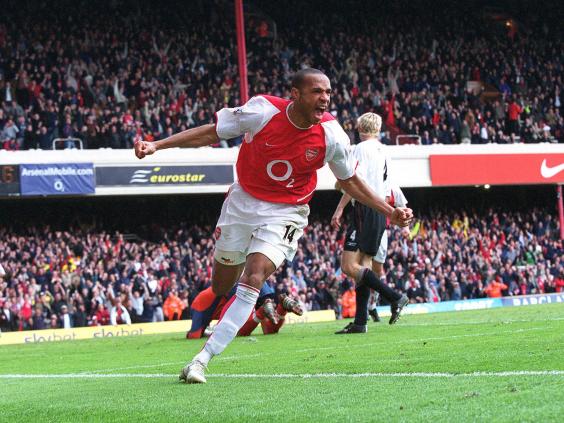 I admired Jamie Carragher as a defender. He was the kind of player who knew how to handle the top strikers. Even he was caught out by Henry in a FA Cup tie in 2007 at Anfield. Henry out-sprinted Carragher to a ball down by the left touchline, left him on the floor and then turned back towards goal, cut inside on his right foot and scored. Rule No 1 with Henry: don't get in a race with him.
With Henry the key for defenders was to stand off, so that if he did fancy a sprint you at least had that extra five yards on him. The problem was that even then he was dangerous. He might just decide to go for goal. He was a brilliant centre-forward and he won the lot: World Cup, European championships, European Cup, Premier League, Spanish league, French league, FA Cup. That is some career.
I fancy City to beat Barça, but Chelsea have it tough
I am tipping Manchester City to eliminate Barcelona from the Champions League over two legs. Of course, much depends on form and injuries at the end of February, but I think the approach used by Manuel Pellegrini against Roma worked well. It will mean he starts with a midfield core of Fernando, Fernandinho and James Milner and then picks players around that to make it work.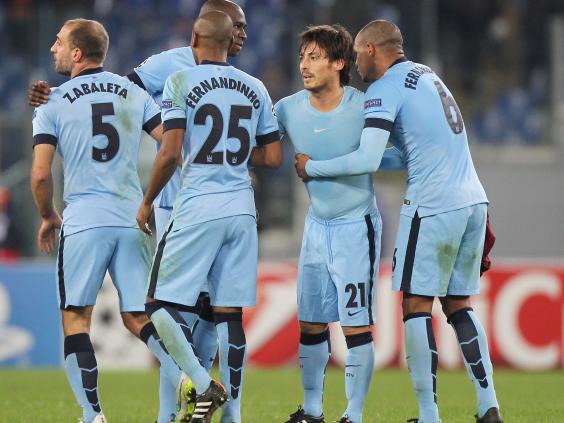 Chelsea have the hardest draw to my mind. They have got better since last season but so too have Paris Saint-Germain and they will be that much more experienced in Europe. I expect all three English clubs to go through, but it will be tight.
Scholes' week: What caught my eye
Man of the week
Frank Lampard. The winner against Leicester and his 175th Premier League goal from midfield. Phenomenal.
Manager of the week
Manuel Pellegrini. Winning away in Europe and then away in the league within four days is one of the hardest tricks to pull off.
Moment of the week
David de Gea's first save from Raheem Sterling on 12 minutes on Sunday. United go straight up the other end and score.
Match of the week
Manchester United 3-0 Liverpool. Great to watch. It could have been 6-6.
My column will return on Saturday 3 January. A Merry Christmas and Happy New Year  to all 'Independent' readers
Reuse content