At Old Trafford on Saturday lunchtime, I will take my place alongside the rest of the home support in the belief that my old club have a man in charge with the requisite status and strength of personality to be the manager of Manchester United.
Louis van Gaal has the respect of the players. He got it as soon as he arrived. This is a man who has managed some huge clubs: Ajax, Barcelona, Bayern Munich and he has just taken the Netherlands to third place in a World Cup finals. He is a man with presence. He looks a bit of a scary man. Good. Sir Alex Ferguson was a scary man too, at times, and it is possible to push players into performances. From what I've seen in pre-season he looks a bit mad. He's a bit like a mad genius, he looks a bit crazy.
It is inevitable that when you talk about Van Gaal, you start to look back at last season and David Moyes. I don't want to spend the next year criticising Moyes. For whatever reason, it did not work out for him. By United's standards the season was a disaster. But there are some basic observations to be made about Van Gaal that have given him the ideal grounding at United.
With the greatest respect, it is a very different prospect going to United having managed Barcelona, Bayern and the Netherlands at a World Cup finals than it is going to United from Everton. Van Gaal has instantly got the respect of the squad. Players should perform whoever the manager is, but the reality is often very different. Last year, the fear factor was not there for the United players. It is now.
Video: Van Gaal on Manchester United
I played against Van Gaal's Bayern Munich team when they beat United on away goals in the Champions League quarter-finals in 2010. I believe I first encountered him when I was part of an England team that lost to Van Gaal's Dutch side at White Hart Lane in 2001. The first thing I noticed about his teams was quite striking: they seemed to have more men on the pitch than us.
It is the Dutch way, they create an extra man in midfield. With his 3-5-2 formation at United, Van Gaal is doing something similar. Watching United against Real Madrid this month I found myself asking, "How is it United seem to have so many men on the pitch?" It is easy to read too much into pre-season but the early signs have been positive. United beat Roma, Madrid and Liverpool in the United States. This time last year they were losing to the Singha All-Star XI.
For all the benefit I believe Van Gaal will bring to United in the long term, I find it hard to see them as Premier League title contenders this season. My instinct is that the title will be between Manchester City and Chelsea, with United, Liverpool and Arsenal in competition for the two remaining Champions League places.
The chief reason I see little prospect of United winning the title is that they have not signed enough players in this window. I accept that more than £60m has been committed to the signing of Luke Shaw, who is now unfortunately out for a month, and Ander Herrera. To my mind, United needed to buy a top-level midfielder, of which there were very few available this summer. Just two, in fact. And Cesc Fabregas and Toni Kroos have already made their moves.
Having said that, I like the way Van Gaal has set his stall out. He has said to the players: "This is it, 3-5-2. I am going to play you in the position that you're best suited to. If you can't play it, then tough." He has played Wilfried Zaha, he has played Nani at centre-forward. Van Gaal is not playing with two wingers and players are being asked to adapt, like Ashley Young at left wing-back, where he has done well. If you don't want to play the position he wants you in then it will be a case of "Off you pop".
Glenn Hoddle played 3-5-2 when he was England manager. In fact, that was the last time in my England career when I knew game to game how the team was going to play. The 3-5-2 system is a good way of getting your two centre-forwards into the team. When you have two forwards of the quality of Wayne Rooney and Robin van Persie you have to find a way of playing them. 
Behind them United have Juan Mata and two holding midfield players. It is not something United or England players are used to doing. As a player, I never liked it. I was a 4-4-2/4-4-1-1 man. A basic English player who enjoyed that system. But the United players seem to have really taken to it. You do play against a lot of teams with just one up front as well.
The most worrying thing is the injury records of the three centre-halves, Jonny Evans, Phil Jones and Chris Smalling. They do seem to pick up a lot of knocks. United have already tried, and failed, to buy Thomas Vermaelen. But if those three can stay fit, they are more than capable of doing the job.
On the new signings, I haven't seen lots of Herrera before this summer. When United played Athletic Bilbao in the Europa League, he looked very good technically. He can run, no doubt about that. I am not sure if he has loads of goals in him. I hope he will prove me wrong. I am not sure he is a playmaker either. I think he is probably in the category of Shinji Kagawa or Mata, a No 10. I don't see him as an out-and-out midfield player.
Manchester United: Potential summer transfer targets
Manchester United: Potential summer transfer targets
1/19 Arturo Vidal

The Juventus midfielder is among United's top targets this summer, particularly after impressing for Chile at the World Cup. Having helped his current team secure the Serie A title, Juventus aren't keen on letting him go.

Getty Images

2/19 Marco Reus

Rumoured to be near the top of United's target list, a possible swap deal involving cash and Shinji Kagawa has been mentioned. The Borussia Dortmund player would not be a cheap acquisition, especially given his recent declaration that he wants to stay at Dortmund next season

Getty Images

3/19 Arda Turan

Former manager David Moyes had been seen watching Turan, though his dismissal put a doubt over whether United were still interested. The winger's agent claims an offer has been made, so is the Atletico Madrid winger on his way to Old Trafford?

Getty Images

4/19 Arjen Robben

The Bayern Munich winger has said Van Gaal has offered him a place at Old Trafford if he wants it. Currently he's happy to stay where he is, but things can quickly change.

GETTY IMAGES

5/19 Claudio Marchisio

With Paul Pogba highly unlikely to be prised away from Juventus, United's attention could turn to team-mate Claudio Marchisio. The Italian international would provide some class and experience.

6/19 Mats Hummels

With defensive reinforcements high on United's list of priorities, Borussia Dortmund's Mats Hummels has unsurprisingly been linked with a move to Old Trafford. The German has been earmarked as the ideal replacement for the now-departed Rio Ferdinand and after his impressive showing at the World Cup, he's even more desirable.

GETTY IMAGES

7/19 Raphael Varane

Raphael Varane has already snubbed United once in his career, opting instead to join Real Madrid. It would surely take a big offer to prise the classy defender away now.

GETTY IMAGES

8/19 Seamus Coleman

Reportedly already the subject of a £15m bid, Seamus Coleman could be the man being lined up as the answer to United's problems at right-back.

GETTY IMAGES

9/19 William Carvalho

The Sporting Lisbon midfielder has reportedly been watched 15 times by Manchester United, although the £29m asking price could prove a stumbling block. The Portugal international has also been linked with Arsenal.

Getty Images

10/19 Xherdan Shaqiri

Bayern Munich winger Xherdan Shaqiri has struggled to force his way into the first team at the Allianz Arena and could be a target for United as well as rivals Liverpool. His impressive displays for Switzerland this summer could make it harder to prise him away.

GETTY IMAGES

11/19 Alex Song

Barcelona are understood to be ready to let the former Arsenal player leave this summer. Could provide some strength to United's midfield. Could also bring embarrassment judging by his behaviour at the World Cup.

GETTY IMAGES

12/19 Fabio Coentrao

Supposedly came within hours of signing in January, the Portuguese left back could be brought in to provide back-up to Luke Shaw.

13/19 Julian Draxler

A long time Arsenal target, United are reportedly interested in pinching the young German with a bumper offer. Seems unlikely though. Arsenal also strongly interested.

14/19 Sami Khedira

The Germany international is reportedly being pursued by a host of sides, and United might be wise to get in the mix as they look to add some quality to a fairly feeble looking midfield. Real Madrid appear open to letting him go with the 27-year-old having just one year left on his contract. Arsenal and Chelsea are among the others keen on signing the World Cup winner.

15/19 Edinson Cavani

The Uruguayan hitman would prove pricey and tricky to snatch away from PSG and it seems unlikely United have enough to offer him.

16/19 Luciano Vietto

The Racing Club youngster has been impressing in Argentina for some time although a move directly to United would be something of a surprise.

17/19 Santiago Arias

Should a move for Seamus Coleman fail, PSV defender Arias is reportedly being lined up by United. Played for Colombia throughout the group stage of the World Cup.

18/19 Miralem Pjanic

Rumoured to part of a joint bid including teammate Benatia, the Bosnian midfielder is reportedly another on United's large hit list.

Getty

19/19 Kevin Strootman

Van Gaal knows Strootman well from working with him in the Netherlands set-up and has indicated he is interested. Roma are reluctant to sell whilst his recovery from a knee injury may prove a stumbling block.

GETTY IMAGES
Shaw had a great season for Southampton. But United is different. He is at a massive club. He has to perform every week and the spotlight is on him. It is a lot of money for a left-back but that is the way the world has gone. His potential is fantastic. I would have liked him to have had Patrice Evra to guide him through. Evra is a top professional and a great lad to have in the dressing room, too. You could understand his point of view in leaving. He wanted to play football.
No Champions League football for a season at United is unthinkable, but it has happened and they must move on. I have no regrets about my old team not being in the Europa League. All that offers is an opportunity to give some minutes to the squad players. It is not a competition that excites me. As for last season, I try to think of it as a top horse having a bad race. Sometimes the only way to deal with it is to put a line through it and move on. Van Gaal has given United fans hope.
My World Cup point about Rooney was that it was mad to play him on the left 
I was not pleased with the way in which my comments about Wayne Rooney in my World Cup column for Paddy Power were projected over the summer. I played with Wayne for 10 years at United and I know what a good player he is and I am glad he has been made captain. The point I was trying to make was that I don't think he should be played out wide for England.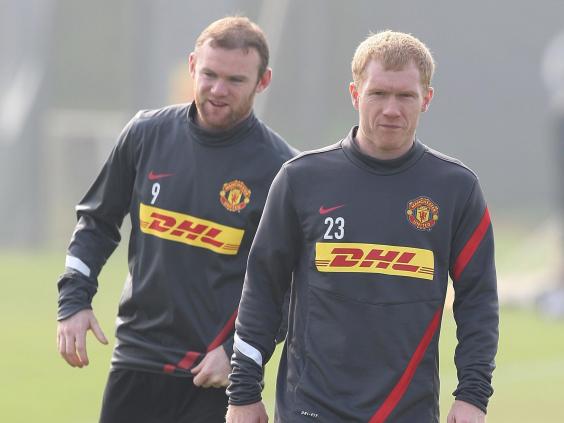 In his younger days he could get away with it. He was younger, he was fresher, he was fitter. He could get up and down without a problem. It was still not his best position but he could do it. I feel he is at that stage in his career where, if he is playing in an attacking position, he has to be a centre-forward. People seem to think I was saying he was finished. I don't speak to Wayne so I am just hoping he read the full article. As Wayne himself said over the summer, we don't have each other's phone numbers. To be quite honest, there's hardly any people I speak to on the phone from the club.
I have been lucky to play with Wayne. What a player he has been for United and what a player he continues to be. The point I was trying to make was that he should not be played wide, and I was proved right by the Italy game. We go to  a World Cup with a centre-forward scoring goals and we play him left wing. In what other country does the centre-forward and best goalscorer play  on the left wing? None of them.
Reuse content