Watching Steven Gerrard on Sunday, I suspect that his first thought while he was warming up during the first half was "How am I not playing in this game?" His second would have been that when he did get on, he was going to put a few tackles in and get the home crowd going.
He certainly managed the tackles, and in fact even his first challenge on Juan Mata was one of those that was only just timed OK. By the time he was into Ander Herrera his frustration had got the better of him.
Should he have started the game? Of course he should. There was only one person who can have thought that Gerrard was not right to start against Manchester United at Anfield in a must-win game for Liverpool, and that was Brendan Rodgers.
United were brilliant in the first half, but if they had been up against Gerrard then it might have been different. He had the frustration of not playing in the game, and then he had to watch a first half in which none of his team-mates even made a tackle. It is not nice to stand on the sideline and see your own team getting destroyed at home to a big rival.
I can see what he was trying to do when he came on: put a few tackles in and get the crowd going. But even when you can feel the emotions rising in you, the most important thing is control. I got sent off a few times in my life but I never lost my head. I mistimed tackles and I made mistakes.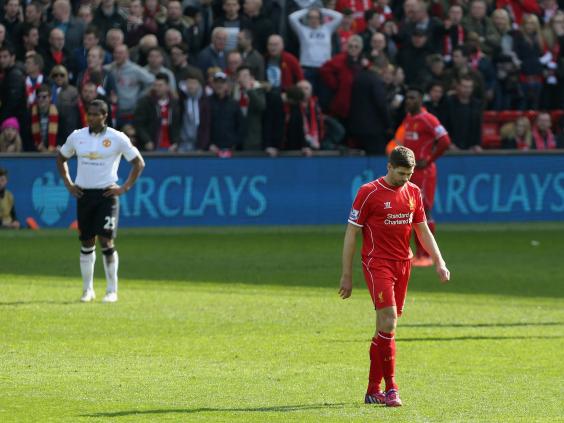 Gerrard is getting closer to his final game at Anfield and his final game for Liverpool. Anfield will be a special place for him, just as Old Trafford was for me. The first time I retired, only Sir Alex Ferguson and I knew that the last league game of the 2010-11 season against Blackpool was to be my final game at Old Trafford. I was a little bit sad but I am not one for tears. The end of a career comes to us all and there is not a lot you can do about that.
Liverpool 1 Manchester United 2 player ratings
Liverpool 1 Manchester United 2 player ratings
1/25 Simon Mignolet

A torrid afternoon for the Belgian keeper as his defence provided him with little cover. Made a good save to deny Rooney from the penalty spot. 6

GETTY IMAGES

2/25 Emre Can

Arguably Liverpool's most reliable defender this season and he produced another strong performance, though Di Maria gave him a difficult time when he came on. Conceded a penalty when he committed a daft foul on Blind. 6

GETTY IMAGES

3/25 Martin Skrtel

Another dicey performance from the centre-half. Struggled to cope with Fellaini as he drove forward. 6

GETTY IMAGES

4/25 Mamadou Sakho

Left exposed a lot of the time by Moreno and Mata almost constantly took advantage. 6

GETTY IMAGES

5/25 Raheem Sterling

Played a little out of position on the right of midfield and was therefore not able to make a major impact. 6

GETTY IMAGES

6/25 Jordan Henderson

One of Liverpool's most influential players on a difficult afternoon. His vision unlocked United's defence more than twice but his teammates failed to finish off what he started. 7

GETTY IMAGES

7/25 Joe Allen

He was shown a yellow card early on in the game and that seemed to have had a negative effect on his performance. Not as boisterous in midfield as he usually can be. 6

GETTY IMAGES

8/25 Alberto Moreno

Lost the ball on a number of occasions that left Sakho exposed. He failed on a number of times to track the runs of Mata. Replaced by Balotelli in the second half. 6

GETTY IMAGES

9/25 Adam Lallana

Took a nasty blow to his head when he collided with Jones as they both went for the ball. Let himself down when he pushed his left-footed shot wide of de Gea's goal after finding space. Replaced by Gerrard at half-time. 6

GETTY IMAGES

10/25 Daniel Sturridge

Undeterred by the scoreline, the England striker never gave up and his endeavour was rewarded when he skipped past Jones before slamming his right-footed shot beyond de Gea. 7

GETTY IMAGES

11/25 Philippe Coutinho

Very important again for Brendan Rodgers. He was relentless when going forward with the ball. Linked up midfield and attack expertly. 7

GETTY IMAGES

12/25 Off the Bench: Steven Gerrard

Replaced Lallana at half-time. Sent off within 38 seconds of coming on after he stamped on Herrera. 0

GETTY IMAGES

13/25 Off the Bench: Mario Balotelli

Stroppy when he came on - not exactly the calming influence Liverpool needed and that was proved as much when he received a booking seconds after coming on for Moreno. 6

GETTY IMAGES

14/25 David de Gea

A particularly assured display from the United goalkeeper. He probably should have done better when he was beaten one-on-one by Sturridge. 6

GETTY IMAGES

15/25 Chris Smalling

Made sure Balotelli wasn't able to get ahead of him at set pieces and generally cleared his lines well. He has much more authority now than he did earlier in the season. 7

GETTY IMAGES

16/25 Antonio Valencia

A very strong game from the winger come wing-back come full-back. He was excellent in supplying Mata on the right side. 6

GETTY IMAGES

17/25 Phil Jones

Slightly erratic in a lot of what he does. He was booked when he went in hard on Henderson. Organised his defence well, though. 6

GETTY IMAGES

18/25 Daley Blind

Found himself away from the action quite a lot during the match but he was effective in running the line behind Di Maria. 6

GETTY IMAGES

19/25 Michael Carrick

Sat just in front of the United back four it was his job to stop Liverpool's midfield advancing too far forward. He did that well but was bypassed by Henderson on a number of occasions. 6

GETTY IMAGES

20/25 Juan Mata

Calmly finished past Mignolet after he made a brilliantly-timed run to meet Herrera's pass. He looked a threat when he decided to break forward. Sealed all three points when he pulled off a spectacular bicycle kick to beat the Belgian keeper at his far post. 8

GETTY IMAGES

21/25 Ander Herrera

Provided an excellent through ball for Mata to take advantage of and open the scoring on 14 minutes. He dominated the midfield. 7

GETTY IMAGES

22/25 Marouane Fellaini

His presence very welcome again in the United midfield. He drove forward with intent and rarely lost a battle in the air. 7

GETTY IMAGES

23/25 Ashley Young

Replaced by Di Maria in the second half after he suffered a knock. He was bright in the first half. 6

GETTY IMAGES

24/25 Wayne Rooney

He didn't get as far forward as he usually prefers but he was instrumental in offering Di Maria another option when the winger chose to penetrate the left-side of the Liverpool defence. Held onto the ball well in the last few minutes of the match. Should have done better with his penalty. 6

GETTY IMAGES

25/25 Off the Bench: Angel Di Maria

Replaced Young in the second half and immediately made an impact. His lovely dink teed up Mata for the Spaniard's second goal. 7

GETTY IMAGES
I took a look around. My family were there in the private box that we rented during my time at United, and then that was it. We played the Champions League final six days later. Then in eight months' time, I was back in the first-team squad! When I finally quit for the second time in the summer of 2013 I had accepted that this really was the end and, having got over that, the move into retirement was a lot easier.
Reuse content