As the most successful manager in the Premier League and its biggest name now that Sir Alex Ferguson has gone, it should be no great surprise to see Jose Mourinho doing his very best to influence the decision-makers in the game, from referees to the Football Association.
The problem for the Chelsea manager is that I just don't think it is working for him.
It is inevitable that he would try. All the top managers do it, and I suppose he should be applauded for making the effort to get himself into a television studio and engage in some kind of debate, as he did on Sunday. Everything he does is for the good of his team and I understand the reasons he does it.
It just seems to me there is an unwillingness among referees to be influenced by him. I am not saying they are making the wrong decisions on purpose, just that there is a resistance to being told what to do.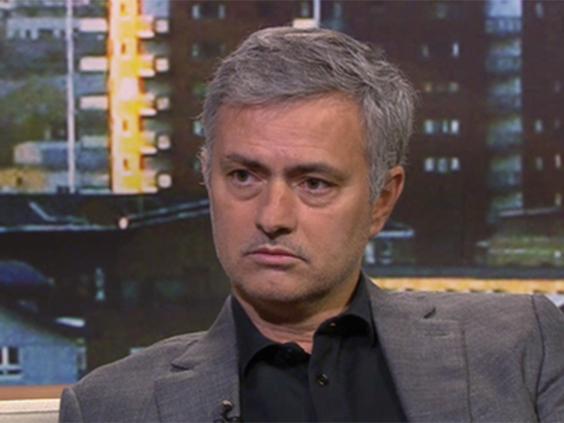 To be clear, I don't think Nemanja Matic should have been sent off against Burnley. I believe that Cesc Fabregas should have been given a penalty against Southampton. I don't think that Diego Costa should have been banned retrospectively for stepping on the ankle of Emre Can. But I also think Mourinho should remember that he has had some close calls in other games that have gone his way.
Chelsea 1 Burnley 1 player ratings
Chelsea 1 Burnley 1 player ratings
1/21 CHELSEA: Thibaut Courtois

Produced an absolutely fantastic save with about 10 minutes left to keep the score at 1-0, but Burnley scored from the resulting corner. 7

2/21 Branislav Ivanovic

The right-back now has four goals in his last six games – a superb finish and excellent again. 8.

3/21 Kurt Zouma

Another composed performance from the skipper; Chelsea should offer him a new deal soon. 7

4/21 John Terry

Another composed performance from the skipper; Chelsea should offer him a new deal soon. 7

5/21 Filipe Luis

Back in the side but really struggled with the pace and pressing of the visitors. 5

6/21 Nemanja Matic

Was controlling the midfield until he saw red following a terrible challenge from Ashley Barnes - an understandable reaction, but he will miss the Capital One Cup final. 5

Getty Images

7/21 Cesc Fabregas

Still doesn't look 100 per cent fit, whether it's his hamstring or illness. 6

8/21 Juan Cuadrado

Showed flashes of his pace and quality before being replaced after an hour but needs more time to gel with his new team-mates. 5

Getty Images

9/21 Diego Costa

Has lost a bit of sharpness since returning to the first XI. Needs a goal very soon. 5

Getty Images

10/21 BURNLEY: Tom Heaton

Didn't produce one stand out save but was generally solid throughout. 7

Getty Images

11/21 Kieran Trippier

Always a great attacking threat down the right, though he did struggle to handle Hazard. 7

12/21 Jason Shackell

Should have conceded a penalty in the first half, shoving Diego Costa to the ground after being beaten. 5

Getty Images

13/21 Michael Keane

Dealt with the Chelsea attack better than his partner, but still struggled at times. 6

GETTY IMAGES

14/21 Ben Mee

Fantastic header for the goal and dealt really well with Juan Cuadrado throughout the game. 8

GETTY IMAGES

15/21 George Boyd

Worked really hard in midfield and possesses decent quality with his left-foot. 7

Twitter/@BurnleyOfficial

16/21 David Jones

Never gave Fabregas and Matic a moment's rest, and was a crucial part of Burnley's comeback. 8

Getty Images

17/21 Scott Arfield

Like Jones, Arfield was an energetic presence in the centre of midfield. Could not fault his work rate throughout the 90 minutes. 8

Getty Images

18/21 Michael Kightly

Mostly anonymous before coming off for Sam Vokes, though he did work hard. 5

Getty

19/21 Ashley Barnes

His tackle on Matic changed the match. Horrible tackle that could have broke the Serbian's leg, Barnes was lucky to escape punishment. 4

20/21 Danny Ings

Always a nuisance to Terry and Zouma, buzzing around the pitch making intelligent runs. Didn't get a chance to show off his finishing skills. 7

Getty Images

21/21 From the bench: Sam Vokes

Can on for the last 10 minutes but didn't really affect the game. 5

PA
The footage of Branislav Ivanovic locking an arm around James McCarthy's throat in the Everton game did not look good. Equally, Gary Cahill, when he kicked Harry Kane in the New Year's Day game at White Hart Lane when the striker was on the ground. Cahill's challenge on Alexis Sanchez in October that angered Arsène Wenger was not too clever either.
There is no campaign against Mourinho but there is clearly an unwillingness by referees, and the FA, to be pushed around.
There is no doubt that my former manager Sir Alex exerted an influence over some referees. He was the master of dropping a comment into his Friday press conference – for instance, how long it had been since we had been given a penalty, or the treatment meted out to a player like Cristiano Ronaldo. It was always calculated and delivered calmly.
How would I describe the impression I got from some referees when it came to Sir Alex? I think some of them wanted to please him. I don't mean that they did us favours. It was more that they were very keen not to make mistakes in our games. That when they came to Old Trafford they wanted to be on top of their game and get everything right.
It goes without saying that no one at United ever expected any help. We understood that decisions can go against you. We believed we were the better team and therefore, if the referee got his decisions right then we would win the vast majority of our games.
I don't know what reaction Mourinho expects from referees in saying what he has about them. If he had hoped that they would be more likely to give his team the split decisions then it has not worked. They seem to be determined not to be seen to be influenced by him.
As for the foul and reprisal that went on between Ashley Barnes and Matic on Saturday, my verdict would have been yellow cards for both of them. It was not a leg-breaking tackle, as Mourinho said. It was not even close. Why? Because Matic got up immediately and ran after him. If a tackle is potentially leg-breaking then, even if the leg in question remains intact, the player fouled does not get up and run after his opponent.
Matic's reaction was not violent conduct in my view. If it had been a shove in the face or a punch, then it would have been a red. But not a shove in the back. I wonder whether we have reached a point where we can't tolerate any show of temper or any kind of contact.
As a player I loved being tackled, whether it was in training or in a game. I took a full-blooded challenge as an invitation to do exactly the same thing to an opponent. I would wait for my opportunity and nine times out of 10 I would get him back. If I had to wait for the next time we played the team in question, or the next training session, then so be it.
When I started as a pro at United, I played alongside Bryan Robson in the A-team and later in the senior side. With Bryan it didn't matter what level we were playing, or which one of his team-mates got kicked. Within five minutes you could guarantee that the opponent in question would be in a heap on the floor, courtesy of Bryan. It was what he did and no one complained.
I had some bad tackles on me over the years but I took it as part of the game. One that stands out was a challenge by Bobo Baldé in a Champions League game against Celtic that we lost in Glasgow in 2006. When I watched it back later I was shocked at how my leg bowed. I had got to the ball first and he had caught me. It was nothing malicious. It happens. That was one time I didn't try to kick him back. He was so big I would only have hurt myself.
I know as well as anyone that certain players can be targeted and that you have to draw the line at reckless, nasty challenges that are genuinely dangerous. But not every tackle that connects with a player is a potential leg-breaker, and not every time you get kicked does there have to be outrage.
As for the refs when I was playing, I never even checked who was in charge of the game. It was not something that played on my mind either before or after the match. For managers, those details are important but just because you talk about referees all the time does not necessarily mean they will give you the breaks.
Time for Spurs to show if they can handle big-match pressure
There is something about a cup final that brings out a different quality in a footballer. Do they have the courage to win a one-off match? Quite simply, do they have the balls to take risks? We know that the current Chelsea team is capable of seizing the moment. The question marks are more about Tottenham this Sunday.
The Capital One Cup final is a great opportunity for the likes of Harry Kane, Ryan Mason and Nabil Bentaleb to get a medal early in their careers. I am sure that they will all have very good careers but it comes down to how much you have won in the end, and winning finals is difficult.
I won three FA Cup finals, two League Cup finals and played in one of United's two Champions League-winning finals. But I lost in a lot of finals too: the FA Cup in 1995, 2005 and 2007, the League Cup in 2003 and the Champions League in 2009 and 2011. On some of those occasions – 2003, 2005, 2007 – we were by far the better team on the day but sometimes that just isn't enough.
A cup final is all about seizing the moment. You cannot put right a mistake or a missed opportunity the following week. Look how Chelsea won the Europa League final against Benfica in 2013 despite not playing particularly well. On Sunday we will find out what this good young Spurs team are like when the pressure is really on.
City paid the price for not dealing with Barça's Busquets
You cannot play against Barcelona with a two-man attack that is as static as the one that Manchester City played on Tuesday night. I could not believe that Manuel Pellegrini went with Sergio Aguero and Edin Dzeko up front and that he asked neither of them to drop off when City lost the ball to deal with Sergio Busquets.
Busquets runs the game for Barcelona. He gets the ball forward to Andres Iniesta and Ivan Rakitic and from there it goes to Lionel Messi, Neymar and Luis Suarez. And then you're really in trouble. You have to put someone on Busquets. I would have played James Milner and Samir Nasri on the flanks, Aguero on his own up front and have had David Silva dropping into the middle to deal with Busquets.
If you do not deal with playmakers like Busquets or Andrea Pirlo then they will cheerfully destroy you, and that is what happened to City in the first half.
In some ways I admire the principle of a manager who is determined that his team must play their own game. But this was not Newcastle at home, this was Barcelona. They are not as good as the Barcelona team that won two European Cups but they still have very high-quality players if you let them play the way they want to.
Better from United. Rooney and RVP is the way forward
Having been critical of United in recent weeks, I thought that despite losing to Swansea they played better. They had 18 goal attempts, which used to be the norm but that count has been much lower recently. Playing Wayne Rooney and Robin van Persie as a striking partnership has to be the way forward for them now.
Reuse content