I know that feeling when a career in professional football is reaching its latter stages. When the legs ache more than they should in a warm-up, when it seems like a young lad in training has got the measure of you, when you jog on to the pitch and find yourself asking that same question: what am I doing here?
Those last few years can also be wonderful, as you savour the last experiences of a job you love. It comes to us all, and it is a case of adapting your game and conserving your energy for the moments in a match when you can be at your most effective. It is a change that Steven Gerrard, at the age of 34, is having to make as his career winds down.
Being rested against Real Madrid on Tuesday night will have been a new experience for him, although he was not the only first-choice Liverpool player left out. All through his career he has played in those big games as a matter of course, but as he gets older there will be more occasions when he has to be rested. The question for Brendan Rodgers is whether he has the players to give Gerrard that privilege.
Gerrard should have started on Tuesday. I recognise that Rodgers had a run of three games in a week but if he could not play Gerrard in all of them then it should have been last Saturday's game at Newcastle that he missed. The problem is that Gerrard does not have the players around him to allow his own playing time to be managed.
Video: Premier League preview
There is no reason that he cannot be an effective holding midfielder for Liverpool for three more years. I won a Champions League final six months before my 34th birthday. You need a manager who knows when to play you and when to rest you. Sir Alex Ferguson was brilliant at that. He would tell me that he had a game in mind for me, a week, 10 days ahead and to get myself ready to play.
Liverpool's squad is not strong enough to allow Gerrard the rest he needs, even taking into account the performance in Madrid by a mainly second-string XI. In my last few years at United we had the strength in depth that allowed the manager to be selective with my games. But Rodgers clearly feels that he has no alternative with Gerrard.
Once again we go back to Liverpool's signings in the summer. They did not recruit well enough. They are relying on the same players as last season to bring them through the big games. Rodgers said as much before the Madrid game, that it was time for those who had not been playing to take responsibility.
Real Madrid 1 Liverpool 0 player ratings
Real Madrid 1 Liverpool 0 player ratings
1/22 Iker Casillas

Rarely troubled. 6

GETTY IMAGES

2/22 Alvaro Arbeloa

A solid night for the former Liverpool man. 6

GETTY IMAGES

3/22 Raphael Varane

Comfortable in defence and showed his skill with a superb chipped pass for Karim Benzema. 6

GETTY IMAGES

4/22 Sergio Ramos

Unfortunate to be booked for a tackle on Adam Lallana. 6

GETTY IMAGES

5/22 Marcelo

Once again, the full-back was a major attacking threat. Set up the opening goal for Benzema with a lovely cross. 8

GETTY IMAGES

6/22 Toni Kroos

Less influential than a fortnight ago but still a high-class presence in midfield. 7

GETTY IMAGES

7/22 Isco

Involved in the move for the first goal. 6

GETTY IMAGES

8/22 Luka Modric

As at Anfield, stood out with his control in midfield and ability to pick a pass. 8

GETTY IMAGES

9/22 Cristiano Ronaldo

A rare off night for the forward, who must wait to equal Raul's Champions League scoring record. 6

GETTY IMAGES

10/22 James Rodriguez

Drew an early save from Simon Mignolet but was only a sporadic threat and was substituted. 6

GETTY IMAGES

11/22 Karim Benzema

Scored the winner with his third goal in two games against Liverpool. 7

GETTY IMAGES

12/22 Simon Mignolet

A good night for the goalkeeper, who could do nothing about the goal and made a number of important saves. 7

GETTY IMAGES

13/22 Alberto Moreno

The adventurous full-back caused a few problems for Real. Booked for bringing down Bale. 6

GETTY IMAGES

14/22 Kolo Toure

Only a fourth appearance of the season for the defender. Benzema escaped him for the first goal but otherwise Toure was impressive, particularly in the way he handled Ronaldo. 8

GETTY IMAGES

15/22 Martin Skrtel

Saved by Mignolet after carelessly giving the ball away to Benzema early on. Booked for a foul on Ronaldo. 5

GETTY IMAGES

16/22 Javier Manquillo

Some encouraging link-up play with Lazar Markovic down the right and generally coped fairly well with the threat of Marcelo, although caught out for the goal. 6

GETTY IMAGES

17/22 Emre Can

Willing to drive forward in midfield but faded as an influence. 6

GETTY IMAGES

18/22 Lucas Leiva

A rare start for the midfielder, who provided much-needed cover for his defence. 6

GETTY IMAGES

19/22 Adam Lallana

Made a big impact as a substitute in the home game. Had one of Liverpool's best efforts on goal and supported Moreno well. 6

GETTY IMAGES

20/22 Joe Allen

Some promising moments but Real again dominated midfield. 5

GETTY IMAGES

21/22 Lazar Markovic

Caught the eye in flashes down the right. An encouraging showing. 7

GETTY IMAGES

22/22 Fabio Borini

A difficult task for the striker up front on his own. Always tried to offer an outlet. 5

GETTY IMAGES
Teams are only as good as their strikers and Liverpool's have not been good enough since they sold Luis Suarez and lost Daniel Sturridge to injury. A player like Gerrard thrives on having a striker who is always on the move, opening up angles with the intelligence of his running. When Sturridge comes back he will give them that.
Last season they came close to winning their first title in 24 years, and they played well. Now we keep hearing that they are in "transition". They are in transition because they did not buy well enough in the summer. I feel they needed to concentrate on signing one top striker, one top midfielder and one top centre-half. Instead they spread their net too wide.
I see Gerrard's last years at the club being spent in the quarterback position that he has occupied for most of the last two seasons. Rodgers has tried playing him behind the front line but I felt that was more because he was trying to solve Liverpool's failure to score goals rather than using the player to his greatest strengths.
As a player gets older there are adjustments that have to be made every season. When I retired from international football in 2004, I struggled at first to know what best to do with those days during international weeks when the rest of the United squad was away. Should I take the time to have a break? Or should I work through as usual? Like many players I liked to train every day, and did not always feel right if I didn't.
Ryan Giggs was the master at getting himself just right to play. He was meticulous about it. He always knew when to rest and when to train; when to train hard or when to ease off. He had his yoga routine as well. Gerrard is in his first season without international football and he will be trying to find that balance.
There is no doubt that Gerrard has earned the right to be considered a great player, even if it now looks inevitable that he will never win a league title. As for the final few years, I cannot offer him much consolation. It is horrible getting older.
At United we used to play an eight-a-side game in training on a Friday and in my final couple of seasons there were times when the game passed me by. I found that the likes of Tom Cleverley, who had a great season in my final year, were just passing the ball around me.
But there were still moments in games when all the pieces fell into place and I contributed in the way I had in my younger years. For that you need to be fresh and ready. Liverpool must find a way of ensuring Gerrard has sufficient support to feel that way for their biggest games – like that one in Madrid.
United can't just play well for 20 minutes, then lose
It concerns me that expectation levels have slipped so far at my former club Manchester United that many supporters I know felt relieved at snatching a late draw with Chelsea and losing narrowly to Manchester City. The scoreline against City might have been more respectable than last season but the performance in the first hour of the game was very poor indeed.
This is Manchester United. It is simply not good enough to play well for 20 minutes and lose.
Louis van Gaal talks about progress. I expected United to have a better record by this stage of the season. Under David Moyes last season United had 17 points from their first 10 games. This time, having spent £150m in the summer, they have 13 points from 10 games.
There have been many different interpretations of the derby game. I saw it this way. City should have had three penalties. David De Gea made some fantastic saves. Chris Smalling got sent off. And United lost.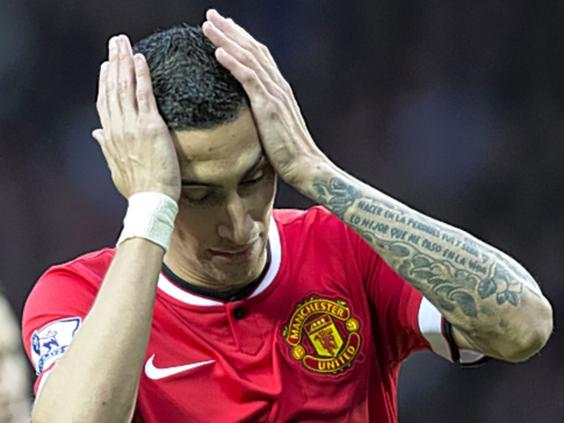 It is difficult to figure out what Van Gaal is thinking during games. His demeanour doesn't change throughout. He looks a bit subdued. Certainly, he appears very different to the man you saw on the touchline at the World Cup.
The problem in defence should have been addressed in the summer. It was not as if Van Gaal was unaware that Phil Jones, Smalling and Jonny Evans were susceptible to injuries. The great defenders – Steve Bruce, Gary Pallister, Rio Ferdinand and Nemanja Vidic – were injured very rarely in their prime. You need that reliability and consistency at centre-back.
My concern is that the mood among the United players feels a bit low-key. Preparing for the broadcast of the game in Madrid this week, I watched reruns of last season and Angel Di Maria smiling broadly as he celebrated goal after goal with Cristiano Ronaldo. He doesn't seem to be in the same happy mood at United. It feels downbeat among the team. All this, and yet the third and fourth places – with respect to the likes of Southampton and West Ham – really are there for the taking.
Reuse content