Fifa is facing growing calls from the international footballing community to strip Qatar of the World Cup in 2022, ahead of a crucial meeting between organisers and ethics lawyers in Oman tonight.
The governing body's ethics investigator Michael Garcia had already embarked on an inquiry into the 2018 and 2022 World Cup bids when the latest allegations of corruption were reported by the Sunday Times.
According to the newspaper, Fifa officials took a total of £3 million in exchange for backing Qatar's bid, despite concerns over the heat the tournament will be played in and the lack of football infrastructure.
The chief executive of Football Federation Australia, David Gallop, has become the latest senior figure to wade into the controversy, saying that his officials have been "involved in all of this for some time now".
He told SEN radio in Melbourne: "We need to get more information about what's been revealed in the last 48 hours, but don't be under any illusion that we haven't been heavily involved in all of this for some time now.
"We've been involved in interviews, production of documents and also following carefully what's been happening away from Australia - so we've got people that have been involved for some time now."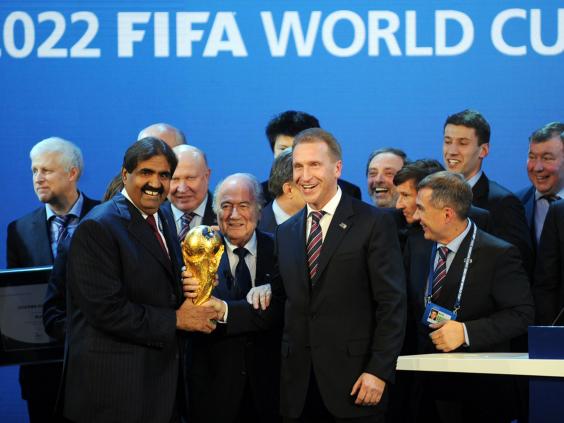 Yuichiro Nakajima, who was the executive director of Japan's 2022 World Cup bid, said he supported calls for a re-vote.
"I do think all of this points to a need for a major reform of how Fifa is governed and is perceived to be governed," he told the BBC.
Asked if Japan would join the growing calls for the 2022 competition to be taken away from Qatar, he said: "I can't speak on behalf of the Japanese FA now, but if I were in the position to say so, then yes I would."
The Qatar bid committee said yesterday that it was co-operating fully with Garcia's inquiry, and that its meeting with the New York lawyer tonight would involve "taking whatever steps are necessary to defend the integrity of Qatar's bid".
But last night Greg Dyke, the chairman of the Football Association, told Channel 4 News: "Some of this evidence on the face of it is quite compelling.
"If the evidence is there that the process is corrupt, then obviously the process has to be looked at again."
The UK sports minister Helen Grant said: "These appear to be very serious allegations. It is essential that major sporting events are awarded in an open, fair and transparent manner."
John Whittingdale, chairman of the Commons Culture, Media and Sport select committee, accused Fifa of not taking corruption allegations "sufficiently seriously" in the past and said: "If these revelations in the Sunday Times prove to be correct they are obviously extremely serious."
He said Sepp Blatter's position as the head of Fifa was "almost untenable" based on his reaction to the allegations over the past couple of years.
The former Attorney General Lord Goldsmith, who was also a member of Fifa's Independent Governance Committee, said the decision to award Qatar the tournament should not stand if it is proved it was due to "bribery and improper influence".
"And what I believe that means - I'm not speaking for the committee or for any of my former committee members - is if these allegations are shown to be true then the hosting decision for Qatar has to be re-run."
The Allegations
In the investigation by The Sunday Times, the newspaper claims to have obtained millions of secret documents from a Fifa insider that prove the decision to grant Qatar the 2022 World Cup had been influenced by payments made by disgraced former Fifa vice-president Mohammed Bin Hammam.
According to the Sunday Times report, the secret documents show a campaign of corruption, which saw Hammam pay out millions of pounds in order to secure support for the Qatari bid from Football Associations across the world.
Fifa executive committee members, government ministers and football associations have denied any wrongdoing and Michael Garcia, a lawyer employed by Fifa to investigate corruption in the organisation, is set to hold talks with the Qatar bid committee in Oman this week.
Bin Hammam, who was previously the Asian Football Confederation (AFC) president, was removed from Fifa after it was found he had used money to influence votes during his campaign to become Fifa President in 2011.
It is alleged that Bin Hammam targeted Football Associations in Africa and used a number of slush funds to pay cash to high ranking football officials to help produce a "groundswell" of support for the controversial Qatari bid.
The newspaper claims that dozens of payments of up to £200,000 were paid into the accounts of 30 different African football associations in an apparent attempt to persuade them to support Qatar's bid.
When approached by the Sunday Times Mr Bin Hammam's son Hamad Al Abdulla declined to comment on his behalf.
The paper claims that another benefactor of Bin Hammam's campaigning is the controversial former Chief of the Trinidad and Tobago Football Association Jack Warner. Warner denies these claims saying that they are" baseless allegations based on innuendoes" and said the money he received from Bin Hammam was to help with losses he suffered during an earthquake in China.
According to The Sunday Times, they have evidence that Warner had more than $1.6m funnelled into his accounts by Bin Hammam, including $450,000 for his vote.
The Qatar bidding committee has always strenuously denied that Bin Hammam actively lobbied on their behalf in the lead up to the vote in December 2010.
The new evidence claims to prove that there had been communications between Bin Hammam and the Qatar bid committee, and that Hammam hosted a number of lavish functions with the aim of securing support for the Qatari bid.
It is also said that at these functions Bin Hammam handed out a cash gifts to a number of influential football officials. In light of the allegations, there have been calls for the bid to host the 2022 World Cup to be rerun.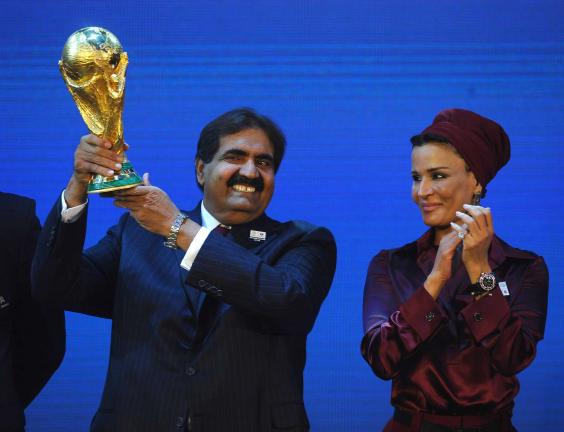 John Whittingdale chairman of the Commons culture committee, said: "There is now an overwhelming case that the decision as to where the World Cup should be held in 2022 should be run again."
The revelations will also put increasing pressure on Fifa President Sepp Blatter.
Just last week an embattled Blatter said it was a "mistake" to choose Qatar to host the 2022 World Cup.
In an interview with Swiss broadcaster RTS, Mr Blatter said: "Yes, it was a mistake of course, but one makes lots of mistakes in life."
"The technical report into Qatar said clearly it was too hot but the executive committee – with a large majority – decided all the same to play it in Qatar."
The decision to award Qatar the right to host the World Cup, which was announced in December 2010, was already considered hugely controversial.
The country has little football history and there have been persistent complaints over the decision to host the competition in a country which experiences stifling heat.
Bribery allegations What happens next?
The fate of the Qatari-hosted World Cup appears to rest in the hands of Michael Garcia, a former US attorney who has conducted a two-year inquiry into alleged corruption within Fifa which is due to be published within months.
While the Sunday Times allegations are detailed, they do not provide a "smoking gun" – although the newspaper is promising more revelations in coming weeks.
Mr Garcia has previously interviewed Mr Bin Hammam during an investigation into alleged wrong-doing over the Fifa presidential elections which saw Sepp Blatter again emerge triumphant, and the Qatari disgraced after allegations of bribery. However, he had not contacted him over the World Cup voting scandal.
The 24-strong Fifa executive committee has already been stripped of the right to choose the host nation of the World Cup over the scandal, with future decisions to be taken by representatives of all Fifa members.
The vote for 2022 saw Qatar pitted against Japan, Australia, the US, and South Korea. The country with the lowest number of votes – Australia in the first round – was eliminated and a revote taken until there was a majority winner. "The best candidate for 2022, given 2018 is in Europe was, and still is, Australia," said former England striker Gary Lineker yesterday.
The US – which lost in the final round of voting – said that it would not take part in further bidding until Fifa got its house in order. If Qatar were to be stripped of the 2022 tournament, it is not clear if it would be allowed to compete in a re-run – or what would happen to the stadiums that are already under construction.
Reuse content