Michael Owen has criticised Raheem Sterling's agent for allowing the Liverpool forward to conduct an interview this week in the midst of frenzied speculation over his future.
In an interview with the BBC - not sanctioned by the club - the 20-year-old denied he was a "money-grabber" for turning down a reported £100,000-a-week contract and said no amount of money would persuade him to sign a new deal before the summer.
With negotiations now on hold until the end of the season, at the request of the player and his agent Aidy Ward, for Sterling to fan the flames came as something of a surprise to the Reds.
Liverpool's best XI of the season so far
Liverpool's best XI of the season so far
1/11 Simon Mignolet - 6.75

Has vastly improved since a dreadful start to the season. Brendan Rodgers doesn't have much competition for the Belgian, with Brad Jones way below the standard required.

GETTY IMAGES

2/11 Emre Can - 7.18

The German has been a revelation in Rodgers' back three system. The youngster is a stern defender and brilliant at carrying the ball out from the back. Has a big future at the club.

3/11 Martin Skrtel - 7.35

Skrtel has grown to become the club's most dependable and solid defender. His three game ban will hit Liverpool hard, with £20m Dejan Lovren really struggling in his first season at Anfield.

4/11 Mamadou Sakho - 7.12

The French defender isn't always the most pleasing on the eye - he's average on the ball - but he is a committed and strong defender.

5/11 Jordon Ibe - 6.88

It's a real shame for Liverpool fans that the teenager picked up an injury just as he was beginning to make the position his own. No one else has been able to act so effectively down the right, especially Raheem Sterling.

GETTY IMAGES

6/11 Jordan Henderson - 7.23

The Liverpool vice-captain has really stepped up to fill the shoes of declining captain Steven Gerrard. The England midfielder can now claim to be the Reds' most important player and first name on the team sheet.

GETTY IMAGES

7/11 Lucas Leiva - 7.22

The defensive midfielder has only seen limited action due to injuries and being out of favour, but he has far outperformed Steven Gerrard. The former England captain only scores 6.87 according to WhoScored's rating.

GETTY IMAGES

8/11 Lazar Markovic - 6.76

Bought as a winger the Serbian has been excellent when playing in either wing-back role, although his season has also been stunted by injury. Alberto Moreno has improved and owns a rating equal to Markovic.

9/11 Raheem Sterling - 7.36

Raheem Sterling has to play in the front three. According to who scored his best marks come, surprisingly, when he plays on the left (7.90) or as a central striker (7.50). Sterling has struggled in a wing back role and the stats bare that out, with his rating dropping to just 6.47 when he plays in the role.

Getty Images

10/11 Philippe Coutinho - 7.32

Another player who has really come on in recent weeks, the Brazilian is outperforming big money summer signing Adam Lallana (7.00). The England man has been better after a slow start but Coutinho is one of Liverpool's best attacking threats.

Getty Images

11/11 Daniel Sturridge - 7.07

Daniel Sturridge only has four Premier League goals in this injury-hit season and that he is Liverpool's best rated striker shows the paucity of options. Liverpool's three other strikers - Mario Balotelli (6.58), Rickie Lambert (6.31) and Fabio Borini (6.25) - all rank in the bottom five of Liverpool's whole scored, and have just four Premier League goals between them all season.

Getty Images
And former Liverpool striker Owen believes Sterling was on "a hiding to nothing", being made to talk about the situation.
"We saw further evidence that Sterling isn't a natural in front of the camera," Owen said on social network Sportlobster. "That's not a huge issue in itself but it does beg an obvious question: Why on earth did his advisor consent to exposing his client to a situation that he doesn't feel comfortable in while discussing arguably the hottest current topic in English football?
"Unless he was going to announce that he was signing a new contract imminently, he was on a hiding to nothing.
"Every Liverpool fan was hanging on his every word and if there were a few willing to sympathise with him a week ago, there won't be many who do now."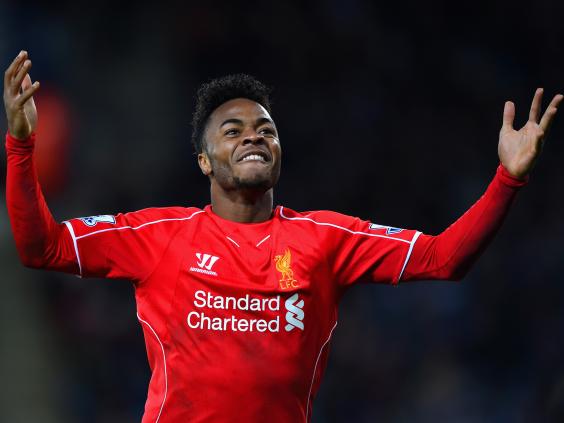 Owen's comments echoed those of former Liverpool defender Jamie Carragher, who labelled the decision to sanction the interview "woefully misjudged" as he reflected on "another PR disaster for Team Sterling".
"For a 20-year-old and his agent to be taking on Liverpool FC in the public domain is a disgrace," the 37-year-old said in his Daily Mail column. "I have no issue about players maximising their earning potential but the agenda that is being driven from Sterling's camp is beyond a joke."
Reuse content