There are risks attached to speaking up for those who seek asylum within these shores. When an Iraqi, a Congolese and a Kenyan had together brightened up a derelict street in central Doncaster 10 years ago and your correspondent was assigned the task of reporting on it, a group of irate indigenous neighbours appeared, demanding to know why these young men were posing for photographs in the street.
"You know they've been given £800 each by the council to buy a car," one of the locals said, this being one of the myths about asylum-seekers doing the rounds at the time. The situation became tense. It ended with our photographer being struck across the head.
The memory was restored to mind yesterday when The Independent reported that Yvette Cooper, the Labour Party leadership candidate, and MP Chris Bryant would write to Premier League clubs urging them to help fans unfurl banners projecting the #refugeeswelcome message, which has become part of the vocabulary since the image of a lifeless, broken three-year-old, washed up off the Turkish coast, encapsulated the incalculable horror behind the mass exodus for western Europe by those in search of refuge, three days ago. "Not sure this is the Premier League's problem," replied one supporter. "Why would they or the clubs want to get involved in a political argument?" Another joked: "How about asking Premier League clubs if they want to sort Isis?" evidently oblivious to the irony presented by his brief Twitter 'biography' which states simply: "Get me to a beach." The prospects of England beating San Marino this weekend are self-evidently deemed more important.
When the sight of Aylan al-Kurdi, legs thin as matchsticks in the image of the Turkish police officer bearing his light frame across the shingle, cannot provoke a reaction, then you have to ask: "What might?" "It's a delicate one," an official at one established British football organisation tells me. "We're not sure all our people will feel it is our place to be speaking out on this." The Premier League is the ultimate rainbow nation, populated with myriad economic migrants whose national teams we follow every other summer. More than £3bn has been spent on these foreign assets in the past four years alone. Yet as of last night, fans of a solitary Premier League club – Aston Villa – had declared support for the Facebook campaign for an "English Football League Day of Solidarity" by unfurling #refugeeswelcome banners next Saturday. Charlton Athletic and Swindon Town have also signed up.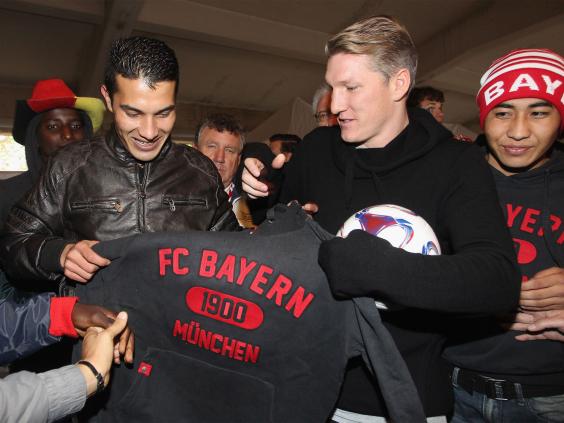 The only clubs with a track record of work fostering acceptance of those seeking refugee operate way beneath the Premier League. "It tends to be the usual suspects," says Daniela Wurbs, chief executive of Football Supporters Europe, which has coordinated efforts across the continent. "FC United [of Manchester], Dulwich Hamlet, Kingstonian, Clapton FC," she says, from an office in Hamburg. Startling that she should need to reel off the names of non-league English clubs.
So, for a sense that anyone in British football appreciates the hell of Syria, Afghanistan, Somalia, Eritrea and South Sudan, you will need to head to north-east Manchester, where a #refugeeswelcome banner has adorned an FC United terrace for the past two weeks. The fan who made it and carries it does not want to be named. "It's as much a comment on asylum-seekers as it is on narrow-mindedness in general," he says. "People jump to rash reactions of 'we're too full' when immigration gives more than it takes from the country." It is FC's philosophy too, observes the club's Andy Walker; a fit with Manchester's history of welcoming those fleeing persecution and oppression.
The banner Kingstonian unfurled against Dulwich should not be forgotten, either, yet these are mere freckles against the background of how football in other European countries – Germany most particularly – has embraced the need to offer succour and shelter to those seeking refuge. And to acknowledge that the biggest humanitarian crisis since the Second World War is within football's universe, too. The image of a #refugeeswelcome banner flown by fans of Bundesliga side Hamburg SV, seen this week, is a year old. But that reflects how German clubs – with Borussia Dortmund, second-tier FC St Pauli and fourth-tier Babelsberg 03 in the vanguard – made it their mission some time ago to eradicate the suspicion and prejudice that surrounds those who seek sanctity and safety.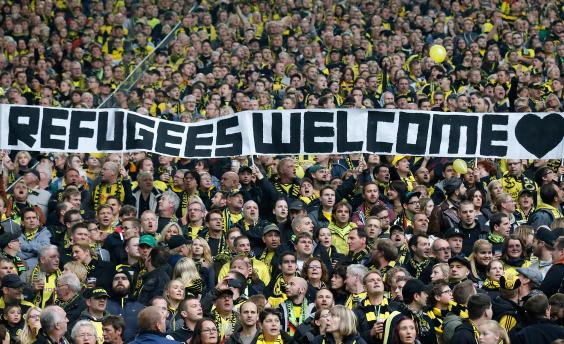 A subtle process and cause and effect has made it so. Dortmund neglected, in the 1990s and first decade of this century, to deal with the section of its fan base which linked to the militant far right and subsequently came under pressure by the media to expunge the Hitler salutes and obscene banners which polluted its terraces. Supporters drove the change: the Unity and Jubos ultra groups, who had been reticent about tackling head-on the intimidating fascists in the ranks, found that they were losing impressionable young men to the far right. With financial support from the club, the two groups started attempting to tackle the bigotry by organising trips to Auschwitz. The club then appointed the head of one of the ultra groups, Daniel Lorcher, as a paid supporter liaison officer to undertake an entire programme – Ballspielvereint, or "combined game" – to pure the terraces of the racists.
It is out of that drive that a spirit of acceptance has emerged: banners, regular invitations of the type which saw 220 refugees invited to the Europa League match against Norwegian side Odds Ballklubb last week, free guided tours and the donation of a transporter van to a refugee organisation are all examples. There is more to it all than altruism and the pursuit of social harmony. Dortmund are clearly attempting to shape an identity. "Refugees have experiences we can't imagine at all," says the club's Sascha Fligge. "War, expulsion and persecution to name just a few. We understand Borussia Dortmund is a unifying element. It stands for values like diversity, tolerance and a cosmopolitan outlook. Football clubs have a great radiance and we are trying to use that."
Refugees Welcome: Supporters back The Independent's campaign
Refugees Welcome: Supporters back The Independent's campaign
1/15 Sean O'Grady

Twitter

2/15 Jamie Merrill

Twitter

3/15 Mollie Goodfellow and Marie Le Conte

Twitter

4/15 Naomi Westland

Twitter

5/15 DJ Kooper

Twitter

6/15 Zuhura Plummer

Twitter

7/15 Christine Gingter

Twitter

8/15 Andy Kavanagh

Twitter

9/15 Martijn van Calcar

Twitter

10/15 Dan O

Twitter

11/15 Kerry F

Twitter

12/15 Eulette

Twitter

13/15 Sarah

Twitter

14/15 Barefoot Mower

Twitter

15/15 Swim Deep

Twitter
Wurbs points to the significance of Dortmund's engagement of its supporters. "The difference is that in England you don't have that close contact to your people from clubs. English clubs still don't fully understand the power of that," she says.
It was a reaction to the hooliganism and bigotry which plagued Hamburg SV during their years of pomp in the 1980s which drove the city's second side, FC St Pauli – which is based in the bohemian district on the right bank of the Elbe – to search for a different identity, too. The club's drive to expunge all types of discrimination was the first of its kind in German football and the legacy is a club which purposefully seeks to maintain and display a political conscience.
 A sense that refugees might form a part of that started two years ago, when the club controversially supported 80 African refugees who had first landed at Lampedusa, off the Italian coast and sought refuge in a principal St Pauli church. The assimilation of that group was not comfortable, sparking near riots in relatively tolerant Hamburg, though a philosophy was forged. "There is an urgency, for us, about using football to demonstrate that refugees are people and here for reasons that would daunt us," says the club's Cristoph Pieper. "We think football has the appeal to create that message and change the consciousness; to show these people are human, just like we are."
More than 20,000 tickets have been sold for the club's friendly against Dortmund next Tuesday which has been assigned the motto "Refugees Welcome" and which St Pauli say will "set a sign and play its part in establishing a welcoming culture for those who have fled to Germany." The club's defender Lase Sobiech and Hamburg SV goalkeeper Rene Adler appeared together at a recent fund-raising event for refugees in the city.
Almost without notice, tolerance has become an intrinsic part of German football. It was without ceremony this week that Bayern Munich announced their €1m (£730,000) donation to help refugees and establish a training camp, with supporter groups Club No 12 and Schikeria Munchen engaging in refugee aid.
This is not an exclusively German phenomenon. In Sweden, at Malmo and Elfsbor, fans are also involved in refugee aid and activities. So, too, Rayo Valecano and Cadiz FC in Spain. Young Boys Bern also have committed fans, who are engaged in the same cause. The Fans Europe organisation has just handed over its first grant from the pan-European Second Fan Shirt campaign it has organised, raising money through the donation of old and unwanted merchandise. Britain's Football Supporters Federation is involved.
German clubs are using their position to erase that pre-supposition, written through the British debate, that a Syrian or an African would travel half way around the world and consign his child to a rib boat on the ocean simply to cash in on benefits and a free NHS. It was the sight of his own father, Marcel, a qualified professional with a degree in engineering, scratching around for jobs, that stays with Fabrice Muamba who, accompanied by his mother, followed him from the chaos of Kinshasa, in the Democratic Republic of Congo, to London. "He found small labouring jobs just to get on the map," Muamba recalls. "He never told me what he was doing. He was just trying to get a living."
 Marcel Muamba had been a politician affiliated to President Mobotu Sese Soko's government and an obvious target when the anti-Mobutu rebels combined to form the Alliance of Democratic Forces for the Liberation of Zaire. He has never spoken to his son of his years spent in and out of detention centres before he was finally granted asylum. Eventually, he found work at a branch of Tesco in north London. Even for Muamba, it is complicated to criticise this country for turning its back on others now. "That's hard because what Britain has given me is far bigger than I could have wished for," he says. "I just hope people can find sympathy now for those who need it."
That wish found solidarity in a most improbable place yesterday, when Cristiano Ronaldo, with the Spain squad, tweeted: "No one at the national team is indifferent to Europe's refugee crisis. All our thoughts are with those people." Such expressions of support have been in short supply from football in the week when an image has seemed to change everything. We await a clarion call from somewhere in the multi-national English game, in the meantime looking enviously at Germany – a country whose deep, sometimes troubled sense of its own past has given rise to a soaring spirit of enlightenment.
Home from home: Refugees in UK Leagues
Saido Berahino
(Born 1993, Burundi)
West Bromwich and England U21 forward came to UK at 10.
Fabrice Muamba
(1988, Kinshasa, DRC)
Fled Congo in 1999 and represented England at Under-21 level before retiring in 2012 after collapsing at Tottenham.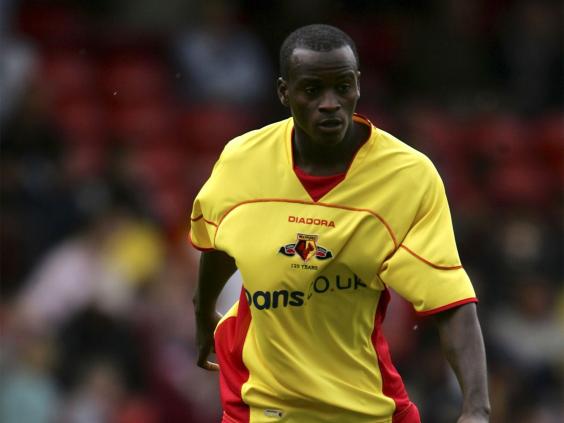 Alhassan "Al" Bangura
(1988, Freetown, Sierra Leone)
Midfielder fled violent persecution in Sierra Leone at 15, made first-team debut for Watford at 17 in 2005 and went on to captain the club.
Calvin Zola
(1984, Kinshasa, DRC)
Ex-Tranmere, Crewe and Burton striker fled war in Democratic Republic of Congo in 1999.
Islam Feruz
(1995, Somali, Somalia)
Striker at Hibernian on loan from Chelsea came to the UK at the age of five.
Liban Abdi
(1988, Burao, Somalia)
The first Somali to become a professional in England, signing for Sheffield United in 2006.
Pedram Ardalany
(1989, Tehran, Iran)
Former Partick and Arbroath midfielder fled Iran with his father aged 15.
Lacine Cherif
(1991, Ivory Coast)
Cherif arrived in Glasgow at 12 not knowing where he was and signed for Rangers at 16.
Reuse content