"Have boots, will travel" was the headline on an interview in these pages seven years ago with Rhys Weston, once of Arsenal and Wales but, in the summer of 2007, a 26-year-old out-of-work footballer. After six years and two promotions at Cardiff City, and a brief spell in Norway, Weston had just been released by Port Vale and was wondering what the future held for him.
The headline proved prescient. Weston's next move was a short one, to Walsall, where he had three successful years, but then he began travelling – to Scotland, where he won promotion with Dundee, Iceland, then Malaysia. This summer he came home, literally so, signing for AFC Wimbledon, whose Kingsmeadow ground is less than a mile from Kingston Hospital where the defender was born.
It was time to catch up. We met in a café in East Molesey, opposite Hampton Court, and round the corner from where he grew up. Ironically, as Weston returns to Surrey, his parents have upped sticks, the former publicans moving to north Wales to start a new life running a tea room. Weston, too, is beginning a new career. The move to Wimbledon has not worked out as hoped and he is on loan to Sutton United, of the Conference South, taking the first steps towards playing part-time and working in the real world.
"League Two was a wake-up call for me," he said. "I've been playing centre-half [abroad], but I'm not the biggest in terms of central defenders – I played most of my career in England at right-back – and found it tough."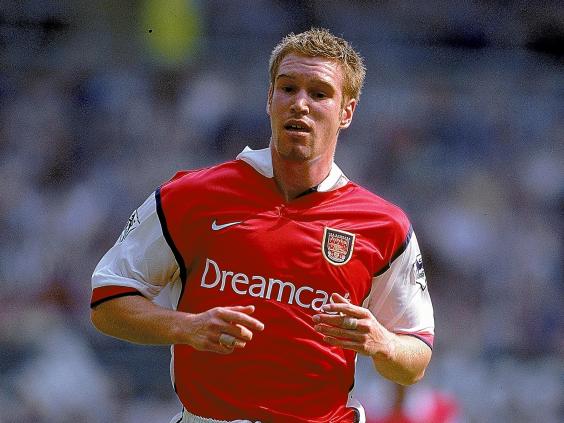 Opponents played on Weston's relative lack of height (he's six foot, so no midget, but League Two centre-forwards tend to be bigger), results suffered, and Weston lost his place before he had time to adapt. "I'm grateful for the opportunity at Wimbledon, Neil [manager Neil Ardley, a former Cardiff team-mate] has been great with me, they are a fantastic bunch and I genuinely want them to do well, but if I'm not playing it is no good to anyone.
"I've always played, I want to play, and at 33 I need to play, hence the reason I am at Sutton, looking to get some games in and moving towards the next stage of my life. I need to start laying foundations for when I hang up my boots."
At 33 most people's careers are beginning to take off. But not footballers. For the gilded few that is irrelevant, they have earned enough never to work again. But most, including Weston, have not and there are not enough coaching and punditry jobs to employ the hundreds who leave the game every year. "I should have addressed this earlier," Weston admits, "but another challenge always came up."
The subject did crop up when we met seven years ago, with Weston suggesting he would take a business management course. He looks mildly sheepish when I remind him. "I enrolled, and lasted six weeks. I just found it so tedious. I understand you have to work, and study, but I wasn't enjoying it and I couldn't commit to something I didn't enjoy. It was like when I had guitar lessons as a kid, if you don't practise what is the point?"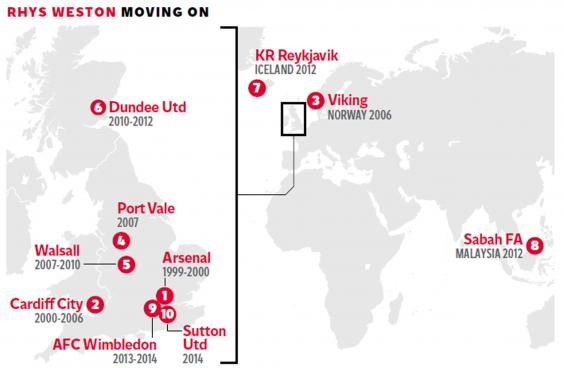 Fortunately, two friends who run an online company marketing golf tourism, yourgolftravel.com, have offered Weston the chance to experience life outside football's bubble. "I've considered going back to study, but I have an opportunity to work and learn at a successful company. What I cannot do is both as I still want to play football, which will be my main source of income for a while."
Weston is playing as a holding midfielder for Sutton, who are unlikely to catch the leaders Bromley, but are in line for a play-off place. Some might regard the Conference South as something of a comedown for someone who learnt his trade at Highbury's marble halls and played with Thierry Henry and Ryan Giggs, but Weston's experiences overseas have left him immune to complaints about conditions and infrastructure.
"In Malaysia the pitches were rutted, the stadia dilapidated, everyone just got on with it. We had a 35,000-capacity stadium but the floodlights were not regulation height so we had to play on Monday or Friday at 4pm. So we had gates of 400 – who would go then, in the middle of the day?
"I played for Sabah, in Borneo. We flew to all the away games. I didn't find it particularly difficult, other than the heat. It reached 42C, with 8 per cent humidity so we trained at nine in the morning. David McCreery [the ex-Manchester United player] was manager, part of my role was to bring the other lads along and raise the professionalism. I embraced that and felt I was one of the fittest in the squad." But unlike England, who play in the Amazon in June, Weston had time to acclimatise. "I went in November, the season started in January."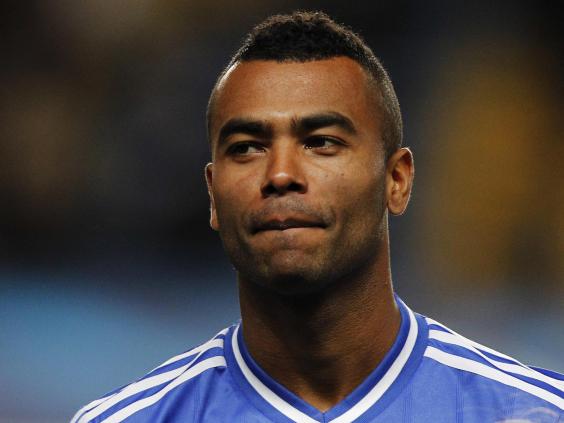 Iceland was much colder – but with better facilities. "It was amazing. There are only 300,000 people in Iceland with 12 teams in the top league and 10 of them have full indoor 3G facilities. They are the hubs of their communities. The team I was at had teams for basketball, handball and so on. There were always kids running about. I really enjoyed it."
Weston may go abroad again, he is working on his coaching qualifications to give him that option. Or he may become a London commuter for the first time since he was a YTS boy catching the train into London, and thence to Highbury, where he would join the likes of Ashley Cole, alongside whom he made his Arsenal debut in November 1999, and Steve Sidwell on the bus to the training ground.
Few players have touched the heights that Cole has achieved, and while Sidwell never played for Arsenal he has flourished since. But studying the names for a planned reunion of that YTS group, it is noticeable how few sustained a career in the game as long as Weston has.
Before the interview I jotted down his career stats in my notebook. He notices it and is surprised to see he has played 445 senior games. "I'm quite proud of that," he says, and so he should be. But now a new challenge dawns.
"I'm excited by the prospect of doing something different, it's daunting as well, there is trepidation, but hopefully it will work out as I picture it in my head."
Reuse content