At times, in his press briefings, Arsène Wenger adopts the demeanour of an exceptional and kindly teacher who, for reasons of staffing shortages, has been forced to cover a class of enthusiastic but limited students. He is happy to entertain for the necessary time, while privately conceding that neither party is going to get much out of the exercise.
On Sunday at Anfield after the 2-2 draw with Liverpool, it felt different. This time Wenger, ordinarily assured to the point he is unflappable, looked at a loss to explain a dreadful first-half performance. He offered up "tactical and psychological reasons", which covered a multitude of sins, and when pressed on the point, explored the psychological aspect further.
"Maybe bad memories from last season [and the 5-1 defeat at Anfield]," Wenger said, "that played a part as well. Some players weren't at their best."
So what of those "bad memories"? When you compare the two sides from Sunday and 10 months earlier it would be stretching the point to say that it was 11 broken men in Arsenal shirts who took the field at Anfield.
Of the XI that started for Wenger at Anfield on Sunday, only five started the game in February: Wojciech Szczesny, Per Mertesacker, Alex Oxlade-Chamberlain, Santi Cazorla and Olivier Giroud. Kieran Gibbs, a starter on Sunday, came on with half an hour to play in February, albeit after Liverpool had scored all five of their goals. Mathieu Flamini, who played 90 minutes on Sunday, was not in the Arsenal squad in February.
What of the remaining four players from Sunday? Alexis Sanchez, Mathieu Debuchy, Danny Welbeck and Calum Chambers were not even Arsenal players when Liverpool ran amok against Wenger's team in February.
Liverpool vs Arsenal Player Ratings
Liverpool vs Arsenal Player Ratings
1/22 Brad Jones

Let Giroud's shot through his legs too easily and perhaps could have done better with Debuchy's opener, too. 3

GETTY IMAGES

2/22 Kolo Toure

Too easily beaten for Giroud's goal, he looked slow and cumbersome throughout but nevertheless found time for some of his typical buccaneering runs forward. 4

GETTY IMAGES

3/22 Martin Skrtel

At fault for Arsenal's equaliser when he allowed Debuchy to steal in at the back post but made up for that error with the equaliser, a howitzer off an injured forehead. 6

GETTY IMAGES

4/22 Mamadou Sakho

There is a good player waiting to break out – but Sakho still looks shaky when pressurised by fast attackers. 6

GETTY IMAGES

5/22 Jordan Henderson

Neat and tidy at points, but in this remodelled, strikerless Liverpool system he appears less able to cut defences open with passes and driving runs. 6

GETTY IMAGES

6/22 Lucas Leiva

How Coutinho benefits from having a player of his defensive responsibility mopping up behind him. Almost scored too, with a late run into the box. 8

GETTY IMAGES

7/22 Steven Gerrard

Willed his team on in the last ten minutes as is his wont. Less influential than before but still such a massive influence on this team. 6

GETTY IMAGES

8/22 Lazar Markovic

Far, far better than he has been so far in a left wing-back role. Missed two good opportunities to put Liverpool in front but Rodgers may yet have found a gem in the 20-year-old. 7

GETTY IMAGES

9/22 Philippe Coutinho

Livelier than he has been since last season, the Brazilian looks far more comfortable with Lucas behind him. Perfectly-placed shot found the corner to put his side ahead but guilty of missed opportunities thereafter. 8

GETTY IMAGES

10/22 Raheem Sterling

Left Debuchy for dead midway through the second half in a reminder of his luminous skill and, along with Coutinho, was Liverpool's biggest threat throughout. 7

GETTY IMAGES

11/22 Adam Lallana

Does not and indeed has never looked worth £25m. Flitted in and out of the game with sporadic touches of skill. 5

GETTY IMAGES

12/22 Wojciech Szczesny

Could do nothing about either Coutinho's well-placed shot or Skrtel's bullet header. 7

GETTY IMAGES

13/22 Calum Chambers

He will be a fine player, but he looked overawed by Coutinho and Lallana's movement. 6

GETTY IMAGES

14/22 Mathieu Debuchy

Struggled defensively but contributed meaningfully at the other end of the pitch, popping up with a crucial equaliser right on half time. 7

GETTY IMAGES

15/22 Per Mertesacker

A mistake waiting to happen. Looked rickety early on as Sterling and Coutinho drove at him and should have at least attempted to stop Skrtel powering past him for the equalising header. 4

GETTY IMAGES

16/22 Kieran Gibbs

Was fortunate that most of Liverpool's threat was confined to the left wing. Got forward well as is his custom. 6

GETTY IMAGES

17/22 Alex Oxlade-Chamberlain

Quieter than the bullocking figure of recent weeks, he struggled to impose himself on the game. 6

GETTY IMAGES

18/22 Mathieu Flamini

Struggled early to track Coutinho and received a yellow for hauling him down. Could have been sent off after clashing with Lallana. 5

GETTY IMAGES

19/22 Alexis Sanchez

A peripheral presence but won the free kick from Gerrard that led to Debuchy's goal. Oddly quiet thereafter and eventually departed the field. 5

GETTY IMAGES

20/22 Santi Cazorla

An effervescent display. Allowed further forward in the second half, he responded with a serving shot that travelled narrowly wide and the delicious cutback from which Giroud put Arsenal ahead. 8

GETTY IMAGES

21/22 Danny Welbeck

Quiet before he was hurt in a clash with Sakho midway through the second half, and limped on ineffectually thereafter. 7

GETTY IMAGES

22/22 Olivier Giroud

Hit a snapshot over on 62 minutes, and was often played wide in the first half. But he made the crucial intervention by slotting home Cazorla's cross. 7

GETTY IMAGES
Sanchez was in the midst of a run of four goals in four games for Barcelona, including one against Seville a day after the Anfield demolition. Welbeck was injured at Manchester United. Chambers and Debuchy were both on the losing side against Liverpool for their former clubs last season but would have been free of any trauma from February's 5-1 defeat on account of the small detail that they were playing elsewhere at the time.
Even two of the three Arsenal substitutes who came on in the second half against Liverpool on Sunday, Francis Coquelin and Joel Campbell, were out on loan last season. You have to wonder if any of the six Arsenal players from Sunday who were at different clubs last season even watched February's Liverpool game in its entirety.
The first thought would be that Wenger simply needs some better excuses at his disposal when it comes to bad performances, and as away draws go, this one was about as bad as it gets.
The Opta statisticians recorded 27 attempts on goal by Liverpool, the highest against Arsenal since records began. The 35 per cent possession count for Wenger's team was the lowest since records began. Of the three teams that finished above them last season, they have not won against Chelsea in the last six games, Manchester City in their last five and Liverpool in their last two.
As ever, the long-term questions do not change about Wenger's squad. This is a talented group of Arsenal players in a season where, the top two clubs aside, there are few teams showing great consistency. They remain more likely than not to seize a Champions League place. Yet on the occasions when they are exposed to a determined, well-drilled opponent there is precious little that looks like a plan.
In attack, Welbeck pressed Liverpool defenders as best he could – a futile exercise when he is the only player doing so. Then, in the final few minutes of the game, with an extra man at their disposal, Arsenal failed at a corner to mark the most dangerous header of the ball in the Liverpool team.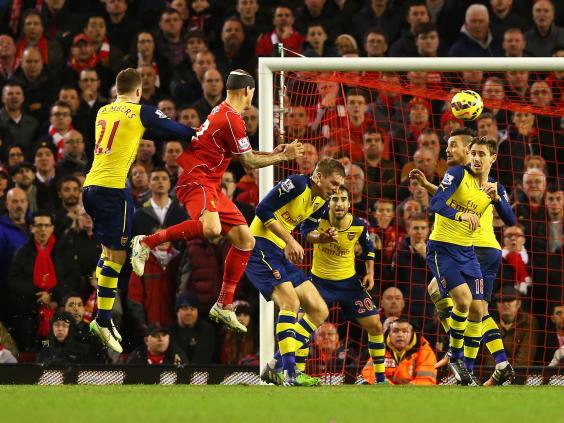 The quality at Arsenal means they have a habit of rescuing the situation over the course of a season. They are FC Just Enough, capable of putting together a run to get out of trouble. The more fundamental question lurks like the proverbial pachyderm in the corner of the dressing room: how much better could this squad be with a few tweaks and strategic additions?
Their vulnerability at Anfield demonstrated how much they require a centre-half and a defensive midfielder, as if that was not obvious already. All the indications last summer were that Arsenal's scouting department were on the lookout for a defensive midfielder and then, at some point in the transfer window, the idea was quietly dropped and the decision made to get by with the likes of Mikel Arteta and Flamini.
Last season a new striker in January would have given fresh impetus to their title challenge, and in the event Arsenal signed the injured Kim Kallstrom on loan, and coasted through January unbeaten, a 10-game run that ended with the thrashing at Anfield. Then, when the inadequacies became glaring once again, it was too late to do anything about it.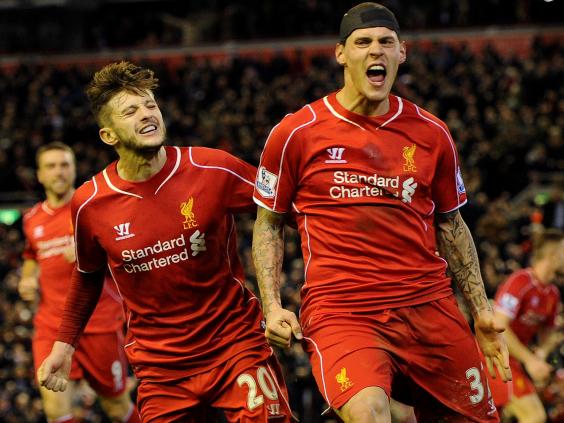 The shortcomings at Anfield, where Arsenal's best centre-half was the converted right-back Debuchy, were at least a moment to focus minds at the club. Will they do anything about it this time? Or, as the latest injury crisis abates, will it simply be the case that Wenger decides he can cope with what is already at his disposal?
History suggests that it will take a crisis of much greater proportions to compel Wenger to act. His team were top on 1 January this year and he responded by boosting their attacking options by signing a 31-year-old Swede with a broken back then surplus to requirements at Spartak Moscow (finishing position in last season's Russian Premier League: sixth).
A glass half-full man, Flamini said that the draw against Liverpool was, at the very least, an improvement on February's result. "If you remember the last score here, it was 4-0 at half-time and then 5-1," he said. "Of course we have improved."
It feels churlish to point out that in the Liverpool team on Sunday there were only six survivors of the starting XI that won 5-1 in February, with Daniel Sturridge and Luis Suarez the most notable absentees. This is a different season, with many different players and different circumstances. The bad memories where Arsenal are concerned is the repeated inertia when just a few sensible changes could make such a big difference.
Ronaldo needs to fix that statue – his fans are laughing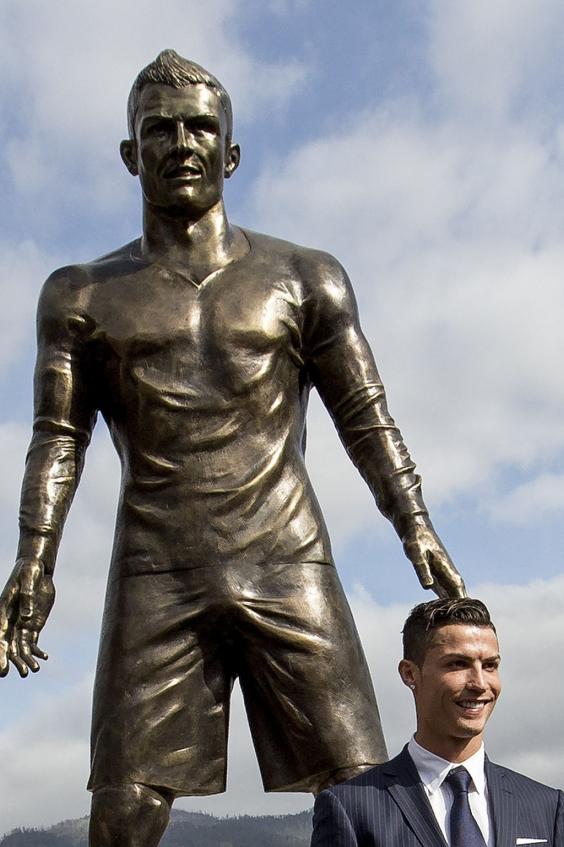 As any good dictator knows, the strength of one's personality cult is always partly dependent on the quality of statues you erect to yourself. They are intended to inspire awe, which is why the best ones are always outlandishly big. Those that try to imitate great moments in the lives of their subject are, to my mind, always trumped by the still, contemplative poses, like the brooding Bobby Moore who stares out from Wembley across the hills of North-west London.
Cristiano Ronaldo's bronze likeness at his personal museum in Funchal looks like a table football figure in a mild state of arousal. Had Ronaldo been the head of a non-democratic state he would, by now, have had both statue and its creator thrown straight into the furnace. Whatever the cost, he needs to get it fixed. The sort of people who raise statues to themselves can accept love or contempt. What they cannot accept is being laughed at.
Reuse content