The day before his Granada team faced Real Madrid on Saturday, Joaquin Caparros put on quite a show at his pre-match press conference, tearing up a copy of Marca newspaper's front page into lots of little bits and invoking the memory of his late father. His objection was to a headline quoting him saying, "All I can ask for is that Madrid don't steamroller us."
"Do you really believe I would say this?" he challenged the reporters. "How could I face my players after saying this? What a way to motivate my team and the supporters. People who know me know I never give anyone anything, even my father who is in heaven and I love most in the world – these kind of headlines piss me off".
Marca stood by the story and the following day, after his side had been dispatched 4-0 by Madrid, Caparros offered the newspaper an apology. "OK, so I said it," he admitted after the match. "But putting it on the front page, I mean, come on."
The man from Marca will dine out on that story for the rest of his career, but what does it say about the bigger problems in Spanish football as Liverpool arrive at the Bernabeu for Tuesday's Champions League game?
The European champions are on a formidable run of 11 straight wins, including that 3-0 victory at Anfield. In La Liga, the margins have been even greater against the sides in the bottom half of the table: 8-2 against Deportivo, 5-1 against Elche, 5-0 against Athletic Bilbao, 5-0 against Levante and the 4-0 win over Granada.
Of course, Madrid have had their upset too, beaten 4-2 away at Real Sociedad in August, a remarkable result given that it is still Sociedad's only win of the season. They are currently in 19th place and only one place above winless Cordoba, who are La Liga's answer to Burnley – albeit with one more point and better weather.
The goalscoring record of Cristiano Ronaldo is thrilling too, 21 in 13 games, including another against Granada on Saturday. The fact that he could surpass the Champions League record of Raul on Tuesday tells you he is one of the game's greatest goalscorers and comparable to those of any era. But even so, the duopoly of his club and Barcelona does not half go out of their way to make it easier for him.
The great inequality of Barcelona and Madrid's carve-up of the television revenue is nothing new, but the longer it goes on the more the gulf grows and the more the scorelines look like an Under-eights league with an Under-15s team running amok in it. The wonder is not that the big two win by so much against those teams in the bottom half of the table, but that they ever lose at all.
The salary budgets of the Spanish teams were published earlier this season, incorporating amortisation of transfer fees, and the spread from top to bottom was telling. Barcelona were the highest spenders with a bill of €348m (£271m), with Real Madrid in second place on €328m (£256m). They spent nearly 30 times as much as the lowest payers, Almeria, who operate on a total budget of €11.7m (£9.12m). It would not cover Ronaldo's wages for more than half a season.
In fact, Ronaldo's €21m (£16.4m) salary – after tax – is just short of Granada's entire budget and in excess of those up to the ninth lowest-ranked teams, including Celta Vigo, whose victory away at Barcelona on Saturday deserves to rank among the great giant-killings of the season in any football country because, truly, they operate in a different financial universe.
Real Madrid 3 Barcelona 1 player ratings
Real Madrid 3 Barcelona 1 player ratings
1/22 Iker Casillas

No chance with Neymar's goal and then had a far easier night then he would have expected. Dealt with everything that Barcelona offered. 6

GETTY IMAGES

2/22 Dani Carvajal

Was quite superb, in the first half especially. Put in countless tackles and blocks and was a threat going forward with his drive and invention. Top game. 9

GETTY IMAGES

3/22 Sergio Ramos

Captain did well throughout, making tackles and blocking well. Did well with Messi and gave the great man very little. 7

GETTY IMAGES

4/22 Pepe

Took his goal very well, bullet header. Did well in defence, behaved himself and nullified Neymar after his goal. 7

GETTY IMAGES

5/22 Marcelo

Had a good game but guilty of wasting chances on the break. Fine in defence but had he been more clinical in attack, Real could have had more goals. 6

GETTY IMAGES

6/22 Toni Kroos

Bossed the midfield and completely outplayed Xavi. Calm, calculated and a full range of passing. Fine corner for Pepe's goal. 8

GETTY IMAGES

7/22 Luka Modric

Did well like all his teammates. Produced several pin-point passes. 6

GETTY IMAGES

8/22 Isco

Chased down the ball in the lead up to the third goal superbly well. Lacked a slight bit of cutting thrust but a very good game overall. 7

GETTY IMAGES

9/22 James Rodriguez

Set up the third goal with a deft through-ball. Some lovely touches but just lacked a bit of quality in front of goal. 7

GETTY IMAGES

10/22 Cristiano Ronaldo

Started the turn around by firing home the penalty with style. Was good throughout but guilty of some over playing. 7

GETTY IMAGES

11/22 Karim Benzema

GETTY IMAGES

12/22 Claudio Bravo

Couldn't really be faulted for any of the goals, but looked a little uncertain at set-pieces. 5

Getty Images

13/22 Dani Alves

Got into plenty of dangerous attacking positions but struggled to cope with Marcelo's bursts forward. 5

Getty Images

14/22 Gerard Pique

Terrible defending to give away the penalty and ran ragged by Real's rampant attackers. 4

Getty Images

15/22 Javier Mascherano

Contributed to Real's third when he and Andres Iniesta got in a muddle, and he simply could not get to grips with Cristiano Ronaldo and Co. 5

Getty Images

16/22 Jeremy Mathieu

The central defender did not look comfortable at left-back and gave the ball away far too often. 5

Getty Images

17/22 Sergio Busquets

Not up to his usual standard as Real were able to get at the Barca defenders at will, and it was Toni Kroos and Luka Modrid who dictated the pace of the game in central midfield. 5

Getty Images

18/22 Xavi

Sad to see the great man looking off the pace but that was precisely what happened, and the captain only lasted an hour before being substituted. 5

Getty Images

19/22 Andres Iniesta

Went on a few dangerous dribbles but was largely peripheral and it was his error with Mascherano that led to Benzema's goal. 5

Getty Images

20/22 Luis Suarez

Played the pass for Neymar's opener, and put in a sumptuous cross to create first-half chance for Lionel Messi. Other than those moments, the Uruguayan was largely anonymous and looked understandably rusty before being withdrawn after 69 minutes. 5

Getty Images

21/22 Lionel Messi

Should have made it 2-0 from close range and although he tried gamely to make things happen, the Argentine was largely smothered by the Real defenders. 5

Getty Images

22/22 Neymar

Scored terrific opener but faded after the interval and will be disappointed to have scuffed half-chance that would have halved the deficit. 6

Getty Images
Of course, the same inequalities exist in the Premier League, but on nothing like the same scale. In the last season for which full accounts are available, 2012-13, the biggest payers then, Manchester City, operated a wage budget of £233m, around five times that of the lowest payers, Wigan Athletic on £44m. That gap is likely to have stretched further with United's summer splurge and the promotion of Burnley, traditionally relatively low payers who had a budget of £15m in the Championship last season.
Yet under the terms of the current television deal, even if Burnley finish bottom of the table come May, they can budget for a payment from the Premier League in excess of £60m.
In elite European football's modern arms race, Madrid and Barcelona can point to the fact that they are competing with the likes of Chelsea, Manchester City and Paris Saint-Germain for the best players – and they have to pay the going rate. Which is true, but when Ronaldo pokes in his fourth against Elche at the Bernabeu, you have to wonder whether the odds were more favourable for that Christians XI the Romans watched suffer so many heavy away defeats at the Colosseum.
On the face of it, the La Liga table looks more competitive than the current Premier League table, with a spread of two points over the top five teams – as opposed to nine in England – and no side undefeated. That Atletico Madrid broke 10 years of the big two's dominance last season, on a budget roughly three times smaller, was a breath of fresh air – although that club can hardly be held up as a model of financial probity.
The trouble is more where those lower-league clubs are heading. Over time, the inequalities have a numbing effect on those teams who compete on wage bills smaller than that of a Championship club. The chances of an upset become ever more improbable. The goalscoring exploits of the big boys become ever more mind-boggling. The contests ever more pointless. Why should a league game have all the lop-sidedness of an FA Cup third-round walkover?
When he is in the mood to establish the challenges of the Premier League as superior to that of Spanish football, which is usually once a week, Jose Mourinho often refers to the fact that any team in the English top flight can get a result on a given day. His Chelsea team have so far proved unbeatable. Even so, it would be hard to imagine Sean Dyche or Harry Redknapp before a game against Chelsea believing the absolute best they could hope for was to lose with honour.
'One of our own' Harry Kane keeps seizing his chances
In the modern world of academy football, where big professional deals have taken the edge off the hunger of young players we are told, Harry Kane looks like one of the exceptions. Aside from Tim Sherwood, he has rarely enjoyed the confidence of his Spurs managers but he just keeps on performing nonetheless.
On Sunday he was again denied the chance by Mauricio Pochettino to start a Premier League game, despite being the club's top goalscorer, and responded by coming off the bench at Aston Villa, taking a late free-kick from Erik Lamela and scoring the winner. That moment distilled his career so far: a determination to grasp opportunity when it presents itself.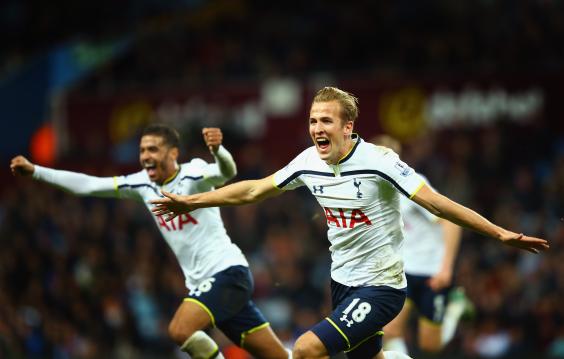 Aged 18, during one of his four loan spells, at Millwall in the 2011-12 season, he found himself on the end of some stick from the club's fans in the early days. There was a discussion at Spurs about whether to bring him back but it was decided that it would be beneficial for him to see it out. He ended the season with seven goals and was voted Millwall's best young player by the fans.
When Sherwood would select Kane ahead of Roberto Soldado, the Spurs fans would sing the Spaniard's name if their side had not scored after half an hour. Now they sing that Kane is "one of our own". The consensus from his critics in the past was that Kane was neither strong enough, nor fast enough to flourish long term. Funny that, because he keeps scoring goals.
Reuse content