Manchester City were in the equivalent of League One when Steve Coogan was doing the tour in which his comedy creation Paul Calf reflected on his own history with the club. "When I was young I had a trial for Man City," he told his audiences. "I was terrible! Missed an open goal. Headed one into my own net. I was absolutely shite." He paused for a drag on his cigarette but you knew already what was coming. "Anyway," he deadpanned, "they offered me a place."
That was City as they once were: a punchline all on their own. Paul Calf could never have been written as a fan of Manchester United – they were just too successful to fit the character's profile. What price Coogan revisiting Paul in this new era for City, and have him wandering bewildered around the gleaming VIP areas of the Etihad Stadium, a cigarette in one hand, a can of Skol in the other, trying to chat up the hostesses in airline uniforms?
It is easy to forget that the new City operation – two league titles in three years, sister clubs in two continents, a training complex opened by the Chancellor of the Exchequer – are still prone to the occasional calamity, the kind which Coogan played on in that Paul Calf sketch. It is no longer what defines them, but it does still happen.
The Frank Lampard saga has been an awkward few days for the club. The drip-drip of information about what turned out to be his 12-month contract and how that reflected on the original, misleading announcement that he was on loan from New York City, the MLS franchise created by City, has cast in a bad light a club that is now meticulous about its reputation. It was, after all, reputation that Sheikh Mansour was investing in when he made the game-changing commitment to the club in 2008.
Yet, for all the cock-up, it is very hard to find the conspiracy. City were wrong to say Lampard was on loan from New York in August and in subsequent conversations with the club, including one I had on 14 December, they did clarify that it was not a loan deal. Lampard had not been able to register as a New York player in August for many reasons, one of which was that the new franchise had not then been added to the Fifa transfer matching system, the global clearing house for transfers.
It was for this reason that he signed a "head of terms" deal with New York in August to come into effect on 1 January. In the interim, Manuel Pellegrini met him while City were on tour in the United States and asked him to join for the first five months of the season. The Premier League only recognises 12-month contracts so Lampard signed one with City including what has been described as an "automatic break clause" on 31 December to allow him to leave for New York. It was that which was cancelled to permit him to play the rest of the Premier League season.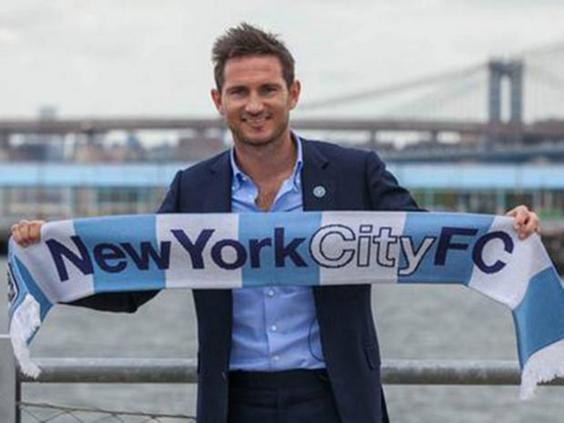 Along the way, City should have clarified Lampard's position better, and once they had started deleting web pages mentioning the "loan" word they should have known the flames of conspiracy would be fanned. It was a cock-up. It is City who have paid his wages, which means he will be on their financial fair play consideration. It is City who have had to make the awkward decision to deprive their MLS franchise of one of its two star players, a far from ideal start to life for New York City.
In some respects, the Lampard saga reminds one of the great Rock Of Gibraltar story that plunged United into such crisis. If only the racehorse Sir Alex Ferguson had agreed to co-own with two of the club's biggest shareholders had been as mediocre as most racehorses owned by the football fraternity. Instead it won seven Group One races and became one of the hottest properties in racing, prompting the ownership rights war that tore United apart. The Sunday Times called it right when it described the Rock as "the horse that won too much".
Lampard might well be the man who played too well. If he had managed a few substitute appearances and just a couple of goals in the Capital One Cup he would have been packed off to New York this month with City's best wishes. Instead his goals alone have won City two games and earned a draw against Chelsea. In a title race that looks like it could be decided by the slenderest of margins, City had no choice but to keep him.
That has been tough on MLS but if anything, it is notable how little protest there has been from the league's most senior figures. There is sympathy for the New York fans who bought season tickets and whose supporters' group, "The Third Rail", last week issued an earnest statement of "outrage". They are the ultimate postmodern fans' group: obliged to condemn their club's board before ever having watched the team play.
Lampard, evidently sensing the damage to his own reputation, gave an interview to The Times on Saturday which as good as laid the blame at the door of City for failing to recognise how events might pan out after he agreed to join them temporarily. Yet in the end, he and the MLS hierarchy know that it is City and Abu Dhabi who are picking up the bills for New York and, as ever, they will call the tune.
For City it is one more salutary warning that, seven years into the journey to becoming a European super-club, the scrutiny is exacting and what once could be dismissed as a cock-up can appear a lot more sinister. What would Paul Calf make of it all? Unlike Lampard, of course, Paul never did sign for City. "I was only 16 at the time," he said. "I wanted to concentrate on smoking."
Mackay might be gone before FA gets round to a decision
If it takes the Football Association any longer to charge Malky Mackay over his text message exchanges, the organisation might find that he has slipped from its grasp again. If Wigan Athletic carry on in their current form, Mackay could find himself out of a job: defeat at Birmingham on Saturday was the seventh of his nine games in charge, of which he has won just one.
One of the main obstacles to Mackay being sacked is the fact his chairman Dave Whelan is serving a six-week football ban for the racist remarks he made justifying Mackay's appointment in the first place. Things move so fast in football we are already two major controversies down the line – Whelan, Ched Evans' return – and still no decision on Mackay.
The FA expects to report within a fortnight. On the basis that the Mackay-Iain Moody text messages were private correspondence and likely to be beyond its jurisdiction, the FA's governance department has undertaken a major investigation into Mackay's past, interviewing players and staff, in order to establish whether there is a case to answer. It had better hurry up. Whelan will be back in mid-February and,  although he will surely be minded to stick by Mackay, it is not as  if results could be  much worse.
Reuse content