It is an innocuous statement, the first thing you would say to a footballer in August, but for Samir Nasri, like Zlatan Ibrahimovic and Gareth Bale, the question: "How was your summer?" is double-edged.
None of them was at the World Cup but for Nasri missing out on the long party was more painful. France, unlike Sweden and Wales, qualified for Brazil but Nasri was not selected. His girlfriend, Anara Atanes, tweeted her outrage at the France manager, Didier Deschamps. Two months later, Nasri is calmer but colder.
He is at the Manchester City training ground at Carrington,  attending one of the free soccer schools the club stages for local children over the summer. When he was their age, growing up amid the concrete tower blocks of La Gavotte-Peyret in Marseilles'  unforgiving suburbs, Nasri dreamed of meeting Zinedine Zidane or playing for France.
He has done both, but with France it is the end of the affair. He will not quite say he will never play for them again but he is like a man who has received the decree nisi of his  divorce and is waiting for the decree absolute.
Manchester City: Potential summer transfer targets
Manchester City: Potential summer transfer targets
1/4 Eliaquim Mangala

The Porto and France defender is reported to be on the brink of a move to Manchester. Mangala, 23, is a long term target of City's and can play on the left as well as in his natural position in the centre. He is quick, strong and excellent on the ball - after the exit of Joleon Lescott and Martin Demichelis still error-prone, Mangala would be the perfect partner for City skipper Vincent Kompany.

GETTY IMAGES

2/4 Paul Pogba

The classy France midfielder is being mooted as a potential replacement for Yaya Toure, should the powerful Ivorian move on. It's a big if, but Pogba is almost the perfect replacement for Toure. Altough he is not quite so strong, Pogba, just 21, is brilliant when driving from midfield and has an eye for a goal too. The former Manchester United youngster scored nine goals for Juventus last season and impressed for France at the World Cup.

3/4 Angel di Maria

Seems destined for a move to Paris Saint-Germain, but the classy Real Madrid winger is on the way out as the European champions line up a blockbuster move for James Rodriguez. He scored 11 goals and had 26 assists last season, but a potential €60m fee could be restrictive with Financial Fair Play penalties hanging over City.

Getty images

4/4 Benedikt Howedes

Should the deal for Eliaquim Mangala not happen, Benedikt Howedes will be a more than able second choice. The German defender, usually a centre back, showed his versatility during the World Cup, lining up at left back for Joachim Low. The Schalke captain led his team to third in the Bundesliga last season, and the Champions League, but he may be tempted by a bigger offer.

GETTY IMAGES
"I have just turned 27, but let's be honest, as long as Deschamps is the manager I don't think I have a shot after everything that has happened. In 2016 I will be 29 and will have a chance to play in the European Championship in France but the French national team doesn't make me happy.
"Every time I go there, there is just more trouble. I face accusations about myself, and my family suffers from it. I don't want to make them suffer so it is better to stop it and focus on my club career."
Nasri, boyish and articulate, does not seem the type to split dressing-rooms but with France there have always been issues.
When he first broke into the France team with other young, talented Muslim footballers like Karim Benzema and Hatem Ben Arfa, there were clashes with the old guard,  including a row about one of them taking Thierry Henry's seat on the team bus.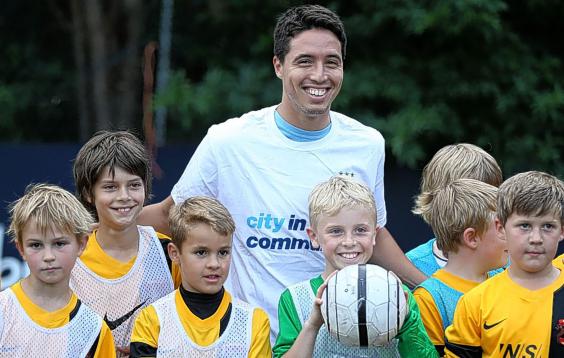 During Euro 2012, there were  reports of dressing-room rows with Alou Diarra and, after their elimination by Spain, a volley of abuse directed at French journalists. Nasri apologised and served a three-match ban. The doors were already closing before Deschamps made his announcement.
"He said I wasn't happy on the bench," said Nasri. "I don't know of one player who is happy on the bench, especially when you don't understand the reason. I am not bitter. I watched all of France's games in the World Cup because I love football. This is not going to make me hate it."
This afternoon, at Wembley, Nasri faces another love gone sour. For the emotionally challenged football fan there is nothing like a player leaving your club to spark accusations of betrayal and Nasri's decision to quit Arsenal for Manchester City has never quite been forgiven. Last year, outside the Emirates, his former team-mate Marouane Chamakh had to intervene to stop Arsenal fans turning verbal abuse into something more physical. This afternoon's Community Shield should give them another chance to jeer.
"I just think it's stupid," Nasri said. "I am not an Arsenal fan and I am not from London. We are footballers and we are just looking at what are the best options for our career. When City came in for me, it was the best choice to come here. I have won trophies and have a better life so I'm really happy about everything.
"If the fans can't move on, it's too bad. They do what they have to do and they love their club. They see it as a kind of treason or that I betrayed them but it's not like that. I just did the best for me and that is what Sagna, Adebayor and Toure did. For the fans the only reason has to be that we did it for the money. It is a factor and it is important but if someone earns £200,000 a week or 150 or 100 already, it is not going to make that much of an impact on your life."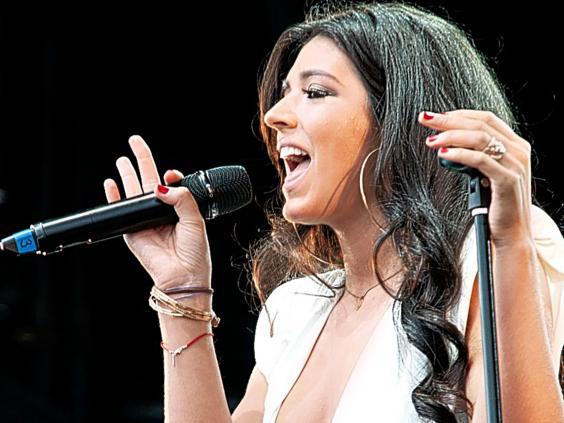 Arsenal are now hoping that Alexis Sanchez will make an impact at the Emirates, although Nasridoubts the Chilean will be able to sustain it for the whole season.
"He has the quality; he is a great player but the Premier League is not La Liga. It is really, really hard. We saw that with Mesut Ozil last season. We expected a lot from him and at the start of the season he was brilliant. In December every league has a break but in England it is not like this. The only one I know of who came from abroad and made an instant impact was Sergio  Aguero in his first season at Manchester City.
"Chelsea will be the biggest threat. Liverpool have signed a lot but they have also lost Luis Suarez and it is hard to replace a player like that. Manchester United will be dangerous because they are not  involved in any European football. Arsenal have bought Sanchez but to me they have weaknesses at  defensive mid and centre-back. Chelsea have done really well buying the players from Atletico Madrid and Cesc Fabregas. They have done it very fast so their players have spent a lot of time together. They will be really dangerous." Nasri knows City have a tough season ahead.
Samir Nasri was speaking at Manchester City's Community Shield media day helping the club's community coaches train local children.
Reuse content