Tighten up at the back
City have kept just three clean sheets in 15 games so far this term so the first step must be to stop giving cheap goals away. A lot of attention is focused on Eliaquim Mangala's teething problems but he is not alone. Fernandinho, with his sloppiness in possession, was equally culpable for Newcastle's opening goal on Wednesday, scored after teenage striker Rolando Aarons then raced past Mangala.
The second goal was a similar story as between them Fernandinho (again), Bacary Sagna and Willy Caballero made Moussa Sissoko look like Diego Maradona.
Former City and England left-back Andy Hinchcliffe, now a Sky Sports analyst, bemoans the champions' general lack of defensive resistance, pointing to "avoidable" goals conceded not just against Newcastle but CSKA Moscow and West Ham too.
"When you get at City's back four they seem to be making more mistakes than I've seen before, whether individual players or collectively," he tells The Independent, noting that the introduction of the £32m Mangala, who has looked uncomfortable in several matches now, has created a degree of uncertainty.
"Once you start to tinker a bit with a back four and you start to make mistakes and concede goals, people can start looking at the lad next to them and worrying," he adds.
Against Manchester United on Sunday, Vincent Kompany – who was rested on Wednesday – will be back and manager Manuel Pellegrini must consider seriously whether to look to the experience of Martin Demichelis alongside him against United.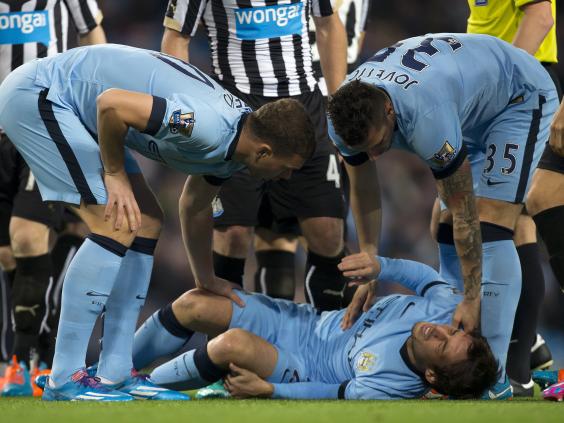 Restore confidence
After Newcastle's first win at City since 2000, Pellegrini referred to a "lack of trust" between his players, pointing not just to sloppy goals conceded but also missed chances and a lack of general fluency. Whether their Champions League setbacks have affected confidence is a moot point but in Hinchcliffe's view, City's players are currently "looking over their shoulder".
However, the club's Montenegrin forward Stevan Jovetic believes a poor run is inevitable for any team – even one as expensively assembled as this City side – and sees Sunday's derby as the perfect opportunity to snap out of it.
"This can happen because we are playing 60 games in the whole year and there are periods like this for every team in the world," he said. "I am sure this is going to be the last game we play like this. We need to improve [and] I am sure we are going to show our real face against United.
"It is a good game because when you play a derby your motivation is 100 per cent. If we win the derby it is going to be much easier and we are going to forget this game."
Roll their sleeves up
City are four points worse off than they were at this stage of their unsuccessful title defence in 2012-13. While there is no danger of the relegation that immediately followed City's first championship triumph in 1937, the big worry is that, just as two years ago, they will lack the determination and desire to reclaim their prize.
At West Ham last weekend their midfielders were outfought by Alex Song – playing with twice the hunger of Yaya Touré – and against an under-strength Newcastle there was no sign of the necessary appetite or urgency when chasing the game.
Reflecting on their attitude, Hinchcliffe says: "The challenge for City is the Champions League and they are going to have to step up to the plate in that, but domestically they have to roll their sleeves up first. If I was Pellegrini, the air of complacency would worry me more than anything else.
"Throughout the team against Newcastle there was a complacency, and I have not seen City perform like that for a long time. I was surprised to see how they gave the ball away so cheaply."
There is an obvious solution: a big kick up the backside for City's success-sated millionaires. "Maybe is up to Kompany and [Pablo] Zabaleta and [Joe] Hart to say, 'We need to get back to basics here, we are not killing teams off, we are taking it too easy'," adds Hinchcliffe.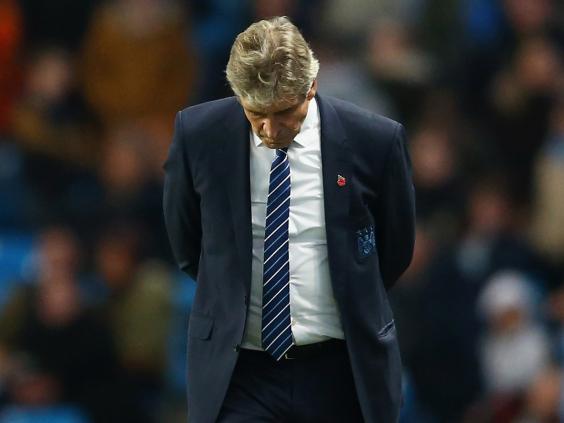 Freshen things up
This one could be harder to do given that City made the mistake in the summer of not improving their title-winning team. If Mangala has been wobbly, £12m midfielder Fernando has hardly shone either and only loan signing Frank Lampard has brought something different.
Hinchcliffe says: "Teams are asking more questions and City are not answering them." While Pellegrini's lack of a Plan B is outlined elsewhere on these pages, it is also worth noting what they are missing in Alvaro Negredo – a centre-forward to give them a physical edge and allow them to go direct if needed (a ploy Louis van Gaal is finding useful now with Marouane Fellaini).
Samir Nasri's return from injury could not be better timed given David Silva's injury but whoever plays on Sunday, they will need to play with a higher tempo and more width than against Newcastle. Yet Hinchcliffe, who scored in City's famous 5-1 rout of United in 1989, believes Sunday's match represents the perfect opportunity to lift the mood. "The derby might be the catalyst for them," he says. "It will be that type of open game that suits them. United will go at them and give them more space to play in."
And finally, a little time...
Amid all the crisis talk, it is worth noting that City are actually a point better off than they were this time last season and that didn't turn out badly. It should also be remembered, when dissecting Mangala's troubles, the difficulties that both Patrice Evra and Nemanja Vidic faced when they first arrived on the other side of Manchester.
Hinchcliffe argues that City are too strong not to come good again – "It will click as they are good players, and good players have the brains to realise where they are going wrong". It is a view shared by Jovetic, who insists the champions remain favourites for Sunday's derby. "Confidence cannot go away in two games," he said. "We are all very good players. We just need to show that on Sunday."g in second place, just two strokes behind Alexander Levy, the clubhouse leader from France, who had a 65. He dropped his only shot of the day at the last, but was delighted with his overall performance.
"It's incredible how quickly things change," he said. "If I'd finished second or third at St Andrews, I'd have got my card back and been over the moon. But winning it got me into all four of the Final Series events. Now it's like I've had a solid all-round year."
In fact his best finish on the Challenge Tour was a tie for 17th at the Kenya Open, for which he earned €2,343. His win at the Dunhill was worth €625,787, secured his playing rights on the main tour for two years, and propelled him inside the top 40 in the Race to Dubai standings.
"I stopped thinking this game owed me anything a long time ago," Wilson said. "But I was able to draw on the experience of what I knew I could do. I knew it was in there somewhere (as nine runners-up finishes would attest) and finally it all came out.
"If anything, this next four weeks will allow me to gauge exactly where my game is at. Playing four tough tournaments in a row (two in Shanghai, one in Turkey and the last in Dubai) against some great players should do it."
Wilson has also found that doors that had closed "have reopened again" and is arranging new endorsement deals. With his contract with Callaway about to come to an end, his victory could not have been timed better.
Another player hoping to make an impact this week is Graeme McDowell, who finished two strokes off the lead after a round of 67. The Northern Irishman, who is 14th in the standings, accepts that McIlroy, who will not play again until Dubai, has an unassailable lead at the top. 
"You look at Rory's year (two majors, one WGC and the BMW PGA Championship) and you can't do anything but respect how great he is and how good he is for the game," McDowell said. "He fully deserves to win the Race to Dubai. For me I just want to get to Dubai with something to play for."
Reuse content