Stephanie Roche last night missed out on becoming the first woman to win the Fifa Puskas Award for goal of the year. Colombia's James Rodriguez was declared the winner from a three-strong shortlist including Republic of Ireland international Roche and Netherlands striker Robin van Persie.
Roche became an internet sensation following her stunning volley for Peamount United against Wexford Youths in October 2013. More than six million fans viewed the goal on YouTube and sparked hopes Roche could become the first woman to claim the award at Fifa's Ballon d'Or ceremony in Zurich.
However, despite a concerted campaign, Roche was beaten in the public vote by Rodriguez's stunning effort against Uruguay in last summer's World Cup.
Unlike her two rivals for the award, Roche's goal was watched by just 95 spectators and was filmed on a camcorder by the Wexford coach, John Flood. Roche collected a cross from the right on her right instep, flicked it over defender Laura Heffernan with her other boot and from 25 yards hit a left-footed volley that found the top-right corner.
Following her nomination, Roche left Ireland to join ASPTT Albi in the south of France, though she is soon to leave the club after struggling with the language barrier.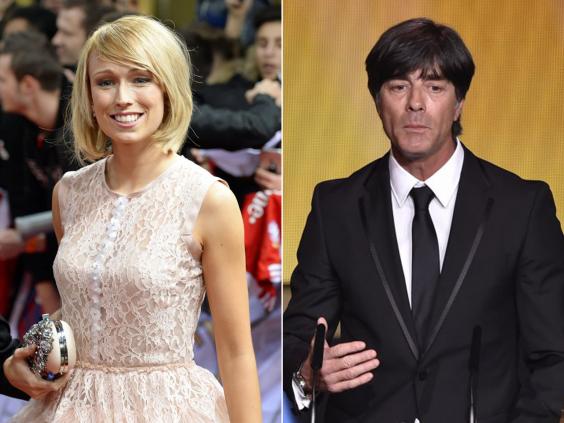 Germany's Joachim Löw took the award for coach of the year for guiding his country to their fourth World Cup triumph. He pipped Diego Simeone, who led Atletico Madrid to La Liga and the Champions League final.
Löw paid tribute to the German football system which helped him lead his side to their World Cup triumph with a 1-0 victory over Argentina in the final in Rio de Janeiro.
"It is the icing on the cake, the cake being the World Cup," Löw said. "I know this award is not just for me, I am taking it here on behalf of all those who have assisted.
"We have had excellent conditions to produce what we have been able to produce. It's a consequence of many years of hard work. I'd like to say thank you to all of the German coaches who do so much with the young players every day. What would a coach be without a fantastic team? To all the other guys who are not here, my gratitude to you is eternal, you are world class."
Germany's Nadine Kessler was named women's player of the year, but the Wolfsburg midfielder's award was overshadowed by the death at the weekend of Junior Malanda, who played for the club's men's team.
"My heart is beating so fast! After the tragedy of losing Junior Malanda at our club, we are having trouble coming to terms with understanding what has happened in the last few days," Kessler said.
Reuse content