As news broke this week that Steven Gerrard would be joining the Los Angeles Galaxy, one of the first people to publicly welcome him to the city was Kobe Bryant.
"Welcome to La La Land," the Lakers basketball star said in a video on the Galaxy website. "I'm looking forward to getting out there and watching you do your thing. I've been a fan of yours for a very, very long time, and your versatility, and your aggressiveness, and your leadership. Welcome to Los Angeles, man. Enjoy."
Most Angelenos have never heard of Gerrard, but it's a measure of the esteem in which the Liverpool captain is held in US sporting circles that Bryant, LA's biggest sports personality, is helping to roll out the red carpet. Gerrard, now 34, is expected in California in July, on a free transfer after the end of the Premier League season. His 18-month contract with the Galaxy is reportedly worth $9m (£6m): $3m this year, because he'll join the club halfway through the US season, and $6m in 2016.
Steven Gerrard in pictures
Steven Gerrard in pictures
1/11 England Under-21s

Steven Gerrard of England celebrates his 13th minute strike during the England v Luxembourg European 2000 Under-21 Qualifying match at the Madejski Stadium, Reading, England. The match finished in a 5-0 win for England

Getty Images

2/11 England 5 Germany 1

Gerrard celebrates his goal in the 5-1 win over Germany, one of his England highlights

Getty

3/11 Euro 2004 qualifiers

Gerrard celebrates after scoring the equaliser during the Euro 2004 European Championships Group 7 against Macedonia at St Mary's Stadium in Southampton, England

Getty Images

4/11 2006 World Cup qualifiers

Gerrard celebrates with Michael Owen during the FIFA World Cup 2006 group six qualification after scoring against Austria in Vienna

EPA

5/11 Beckham and Gerrard

David Beckham and Gerrard in England colours together. The pair were at the heart of England's 'golden generation'

Getty Images

6/11 Beckham and Gerrard

And now Gerrard could follow Beckham in a move to the MLS and LA Galaxy

GETTY

7/11 Champions League success 2005

Gerrard captained Liverpool to their famous penalty shootout European Cup victory in 2005

Getty

8/11 England Player of the Year

Gerrard was named England player of the year in 2013

AFP

9/11 2014 World Cup

Gerrard captained his country to the 2014 Fifa World Cup in Brazil last summer

AP

10/11 An early exit

But was unable to prevent defeats to Italy and Uruguay that paved the way to England's early exit from the tournament

Getty Images

11/11 International retirement

Gerrard would go on to announce his international retirement after the ill-fated trip to Brazil

Getty Images
Gerrard himself called his move to the Major League Soccer side "a match made in heaven". Under coach Bruce Arena, the Galaxy have won the MLS Cup three times in the past four years, which means the Englishman has a good chance of landing silverware in the US.
However, even with the profile boost provided by last year's Fifa World Cup in Brazil, which was watched by more Americans than any previous World Cup, public awareness of the Galaxy remains higher outside LA and around the world than it is in the team's home city.
"If you talk to people in LA about the Galaxy, a lot of them will still say, 'Oh, the team David Beckham plays for?' They don't even know he doesn't play here any more," said Andrew Schmidt, senior editor at Corner of the Galaxy, an internet radio show dedicated to the LA team. "Gerrard isn't going to bring in people who aren't already fans of the sport. But there is excitement among the hardcore supporters, just to see a great player like that in our city."
In October, it was announced LA would gain a second MLS club by 2017: the new franchise, LAFC, is backed by investors including Lakers legend Magic Johnson and Tony Robbins, the bestselling self-help author. Yet even though the Galaxy are the most successful club in MLS history, LA remains far from a "soccer" town. "It's a huge city, so you can fill a stadium with fans," said Schmidt. "But in smaller markets like Seattle or Portland, the fervour and excitement about soccer is so much more ingrained already. When the Seattle Sounders play, the whole town comes out."
Beckham put the Galaxy on the map when he moved from Madrid to Los Angeles in 2007, but he did little to endear himself to die-hard fans, who saw the Beckham brand overwhelming their club. The former England captain took the Galaxy armband from the respected American Landon Donovan, took a reserved parking spot just outside the dressing room, and inadvertently packed the stands at the club's Carson City stadium with screaming girls.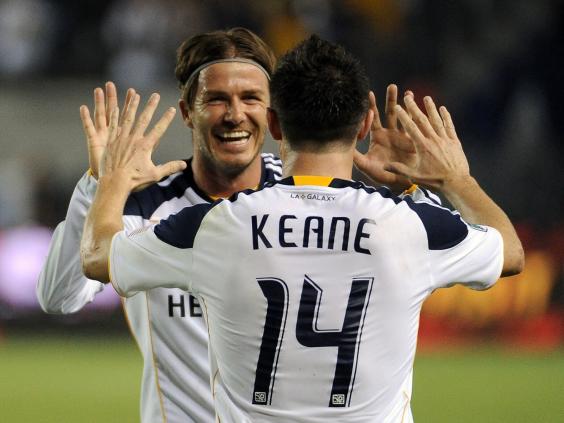 When he returned from an extended loan to Milan in 2009, Galaxy supporters greeted him with boos. Andrew Alesana of Galaxy supporters group the LA Riot Squad, who is also a lifelong Liverpool fan, said Gerrard's arrival will be different. "It will be less of a circus," he said. "Gerrard is coming for the right reasons: to play football. Off the field, I think he brings more professionalism than Beckham. It'll be less about the modelling and more about the game. It'll be about winning."
US football fans have had mixed experiences with high-profile Premier League players. Robbie Keane, the Ireland captain and former Tottenham striker, scored 19 goals for the Galaxy last season and was voted the 2014 MVP. By contrast, Frank Lampard's muddled transfer to NYCFC has left a bad taste in the mouths of MLS supporters, who see their young league being disrespected by the big stars across the water. New Yorkers were led to believe Lampard would join this month. Instead, he's staying at Manchester City until the summer.
Alesana said he would like to see the MLS doing more to develop its own domestic players, to help dispel its reputation as a retirement league for fading European stars in pursuit of one last big payday. "It's helpful for us to attract foreign stars," he said. "I'd prefer that we didn't just get the ones who are coming to the end of their careers – but when you get the chance to sign a player like Steven Gerrard, you don't pass it up."
The Galaxy reportedly began courting Gerrard as soon as Donovan – the US league's all-time top scorer – announced his retirement last August. MLS teams are limited by a salary cap of $3.1m, but every club is permitted to sign three so-called "designated players", with pay-cheques that are only partially counted in the club total. With Donovan departing, Gerrard will join Keane and Team USA defender Omar Gonzalez on LA Galaxy's elite roster.
There is one question that hangs over Gerrard's signing: do the Galaxy really need a midfield general? The side's central pairing of Brazilians Juninho and Marcelo Sarvas is already considered the best in the MLS. But Arena brushed off that concern, telling the Los Angeles Times, "[Gerrard] is a player of quality. I'm not concerned about how he's going to fit in with our team."
Reuse content