Steven Gerrard started to say goodbye to English football last night. It might have been an unfamiliar setting but it was a thrillingly familiar performance, one that future seasons will be sadly short of.
Over his long Liverpool career he has played in many games that were vaguely like this. Of course, he has been to three World Cups, won a Champions League final and played at the Nou Camp and San Siro. But he has also scored in the FA Cup at Prenton Park and Kenilworth Road over the years, and played Cup ties at Deepdale and Boundary Park too.
But this, in its smallness, its intimacy, its distance from the colossal international football venues in which Gerrard has made his name, might still have had a novel feel.
In that sense it was a touching place for the beginning of the end of Gerrard's Liverpool career, the first game since he announced that this season would be his last at the club he has always played for. Not an obvious location, but not a wholly inappropriate one.
There will be some emotional nights over the next few months, on what might be dubbed Steven Gerrard's farewell tour to the English game. There will be a return to Istanbul's creaking, cavernous Olympic Stadium, the scene of his greatest night 10 years ago, for Liverpool's Europa League game at Besiktas on 26 February. There will be meaningful visits to Goodison Park, the Emirates and Stamford Bridge.
Then there is the prospect of not one but two trips to Wembley, for two cup finals, the second – if it is not too fantastical – for this competition, which he has won twice before, in Gerrard's last game in England, on his 35th birthday.
But at Kingsmeadow last night, in suburban south-west London, Gerrard began his goodbyes at one of the Football League's smallest grounds. He came with a performance that was entirely representative of his career and talents which, even if they are not quite what they were five or 10 years ago, are still enough to bend a competitive Cup tie to his own personal will. He certainly did not look like a player with nothing left to give.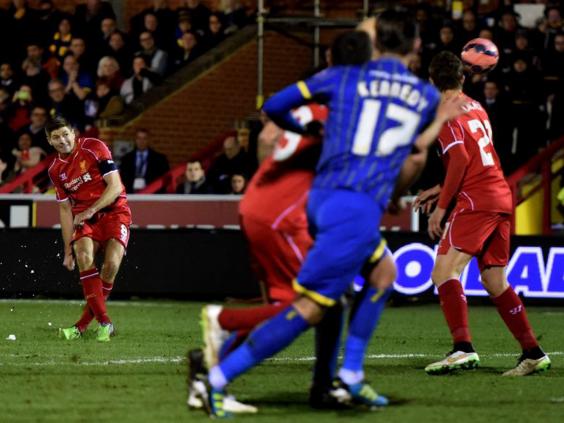 Against opposition like Wimbledon, on this sort of night, with the ball spending much of its time in the cold air, football is about earning the right to play. It is about the hard work of building the platform from which a player can demonstrate his ability.
That is precisely what Gerrard did with the opening goal after just 12 minutes. He knocked the ball out to wing-back Javi Manquillo and thundered forward into the penalty area. If Gerrard's legs are going they did not give that impression as he bounded towards goal. Manquillo crossed the ball back into the box and there was Gerrard, leaping through the defenders to power his header into the net.
Wimbledon pushed back, though, and Gerrard, not for the first time in his career but probably not for the last, could only watch as his team-mates crumbled. Simon Mignolet could not cope with Adebayo Akinfenwa – although he was not the only one – and the hosts equalised.
In the second half, while Liverpool matched Wimbledon's work rate, and reimposed themselves on the game, they needed a moment of quality to deliver them into the fourth round of the Cup and a home tie with Bolton Wanderers which could take them one step closer to the fantasy Wembley goodbye.
Of course, it was Gerrard who provided it. If his first goal was about athleticism, heart and timing, this was simple technique. He curled a free-kick from 25 yards out into the near top corner of the net.
There was no hat-trick – a block on the line stopped that – but Gerrard had won his team the game. He has done it many times in the past and will surely do it a few times more. He did not look like a man ready to leave quietly.
Reuse content