Arsenal spent £16 million on Danny Welbeck and I'm pretty certain they wouldn't be able to get him so cheaply now.
I said at the time it was a terrible bit of business by Manchester United and everything that's happened since has underlined that – not least his excellent hat-trick against Galatasaray on Wednesday. But there's a world of difference between scoring against a very average Turkish side at home in the Champions League and doing it in the Premier League cauldron that Arsenal will step into at Stamford Bridge this afternoon.
Arsenal bought Welbeck so he would make a difference – not in the small games but in the ones that really define the difference between men and boys, as this afternoon's game will do.
Olivier Giroud is hard-working but he has not been able to do it for Arsenal in these massive games.  Indeed, Arsenal have persistently failed in this respect: they keep losing when it matters most, against the likes of Chelsea, Manchester City and Liverpool.
This is where Welbeck can give the Gunners something new. He is so quick and so strong that I am confident he can cause Chelsea's John Terry more problems than Giroud has managed before.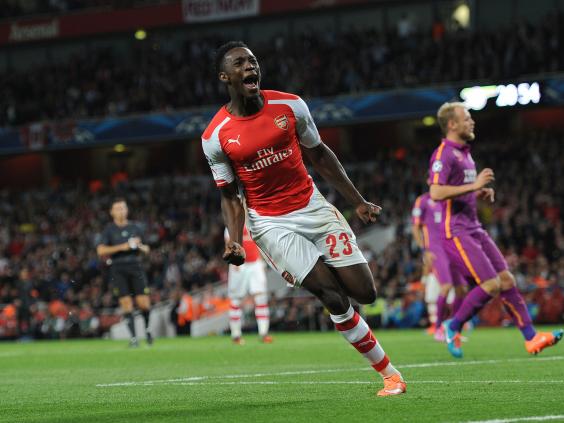 Terry has been a top player for years and years but if he has one vulnerability now, at the age of 33, it is against quick players running in behind him. And Welbeck possesses genuine pace.
What Welbeck needs to show today is that he can use his new-found confidence, that he can take on anyone. You can just see from watching him play how much belief he has now. The way he took Galatasaray apart on Wednesday was great to watch.
I heard Paul Merson say on the television that it was the best movement you would see from a striker all season, and I agree. The way Danny timed and bent his runs, to get on the end of those slipped passes, was brilliant. Now he needs to be able to turn Terry and Gary Cahill today. If it is a straight race, Danny will win.
Danny is developing in the way that so many good strikers do. He did not score enough goals at the start of his career, but a lot of young strikers don't. What he did do is play well, for club and country, and always deserved his place in the team.
Now, with his move to Arsenal, at the age of 23, he is starting to develop that confidence. He feels like he is part of the team, like he is the man in charge. And now the goals are coming, although he will need to use all his pace and belief today against stronger opponents.
I know Chelsea paid twice as much for Diego Costa as Arsenal did for Welbeck, but this is an opportunity to show that he can be like Costa is for Chelsea: completely fearless, ready to bully defenders and to make them uncomfortable.
Sometimes Arsenal tend to be a bit too nice in the big games, and are not dangerous enough. That will have to change, starting today.
Reuse content