It turned out to be the last game that Michael Laudrup was in charge of Swansea City, a 2-0 defeat away to West Ham United on 1 February which was notable for the dismissal of Andy Carroll. The striker brushed the top of Chico Flores' head with an arm and was punished largely following the preposterous overreaction of the defender.
To say Flores overdid it is an understatement. The contact with the top of his head was so minimal that he did not even require the services of a hairdresser, let alone those of a medical professional. The debate over simulation, or "exaggeration", caught light for a few days, various managers called for retrospective action on cheating and then, as is always the case in the Premier League, the show moved on.
For Garry Monk, who was given the Swansea job on a temporary basis three days' later, there could be no looking back. He had a south Wales derby against Cardiff City the next Saturday, which he won 3-0, a formidable start to his reign, and then an away game against Stoke City on 12 February, which his team drew 1-1. It will not surprise you to hear that Flores played in both games.
Monk was outspoken on the subject of simulation on Sunday when, in this season's away fixture against Stoke, Victor Moses won his team a dubious first-half penalty from which Charlie Adam equalised. "Anyone who simulates in training [at Swansea] is fined," Monk said. "I wouldn't have it. If my player did that he wouldn't play in the next game."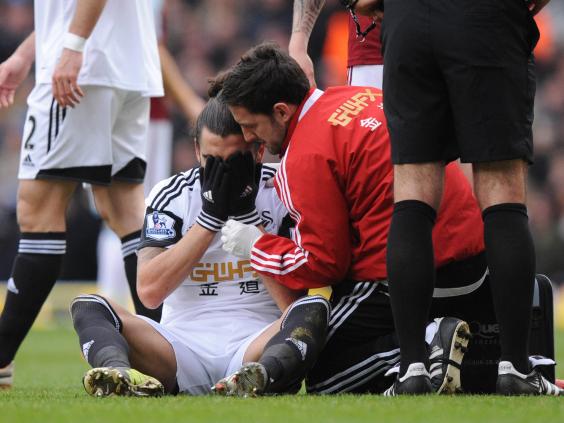 Back in February, Flores clutched his face and rolled over so many times that he might have expected to be on Green Street by the time he looked up. He played in six out of Monk's first seven games in charge until he was shown a red card against Crystal Palace.
When, in February, Flores was booed by Stoke supporters in Monk's second game in charge the Swansea manager was less hard-line on the subject of simulation and exaggeration. "We all love a villain, don't we?" he said then. "Chico is big enough to deal with it. He's going to get some stick. If there's some stuff I need to chat with him [about], then I'll chat with him.
"It's about educating people. It's not about telling anyone off, [it's about] just saying it's a different culture. West Ham made a big deal of it. They are still going on about it."
In February it was a "different culture". On Sunday it was cheating. After the game, Stoke's Mark Hughes said, as sensitively as he could, that managers adopting a holier-than-thou attitude were walking a dangerous line. All of them, after all, have at least a few in their squad who would not pass muster for the local troupe of choirboys.
My view was that, on the incident itself, Monk was right. Moses did deceive the referee, Michael Oliver. Angel Rangel threw an arm across the winger, he might even have grasped a few fingers' worth of his jersey, but the angle and momentum of Moses' fall did not match the intervention from his opponent. There was contact, but Moses was waiting for it and acted accordingly.
Monk is likely to be charged by the Football Association for accusing Oliver of "cheating" Swansea, a direct attack on his integrity. In the long term it is worth bearing in mind he is a young manager and one can forgive him this post-match tirade – as long as it does not become too regular a theme.
He was well within his rights to be upset. What was impossible to accept was the puritanical postscript that his team and his players are somehow different. Unfortunately, most clubs have individuals with previous when it comes to simulation and exaggeration and Swansea are no different. Which brings us neatly to the nub of the problem.
Quite simply: the clubs, the leagues, the managers – those the FA likes to call "the key stakeholders" – do not want a major shift in the laws to allow the retrospective punishment of diving and simulation. Yes, managers all want action in the aftermath of games, when feelings are running high and they believe their club has been cheated. But in the cold light of day, when the FA puts it on the agenda, the clubs always reject it.
In that respect, Monk's reaction to Flores in February and then Moses on Sunday was the debate in microcosm. An experienced former player like Monk knows that what Moses did was against the spirit of the game, just as he must have, in private, felt the same way about Flores. Yet the clubs are unwilling to embrace change because they know they too could fall foul of that rule.
The argument against retrospective punishment for diving has long been that it would be too hard to administer. That one man's dive is another man's natural reaction to being very lightly brushed while running at high speed. Yet such a system operates in Scotland and the Celtic winger Derk Boerrigter was given a two-match ban in August for a dive in a league game against St Johnstone.
Another bulwark against the measure is Fifa, regarded as being set against the notion of re-refereeing games. Yet Sepp Blatter, the Fifa president, appeared to offer scope for such a measure in an article he wrote in the Fifa magazine in February in which he said Article 96 of the disciplinary code allowed in principle for retrospective punishments.
In February, Carroll's appeal against his red card for the supposed elbow on Flores was rejected on the basis that the referee at the time, Howard Webb, had not made an "obvious error". The commission also took the step of citing Flores for his "exaggeration" and requested he be charged with "ungentlemanly conduct". Quite a step, given the limited scope of its powers and, of course, nothing was done.
Were there to be any progress made on a rule to punish simulation, or exaggeration, then it would require more than just some major new regulations and processes put in place by the FA. It would need a wide-ranging consensus among managers that there was no point moaning about opposition players cheating and then turning a blind eye to it when one of their own did the same. Don't hold your breath.
Mannone's gesture to the fans misses the point
However well-intentioned, there feels something wrong about Vito Mannone's suggestion to have the Sunderland squad compensate those fans who travelled to Southampton on Saturday to see their team's 8-0 defeat. Big defeats are a part of every team's history, even the most successful. They are there in the record books. The brutal truth is that you don't get a scoreline guarantee as part of your ticket price.
Southampton 8 Sunderland 0 - the goals in pictures
Southampton 8 Sunderland 0 - the goals in pictures
1/8 1-0

12 min – Vergini attempts to clear, but instead sends a dipping volley past Mannone.

Getty Images

2/8 2-0

18 min – Davis supplies a cross that Pelle finishes simply from close range.

Getty Images

3/8 3-0

37 min – Tadic's clipped cross allows Cork to side-foot in at Mannone's near post.

Getty Images

4/8 4-0

63 min – Bridcutt kicks the ball against himself as Pelle's shot trickles towards goal.

Getty Images

5/8 5-0

69 min – Pelle shoots across Mannone and into the far corner from Tadic's clever pass.

Getty Images

6/8 6-0

78 min – A poor clearance from Mannone goes straight to Tadic, who curls the ball in first time.

Getty Images

7/8 7-0

79 min – Wanyama slams a shot down the middle from 10 yards.

Getty Images

8/8 8-0

86 min – Substitute Mane scores from another Tadic assist.

Getty Images
What could illustrate the disconnect more between Premier League players and paying punters than the reality that a group of footballers can have a whip-round and turn up £450,000, the sum estimated it would cost to cover tickets and travel? Rather than a one-off gesture that shows how phenomenally wealthy they are, elite-level footballers, and not just those at Sunderland, would be better served doing something more meaningful.
Such as being prepared to speak out about the cost of watching Premier League football and putting pressure on their clubs to freeze or reduce prices. The recent BBC survey on the cost of watching football has passed largely unnoticed among the millionaire-classes who play the game. Their influence there would be much more welcome than a one-off payment driven by nothing more than their own embarrassment.
Reuse content