The boy was 14 and had been recommended by a German contact. The English club's scout was met by an agent and taken to a Romanian town, where a trial game had been arranged. The welcoming committee consisted of the boy's parents and an "uncle" who claimed to be the family's legal representative.
Everyone knew the drill. The boy went through his routine with the precision of a dressage horse; he was quick, skilful, and played with a maturity way beyond his years. His talent was as obvious as the sub-plot. The meat market was open for business.
The scout takes up the story: "Once we had looked at the kid, three or four people appeared out of nowhere. He was promising, but we just had to pass. It felt like Mafia. They offered to set up a network for us in Eastern Europe. The ethics were dubious, to say the least."
Suffer, little children. The colonisation of childhood by football clubs continues. Wonderkids are now aged from six upwards. The latest example is a 10-year-old Bulgarian who, accompanied by his father and an agent, played for Stoke City in a four-team youth tournament before undergoing a week's trial at Manchester City.
The lure of unheralded potential is so great, and the promise of financial gain so insidious, that Fifa's transfer ban on Barcelona for breaking transfer rules involving 10 minors, will not stop young footballers being treated as commodities unless it is the start of a fundamental crackdown.
Barcelona's response has been instructive. Josep Maria Bartomeu, their president, spoke of "dark hands" being involved in the ban when he announced an appeal, but invited accusations of double standards. He insisted: "We agree with the regulations. What we want is for clubs like Barça to be an exception."
They have been punished for defying Article 19, which insists international youth transfers are only permitted for players aged between 16 and 18, if their parents move countries for non-footballing reasons. The rules are designed to combat what amounts to child trafficking.
In Barcelona's defence, La Masia academy has a far-sighted educational policy. Graduates are expected to adhere to basic values such as humility, honesty and solidarity. They are given life-skills lessons, involving cooking and cleaning, and are reminded of the bloodline they represent. Premier League clubs are practised poachers, and have taken three top prospects, all aged 16, from La Masia in the past year. Chelsea signed Josimar Quintero, an Ecuadorian winger, Arsenal recruited right-back Julio Pleguezuelo Selva and Liverpool snapped up Sergi Canós, an attacking midfield player.
No-one can claim the moral high ground with any authority. Barcelona repaid the compliment by enticing 14-year-old Colombian winger Giancarlo Poveda, one of the so-called "Ten Little Indians" out of Arsenal's youth system.
They outmanoeuvred both Manchester clubs in signing Theo Chendri, a 15-year-old midfield player likened to Andre Iniesta, from French Fourth Division club Colomiers. His mother complained: "Some clubs offer a lot of money, and this approach offends me."
Other parents are less sensitive to the prospect of financial reward. They expect clubs to provide houses and jobs through compliant third parties. Illicit lump-sum payments are common. Clubs are routinely played off against one another.
Lee Seung-woo, the so-called "Korean Messi" who sparked Fifa's investigation, was courted by Manchester United, Chelsea and Liverpool before agreeing a five-year development deal with Barcelona involving a £10million buy-out clause.
The smile of Bobby Adekanye, a Nigerian spirited away from Ajax, as he poses with club-mate Messi is a reminder of innocence, sacrificed blithely. As Cameroonian goalkeeper Andrei Onana said plaintively, through social media: "God doesn't give u the people you want. He gives you people to help you, to hurt you, to love you and to make you the person you're meant to be."
That message should stir football's conscience, but it won't.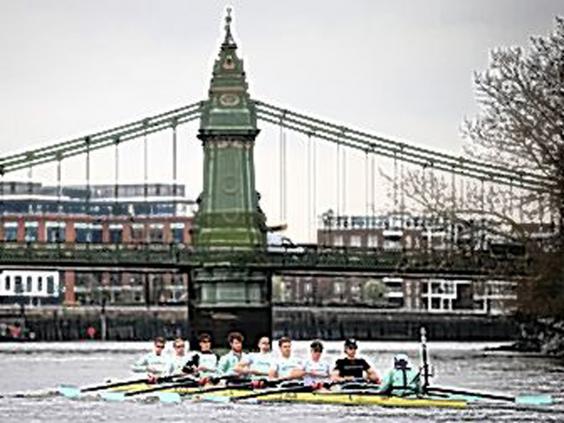 Boat Race: Purity of ambition v irrelevance
Today is Tarquin and Tabatha's Big Day Out. They will gather with their chums for a few snifters beside the Thames, and try to find time to take in the 160th University Boat Race between Oxford and Cambridge.
I'm being specious, of course, but the fact such stereotypes are recognised so readily reveals the dilemma facing a sporting and social institution that is struggling to retain its relevance in a rapidly evolving world.
Its detractors deride it as an anachronism, a race which fails to match the world-class standards of Britain's successful Olympic rowing programme. Its profile is shrinking, yet it deserves to be preserved as a reminder of the purity of ambition we are in danger of disregarding.
I once spent three months embedded in a Cambridge Boat Race crew, sleeping on students' floors and attending lectures which could have been delivered in Sanskrit for all the sense they meant to this refugee from the state system.
Ethereal, mist-shrouded mornings on the Cam, rowing past Ely Cathedral, were balanced by brutal time-trials on rowing machines, after which potential Blues vomited casually into dustbin liners.
Such memories lead me to trust James Cracknell's confidence in Cambridge (pictured training above) as favourites is justified.
Premier League have questions to answer
Even manager Gus Poyet admits the failure to deduct points from Sunderland for repeatedly playing an ineligible player is "incredible". The Premier League's determination to keep the decision secret is equally unbelievable, a dereliction of duty which poses fundamental questions about its fitness to govern.
Reuse content