On Thursday afternoon, as Louis Van Gaal was being introduced as the Premier League's latest love interest at Old Trafford, a young British manager trawled through eBay on his laptop, looking for a full-sized goal net for the training ground.
He couldn't get the cost, £29.95, signed off by his impoverished club, so he paid for it out of his own pocket. "People wouldn't believe this sort of stuff goes on in professional football, would they?" he said, producing a receipt, made out to his home address, as proof.
He did so without complaint, because such are the facts of life in the lower Leagues, though his evident embarrassment at the implications of his generosity explains his preference for discretion. He has a first-team player on £100 a week, and sacrificed a squad place so he could employ a fitness coach.
His apprenticeship in a job "which takes over your life" involves 18-hour days and a range of responsibilities beyond more high-profile managers. Football has an intricate network of individual contacts, so he seeks advice and favours from those managers he played for, with and against.
He has a professional fascination with Van Gaal, and has studied his philosophy and working practices. The Dutchman's theatrical arrival, surfing on a rip tide of testosterone, has underplayed the essential simplicity of his belief in preparation, analysis and evaluation.
Premier League 2014/15 kits: In pictures
Premier League 2014/15 kits: In pictures
1/20 Aston Villa

Santi Cazorla, Mikel Arteta and Mathieu Flamini of Arsenal launch the new Puma Arsenal kits at the Puma Store on Carnaby Street. The yellow shirt will be for away matches and the blue shirt for away cup matches

Getty Images

2/20 Aston Villa (Home)

A number of clubs have opted for the thin stripe design on this season's shirt, and Aston Villa appear to have followed suit.

avfc.co.uk

3/20 Burnley (Home)

Burnley's claret and blue shirt, sponsored by Puma, is a decent viewing on their return to the Premier League.

Burnleyfootballclub.com

4/20 Chelsea (Home)

After Chelsea's famous paint campaign last season, Oscar models the simple, horizontal stripe design for the royal blue home kit. A solid effort from Adidas, but a pricey one at £55 for a short-sleeved shirt.

Chelseafc.com

5/20 Chelsea (Away)

Reminiscent of their famous 1998 shirt - and the infamous 2008 one which they played in under Luiz Felipe Scolari - Chelsea have chosen the Brazilian style design for their away shirt.

Chelseafc.com

6/20 Crystal Palace (Home & Away)

Is it Barcelona or more Steaua Bucharest? Either way, Crystal Palace's new home shirt is a simple and smart piece of innovation from manufacturers Macron. Their away kit, however, looks suspiciously like Napoli's - whose kit is also made by Macron - away shirt from 2013/14.

cpfc.co.uk

7/20 Everton (Home)

Everton players James McCarthy, Tim Howard and Leighton Baines model the 2014/15 shirt, which marks the comeback of Umbro into the Premier League.

Evertonfc.com

8/20 Leicester City (Home)

Leicester City's return to the Premier League has been marked with this rather smart effort by Puma. Carrying a similar template to Italy's shirts can never go wrong.

Leicester City Football Club

9/20 Liverpool (Home)

Warrior's latest crack at the Liverpool home shirt is an impressive one indeed, marking a return to the red and white colourway as opposed to red and gold in 2013/14.

Liverpoolfc.com

10/20 Liverpool (Away)

Their attempt at designing a decent away shirt, however, continues to falter with this ultra-bright yellow and red mix.

Liverpoolfc.com

11/20 Liverpool (Third Kit)

Liverpool's questionable choice for a sache and hoop combo has come under-fire from fans.

Twitter (@LFC)

12/20 Manchester City (home)

The Premier League champions have unveiled their updated Nike shirt, with a black v-neck collar replacing the previous blue and white trim on the crew neck.

Manchester City FC

13/20 Manchester United (Home)

Featuring new sponsors Chevrolet, the large logo has attracted a mixed response from Red Devils fans.

TWITTER/MANUTD

14/20 Manchester United (Away)

Wayne Rooney in the new Manchester United away kit

MANCHESTER UNITED

15/20 Newcastle United (Away)

A silky silver shirt replaces the plain black version from 2013/14, and seems to suit the rather bright Wonga sponsor a lot better.

nufc.co.uk

16/20 QPR (Home, Away & Third Kit)

Perhaps one of the best looking shirts so far, QPR's horizontal hoop home shirt is a joy to behold. The decision to have an all-white away shirt is quite baffling, however, given that white is also included in the home, and the third kit is somewhat Sunday League-ish.

Twitter (@QPRFC)

17/20 Southampton (Home)

Southampton's home kit for 2014/15

saintsfc.co.uk

18/20 Stoke City (Home & Away)

Stoke kits for 2014/15

Twitter (@Stokecity)

19/20 Swansea City (Home & Away)

Swansea City 2014/15 kits

Twitter (@SwansOfficial)

20/20 West Ham (Home & Away)

West Ham kits for 2014/15

Twitter (@whufc_official)
The difference, of course, is one of scale and opportunity. The younger man's career path is opaque because, like so many home-grown coaches and managers, his ambition is compromised by a system shaped by  expedience and short-termism.
He and his kind are as fashionable as a Bros tribute band. Club owners are like so many Shirley Valentines, seduced by the pheromone frenzy of a foreign coach who invariably turns out to be as exotic, and  enjoyable, as a wet weekend in Formby.
It is all very well for the FA to advertise this week for an age-group coach to assist Gareth Southgate, to "support the implementation of the England DNA" and deliver "performance strategies to optimise the England player pathway".
But their financial self-interest militates against the development of coaching, a point which experience suggests will be glossed over in the next phase of Greg Dyke's  ill-conceived blueprint for change, due this autumn.
The cost of attaining a Uefa A badge in England can reach £5,820. In Germany, a similar course costs £420, in Spain £950.  St George's Park is an admirable concept, even at £100 million, but bear those disadvantages in mind when Barcelona arrive there for a pre-season training camp and the FA seek positive publicity.
Southgate, in fairness, is quietly building a new elite structure in conjunction with Dan Ashworth and Aidy Boothroyd, who is not the philistine of popular legend. Yet without a fundamental change in outlook, their impact will be limited.
Where is our Van Gaal? Will a British coach ever become a big beast, like Jose Mourinho or Arsène Wenger? It is imperative, on so many levels, that Brendan Rodgers succeeds at Liverpool. He is a powerful role model for the domestic system.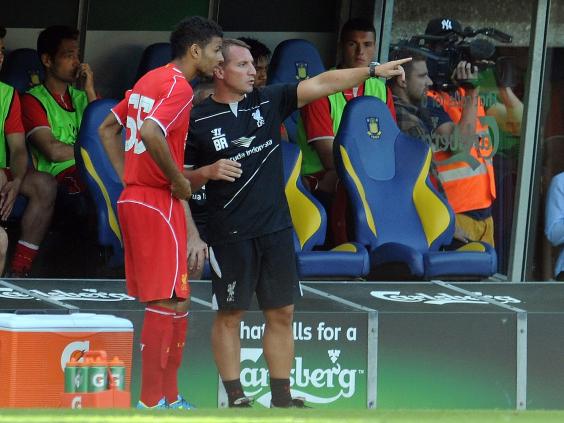 He is the product of failure, like all winners. He has learned his trade at relatively humble clubs like Watford, Reading and Swansea. This will be a definitive season for him. Van Gaal will galvanise United. Mourinho has  assembled a squad of intimidating depth and quality. Wenger has answered critics of his parsimony.
Meanwhile, in another world, our friend is back on eBay, looking for a ratchet. He broke his while trying to mend a goalpost. Pray that his potential is realised, and his sacrifices are not in vain.
Gatlin – and cynicism – returns
Justin Gatlin ran the 200 metres in 19.68 seconds in Monaco on Friday night. It took a fraction of that time for the whispers to begin.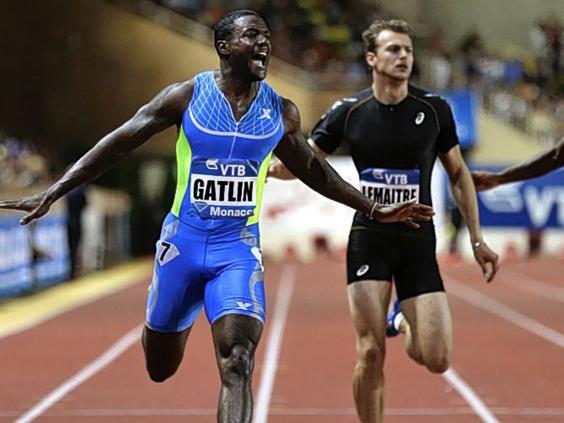 There is little apparent logic in a 32-year-old, who had never previously run the distance in less than 20 seconds, becoming the eighth-  fastest man in history in an event which  requires technical precision and brute speed.
Gatlin's record, as someone who has failed two drug tests and been allowed to return to competition, invites scepticism and highlights the folly of institutional tolerance of chemically induced achievement.
Before m'learned friends seek a simple and lucrative commission, there is no evidence he has reverted to type. But if the price of eternal vigilance is deeply entrenched cynicism, then so be it.
Athletics deserves scrutiny while transgressors like Asafa Powell are given reduced punishments. He is unlikely to compete at the Commonwealth Games, despite being free to do so following the cut in his 18-month ban for taking a banned stimulant, but his fellow Jamaicans will do so under a cloud of suspicion.
It will take a generation, at least, for the issue to work through the system. Cycling is still contaminated by the Armstrong era. The sport's global governing body, UCI, under new British president Bryan Cookson, has reneged on promises of complete transparency.
Trust must be earned. At the moment, it cannot be justified.
Marvellous, my dear Watson
Golf has such a somnolent image, it was  unsurprising when the PGA Tour chose Open Championship week to announce an "official mattress, bedding and pillow partner". Yet the old-fashioned values it purports to represent remain relevant.
Tom Watson will be received with due reverence at Royal Liverpool today, when he completes his final round. For someone of his age, 64, to be competing at such a level and in such a dignified manner is the ultimate example to emerging players. The game itself is bigger than any individual or institution.
Braggart v dullard
Ticket sales for the glorified pub brawl between heavyweights Tyson Fury and Dereck Chisora, due to be staged in Manchester on Saturday, are evidently slow. The squalid antics of Fury, in particular, signalled a revealing desperation to sell a contest between a braggart and a dullard. I suggest we take up his invitation to "change the channel".