The Gang of Five were natural survivors, a group of complementary characters who shared ideas and ideals. They were strong individuals, football men who fed off each other's intellect and ambitions. Fate allowed them a year together before they were obliged to fend for themselves.
Brendan Rodgers was manager, assisted by Dean Austin. Malky Mackay was first-team coach. Sean Dyche looked after the Under 18s and Mark Warburton developed a ground-breaking academy. Their talent was obvious, and wasted by Watford, the club which drew them together.
Rodgers is on the cusp of a legendary achievement at Liverpool. Dyche and Warburton have had remarkable seasons, winning promotion for Burnley and Brentford respectively. Mackay  remains a coveted manager, despite his messy departure from Cardiff City after taking them into the top division for the first time in half a century.
Austin is no less deserving of success than his four former colleagues, yet his is the more typical tale. It is worth telling at the start of a week in which FA chairman Greg Dyke is expected to unveil his long-awaited, much-derided blueprint for the future of English football.
Austin has done everything the system has asked of him, without due reward. He fulfilled his ambition of obtaining his Pro Licence by the age of 40. A progressive coach who has worked at every level of the game from youth football, through the Conference to the Premier League, he gained his Certificate in Applied Management for Football Managers from Warwick University.
He mentors emerging coaches for the Kick It Out campaign. He has operated on a voluntary basis at grassroots level, creating and implementing a coaching infrastructure at a junior club for boys aged between five and 11. Yet his only involvement in professional football is as an expenses-only scout for Birmingham City, a club in disarray following the imprisonment of owner Carson Yeung on money-laundering charges.
Austin's partnership with Rodgers was broken when the pair were sacked by Reading, a setback which had a catalytic effect on Rodgers, who wanted to take him to Swansea but was limited by the board's insistence he inherit existing support staff.
Since leaving Crystal Palace, where he spent a season as first-team coach three years ago, Austin has scouted for Bolton and had a spell as assistant manager at Notts County, where the lack of running water and changing facilities at the training ground testified to a club trapped in a cycle of decline.
He understands the myth of football's meritocracy. He literally bears the game's scars. From the age of 24, he endured eight knee operations, broke his leg, shattered his foot and underwent surgery on a hernia.  Resilience, both physical and mental, is second nature.
He was rejected as a teenage full-back by Watford, regrouped in non-League, and spent 10 years at the highest level with Tottenham and Palace, where, as captain of a club in administration, he protected others' jobs by liaising with corporate recovery specialists. He is earnest, relentless and deserves better.
"It's only human nature to find it frustrating," he admits. "I'm the odd man out, but the other four are top blokes, and I am delighted for them. I realise football is about being at the right place at the right time, with the right people." Watford is a shell of a club these days. The coaching staff are Italian journeymen, enslaved by a business plan which reduces players to human widgets. Austin is still applying for jobs, usually without acknowledgement, although he did make the shortlist at Portsmouth.
He just wants "to be back out there, on the grass" doing what defines him. If there is any justice, and if English football is committed to looking after its own, the Gang of Five will be up to full complement by next season.
Hodgson's World Cup squad must be imaginative, not safe
Roy Hodgson frets about the pressure of public expectation. Yet, for once, England will go to the World Cup unburdened by unrealistic hope.
He must ignore his natural conservatism, accept an unprecedented opportunity to plan intelligently and imaginatively.
Take Frank Lampard, by all means, but as an addition to the support staff. With Gary Neville seemingly drawn towards club football, he has the sheen of a future England manager.
Glen Johnson should be the only recognised right-back. Invest in the cover provided by Phil Jones and John Stones, potentially England's first-choice central defensive pair at Euro 2016.
Exploit the familiarity of tight groups at Liverpool, Everton and Southampton. Luke Shaw and Adam Lallana should start. Rickie Lambert, an undervalued all-round striker, and James Ward-Prowse, a huge prospect, deserve places in this squad.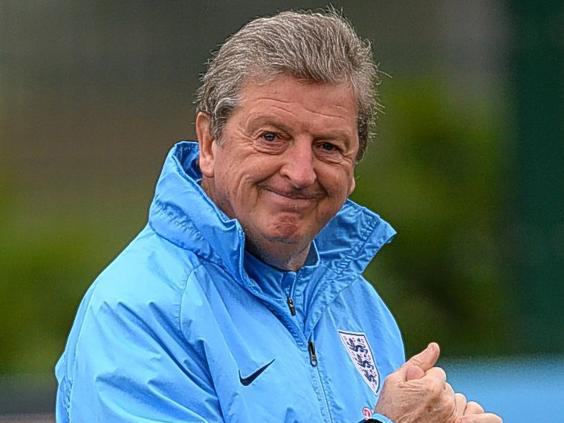 Michael Calvin's England World Cup squad:
Goalkeepers: Hart (Manchester City), Foster (WBA), Forster (Celtic).
Defenders: Johnson (Liverpool), Jones (Manchester United), Cahill (Chelsea), Jagielka (Everton), Baines (Everton), Shaw (Southampton), Stones (Everton).
Midfielders: Gerrard (Liverpool), Milner (Manchester City), Henderson (Liverpool), Sterling (Liverpool), Barkley (Everton), Wilshere (Arsenal), Lallana (Southampton), Oxlade-Chamberlain (Arsenal), Ward-Prowse (Southampton).
Strikers: Rooney (Manchester United), Sturridge (Liverpool), Lambert (Southampton), Carroll (West Ham).
Ban that threatens sport of athletics
Tyson Gay, second fastest sprinter in history, is free to compete next month after a backdated ban for testing positive for an anabolic steroid. This is why athletics is in terminal decline. Its post-mortem report will identify fatal levels of expedience, fear and hypocrisy.