Steve Parish comes straight from Central Casting. His haircut evokes memories of George Michael in Club Tropicana mode. He's an amateur racing driver who made his money in advertising. The camera caresses him, so he excels in the antiseptic environment of the modern TV studio.
He is an opinionated football fan, but hardly the type to be patronised by Premier League officials after marching through the streets of London in the rain, in vain, to protest about ticket prices. He loved Crystal Palace so much he bought the company, in conjunction with three other like-minded multi-millionaires.
His largesse saved the club from bankruptcy, and he was happy to claim the credit when Ian Holloway drove himself to distraction after achieving the minor miracle of winning promotion to the Premier League. His luck ran out when survival was assured, and his strategy unravelled.
Building networks with blue-sky thinkers in creative agencies and TV production companies is child's play compared to establishing a working relationship with a blue-collar, old-school football manager like Tony Pulis.
Parish is as much of a cliché as the manager with whom he fell out, so dramatically yet inevitably, on the eve of a new season. A celebrity chairman, who insinuates himself into the working life of a football man who resents being treated as a hired hand, is as fossilised a creature as a teacup-throwing, spittle-flecked dug-out dictator.
To be fair, Parish was protecting his emotional and financial investment in seeking value from an absurdly inflated transfer market. Paying journeymen footballers in excess of £2million a year offends cherished business principles.
Yet his approach was incoherent, because it sought to combine conflicting cultures without thinking through the consequences. Palace's pretensions of modernity, embodied by the puzzlingly over-rated Sporting Director Iain Moody, left the club hopelessly unbalanced.
The most progressive clubs remain in touch with their traditions but are directed with emotional intelligence, in measured fashion. Individual egos, and the owner's perception of his expertise, are not allowed to compromise the common good.
Roberto Martinez, the most impressive of the new generation of managers, offers an object lesson in the benefits of strong personal relationships based on mutual trust and respect. He has found kindred spirits in the boardroom, ranging from Huw Jenkins at Swansea, through Dave Whelan at Wigan, to Bill Kenwright at Everton.
Martinez appreciates the human dimension to leadership and the subtleties involved in the application of authority. He recognises the importance of the dream and accepts the ultimate judgement of the bottom line. He works in a spirit of partnership.
Confrontation, of the type favoured by  comedic chairmen like Cardiff City's Vincent Tan, leads to stagnation and relegation. Treating a football club as just another cost base, in the fashion of Newcastle owner Mike Ashley, invites disillusion and dissent.
Pulis emerges as the winner in all this. His reputation has been enhanced immeasurably by Palace's overachievement under his management. His players evidently loved him, as a cross between a father figure and a regimental sergeant major. Supporters, almost juvenile in their excitability, are bereft.
His availability highlights the vulnerability of Sam Allardyce and Paul Lambert, prime candidates for the traditional cull in the first international break of the season. Since that comes after only three Premier League games, Pulis may not have the luxury of a lie-in for long.
Parish is spoiled for choice as he seeks his successor. If his judgement is flawed, Palace will revert to type, as a second-tier club with the unfortunate habit of making the wrong decisions at the worst possible time.
Health dangers of refereeing
The life of German referee Babak Rafati was saved by his linesman, who found him in a hotel bath tub, covered in blood. His suicide attempt, hours before he was due to control a Bundesliga match between Cologne and Mainz, was mercifully thwarted.
His career over, Rafati represents the failure of football's duty of care towards men who are expected to act as human shields. He insists his depression was exacerbated by media criticism and relentless pressure from managers and players.
Do not think it cannot happen here. Too little is being done to protect the mental health of those who bear the consequences of the game's confrontational culture. Referees are feeling increasingly isolated, and the suspicion that the priority is the product rather than the person is understandable.
Referees are expected to absorb systematic, virulent abuse. I sat next to a fourth official overlooking the tunnel at White Hart Lane last season: he was triple-teamed by both sets of coaches, who took turns to intimidate. The disrespect was casual, callous. One day, it will be calamitous.
Stripped of credibility
Athletics lacks characters and credibility. Its powerbrokers had better pray that Mahiedine Mekhissi Benabbad becomes European 1500 metre champion in Zurich today. They made themselves look ridiculous by stripping the Frenchman of his gold medal in the 3,000 metres steeplechase for the heinous crime of ripping his vest off in the final straight and sticking it in his mouth.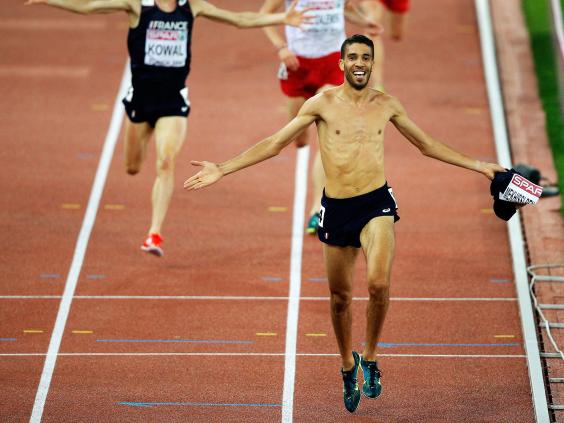 A joyful gesture was exploited by the Spanish team, whose protest allowed Angel Mullera, who failed a drugs test 11 months ago, to "win" a bronze medal. The symbolism of such stupidity is damning, and entirely unsurprising.
Lashings of games for Kevin
Kevin Pietersen, whose reputation has been an appropriate casualty of England's recent revival under the principled captaincy of Alastair Cook, wants to play more cricket. Glossing over the fact his announcement coincided with a holiday in Miami, following the gaudy irrelevance of a Caribbean slogathon, help may be at hand. I hear that Lashings, a self-important touring team formed of recently retired cricketers who play village sides for beer money, are seeking new recruits.
Reuse content