It was the News of the World's punchy decision to start printing pictures of paedophiles on its front page (as well as the odd paediatrician) that ushered in the curious era we all now live in, where looking at, talking to or entering within a quarter of a mile diameter of someone else's child seems to be just cause for chemical castration.
Which only makes the now traditional end of season Premier League on-pitch playgroup session all the weirder.
It was not so long ago that a British tabloid snapped Carlos Tevez on his rather self-imposed mid-season exile to Argentina, and was forced to block out the face of his toddler son. Barely a few months later, he was parading them round the Etihad pitch in front of the world's cameras.
It is a wonder anyone ever survived without their annual cooing-at-sporting-kiddies fix, ever since Alex Higgins tearily introduced it at the 1982 snooker World Championship final (though his dark green shirt-sleeves live longer in the memory than his little daughter's bright blue eyes).
It confirms one curious fact we already knew. Footballers are prodigious breeders. Most 21st century rich people wait until their early thirties before sacrificing their social lives on the altar of sleepless nights and soiled nappies – just look at Wills and Kate. Not so, footballers. Jack Wilshere could quite conceivably be wheeling out his grandkids before his playing days are over. But then, given the perfumed and peroxided Royal Rumble-style fights a footballer's better half has had to win in the nightclubs of Cheshire and West London to snare her walking cashpoint husband, it is not so surprising that any self-respecting Wife-and-Girlfriend should be all too aware that nothing will more assuredly tie him down than the patter of tiny moulded studs in the hallway.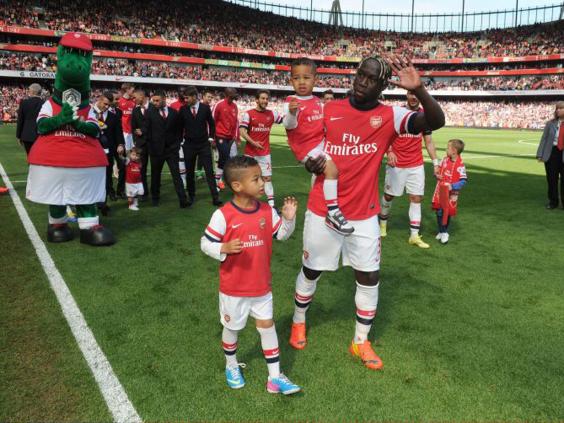 There is much for the serious fan to study, too. Once, the teary applause to the supporters was all that would indicate a player would not be back next season. On Sunday, Arsenal's contractless Bacary Sagna asked the club photographer to snap him and his children on the Emirates pitch. Would he be collecting such souvenirs if he were back in August?
It's also a chance for publicity-hungry bookmakers to assess the damage. Wilshere's son Archie repeatedly left him for dead on the Emirates turf on Sunday. Some offered 50 to 1 on Kai Rooney to captain England within moments of his emergence from the womb. Now, five years on, as he's volleying them in to the top corner from the 18-yard line, it's time to panic.
Reuse content