Age catches up with all the world's footballing greats but Thierry Henry seems at least to have factored into his goal celebrations the inevitable decline in his trademark speed.
Known for scorching along touchlines in jubilation at yet another strike, the 36-year-old former Arsenal and Barcelona star simply propped himself up against the post, hand on hip, after lunging to score a tap-in at a recent MLS game against Toronto FC. Despite it being the New York Red Bulls striker's 400 career goal, Henry was in no mood to spend any more energy than necessary as his teammates congratulated him.
Thoughts that the nonchalant celebration was a one-off were dismissed when he repeated the move against Houston, wandering through their defence to score with ease. Last week on its Facebook page, the Red Bulls asked fans to come up with an appropriate term to Henry's pose. The consensus was 'Henrying'.
CLICK HERE TO SEE A GALLERY OF WHERE THE STRIKER HAS BEEN CAUGHT 'HENRYING' AROUND THE WORLD
Now the celebration has gone viral with Twitter users using the pose to photoshop Henry into appropriate settings. From propping up the leaning tower of Pisa, helping Muhammad Ali with his punch bag to grabbing his former Arsenal teammate turned Manchester United star Robin van Persie's throat, the social media site's creativity was on full display.
Another meme has Henry grabbing the ball that Tottenham Hotspur's cockerel stands on in their club crest and holding it aloft and well out of reach of the bird as it gazes up.
At practice last Friday at the club's training centre in Hanover, New Jersey, Henry acknowledged the birth of a trend.
"This morning, yes, the guys showed me some of the pictures," he said. "It's kind of funny at the end of the day. There is nothing behind the celebration. I know you guys were laughing about it, but it's true. I needed a rest. I stopped there, saw the post in Houston; saw the post the other day, was basically by it, so I stopped by it. Now everyone is doing stuff in Internet with it.
"I am happy, pleased. It's funny. I didn't see all of them. I saw a couple of them. I didn't see all of them. I saw the one with Muhammad Ali, I would guess. It's funny over all, that's how I would put it."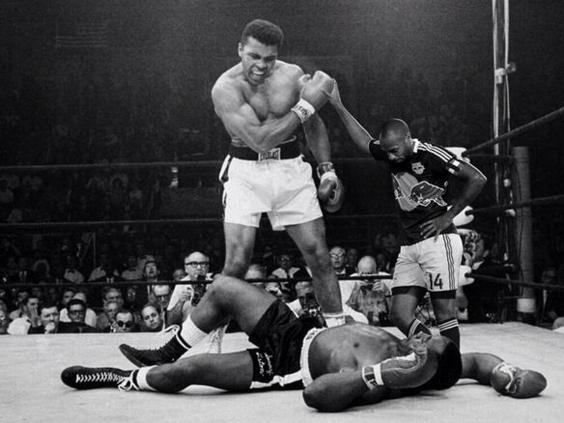 Henry may still have a way to go to amuse Republic of Ireland fans. The France striker handled the ball as he proceeded to score the decisive goal for his country in their November 2009 World Cup play off.
Needless to say he zoomed off around the pitch to celebrate that one.
CLICK HERE TO SEE A GALLERY OF WHERE THE STRIKER HAS BEEN CAUGHT 'HENRYING' AROUND THE WORLD
Watch the goal celebration...