Let's be clear: Thierry Henry did not warrant the build-up. Elvis Presley's comeback from his day job in the Farnborough branch of Asda to grace the Pyramid Stage at Glastonbury wouldn't have warranted the build-up.
But this is Sky Sports, so the two months of Henry's bald bonce plastered over half-page adverts in newspapers, billboards in built-up areas and in every second ad-break from Sky Sports One to Darts is par for the course for the channel which likes to SHOUT about sport. Heck, it is barely halfway through January and they are already trumpeting their transfer-deadline day coverage. Which, let's remind ourselves, is large expanses of time-filling occasionally punctuated by a footballer changing employers.
But back to Henry – whose first assignment as a pundit was to pontificate on West Ham v Hull. Hardly the most glamorous of debuts, but that was clearly the amuse bouche to the main course of the day, Manchester City v Arsenal.
Manchester City 0 Arsenal 2 player ratings
Manchester City 0 Arsenal 2 player ratings
1/22 Joe Hart

England man was left exposed for both goals as his defence endured a torrid afternoon. Almost stopped penalty. Let off when Ramsey blazed over.6

GETTY IMAGES

2/22 Pablo Zabaleta

Quick to snuff out Sanchez before the break but afforded little opportunity to break forward. Probably the least culpable of City's defenders.6

GETTY IMAGES

3/22 Vincent Kompany

First game for a month and it showed. Left himself liable to be punished when pushing into Monreal for penalty. Made couple of important blocks.5

GETTY IMAGES

4/22 Martin Demichelis

Regressed to form of his early City career, making couple of bad mistakes in first half to twice let in Sanchez. Lack of pace highlighted alarmingly.5

GETTY IMAGES

5/22 Gaël Clichy

Former Arsenal favourite has enjoyed a prosperous New Year in advanced role in recent games but made next to no impact against former side.5

GETTY IMAGES

6/22 Fernandinho

Flattened by Koscielny in opening minutes and that seemed to play on his mind. One or two surging runs before being taken off for Lampard.5

GETTY IMAGES

7/22 Fernando

Was nowhere to be seen as Giroud enjoyed freedom to head home Cazorla free-kick and secure the points. Had no answer to mastery of Cazorla.5

GETTY IMAGES

8/22 Jesus Navas

Policed well by Bellerin and let himself down with final decision at times. Did trouble Ospina with one shot and another cross almost found Aguero.6

GETTY IMAGES

9/22 David Silva

Drifted across the midfield behind Aguero without being able to find the way through. Kept ball well but it mostly came to nothing.6

GETTY IMAGES

10/22 James Milner

Jack of all trades but master of none? Used as an emergency striker in recent weeks and had forward role here but had little impact on proceedings.6

GETTY IMAGES

11/22 Sergio Aguero

First start in six weeks and lack of sharpness painfully clear. Improved a little after break but overall made very fitful impact, needs time to find form again.5

GETTY IMAGES

12/22 David Ospina

Colombian kept place ahead and rewarded his manager's faith with a third clean sheet on the bounce. Good stop from Navas but not tested greatly.6

13/22 Hector Bellerin

Replaced the again-injured Mathieu Debuchy and stood up to task well. Did not allow himself to be overawed and diffused threat of pacy Navas.7

14/22 Per Mertesacker

One of his better displays, standing up well to City's attacks and helping unite a changed Gunners defence. Kept Aguero threat to a minimum.7

15/22 Laurent Koscielny

Entered referee's book in the early exchanges after steaming into Fernandinho. Or was it Fernando? Made key block on cross intended for Aguero.7

16/22 Nacho Monreal

Surprise pick ahead of Gibbs but Wenger's gamble paid off and then some. Made the most of Kompany's lunge to win early penalty to set up the victory.7

17/22 Francis Coquelin

Frenchman remained disciplined, screening in front of an unfamiliar defence. Also not afraid to ball up his colleagues on occasion.8

18/22 Alex Oxlade-Chamberlain

Enjoyed sporadic spells in possession on right as City controlled ball. One cross set up Giroud but let down by poor decision making at times.6

19/22 Aaron Ramsey

Lively on first appearance since 9 December but showed some rustiness, blazing over the bar when played through by Giroud. Booked for a cynical trip.6

20/22 Santi Cazorla

Continued fine recent form, opening the scoring from the spot for his fifth in nine games. Faded late on but provided cross for Giroud's clincher.8

21/22 Alexis Sanchez

Made a few penetrating runs and always offered a threat but unable to influence game as much as in recent weeks. Trickery troubled Demichelis. 7

22/22 Olivier Giroud

Impressed with link-up but final ball not up to scratch. Header cleared by Kompany before being allowed acres of space for the all-important second goal.6
He is being paid a reported £4m a year to talk about blokes in shorts which, if nothing else, is a huge amount of pressure to say something decent, in order for Sky Sports to justify the outlay. At this juncture it must be pointed out that we are aware that by writing about Henry's debut, we are doing exactly what Sky Sports wants – that is, to get their channels into the public eye.
But is anyone really going to think in three weeks' time, "I wasn't going to watch Burnley v West Brom, but I will now that Henry's in the studio"? If they are, they need to take a good look at themselves.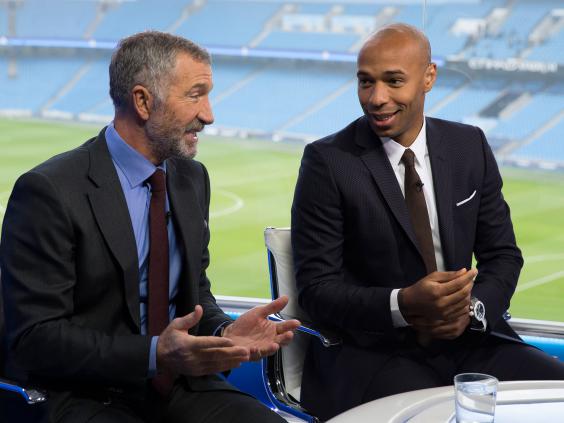 But, if we're honest, he looked immaculate, if a little monochrome, as he appeared to the strains of Goldfrapp's "Ooh la la" (presumably "L'Enfant Sauvage" by the French death-metal band Gojira was unavailable). He had shaved his entire head and it looked as if the make-up people had applied slap to his whole skull in fear of any gloss appearing. Graeme Souness in comparison, sitting next to him all unshaven and creased, looked like a beer connoisseur with a Special Brew specialism.
But far be it for us to conclude that Henry has been brought in merely as eye candy. Less than an hour into his debut, he had already accused Arsenal of having "gone backwards" and had a heated disagreement with Souness about the merits of West Ham's Alex Song.
Then at half-time during the West Ham game he sent social media into meltdown when he appeared to advocate diving by saying, "if I am touched in the box, I  go down". Before you ask, the angry messages were not concerned with Henry's Carry On-style innuendo.
But what we were really waiting for was the preamble to City v Arsenal, when Henry would presumably let rip on his former manager, Arsène Wenger. Guess what? He didn't, although it would have been hard to given the Gunners' performance. The best we'd got was the "gone backwards" quote. The rest was solid, if not world-changing.
But still, he looked nice, even if he didn't quite justify the build-up. Then again, few would. Even Elvis.
Reuse content