It was a good 24 hours for red carpets. In Los Angeles one was rolled out for the high heels of the Golden Globes; in Zurich another was trodden by men more used to wearing studs. Both winners were ultimately given a golden ball.
Thierry Henry has red- carpet presence. While Lionel Messi – wearing a sparkling purple number with matching bow tie that made him look like a compere on a cruise liner – shuffled down the line of cameras trying to explain the remark that he did not know where he would be playing next season, Henry glided. His immaculate tuxedo was styled somewhere between The Great Gatsby and New York's Birdland Jazz Club.
He had left New York, the MLS and the $15m apartment in Soho in the same block where Nicole Kidman and Lenny Kravitz once lived – and where Heath Ledger, the star of Brokeback Mountain, died – bound for the studios of Sky Sports. Henry will find Isleworth, where the satellite company is based, rather less stimulating than New York's coolest district.
This summer, Steven Gerrard will be journeying in the opposite direction to Los Angeles Galaxy. He is 34, three years younger than Henry, and for Henry's  co-presenter, Gary Neville, Gerrard is leaving Liverpool far too soon. Neville thought he had three more Premier League seasons in him.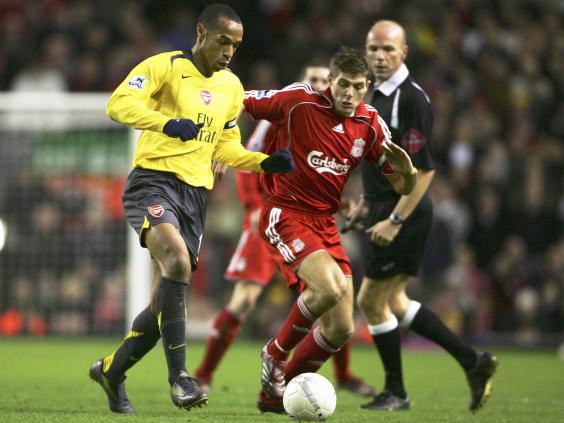 "No, I think he is leaving at the right time," said Henry. "He is clever enough to adapt over there. Saying that, he will arrive at a team that is already in tune. Trust me, Los Angeles Galaxy have been either winning or losing in the final every single year. They are a very good organisation.
"But Stevie G is Stevie G. It makes me laugh when I see people talking about him the way they have recently," said Henry, addressing the charge that Gerrard is a fast-fading force at Anfield, who is getting out just in time.
"As a midfielder he was – along with Paul Scholes – unstoppable. I would have loved to have played alongside him. He is the dream for any striker – ask Torres, ask Suarez, ask any striker who has played alongside him. And he still does it; that through ball, either along the ground or in the air."
Henry has first-hand experience of leaving a club that appears to revolve around a single player. He stayed at Arsenal perhaps a season too long before moving to Barcelona in 2007.Arsenal did not,  initially, appear to miss him and had Eduardo da Silva, the man Arsène Wenger brought in  to lead their attack, not broken his leg horribly at Birmingham, they might have won the  Premier League in 2008.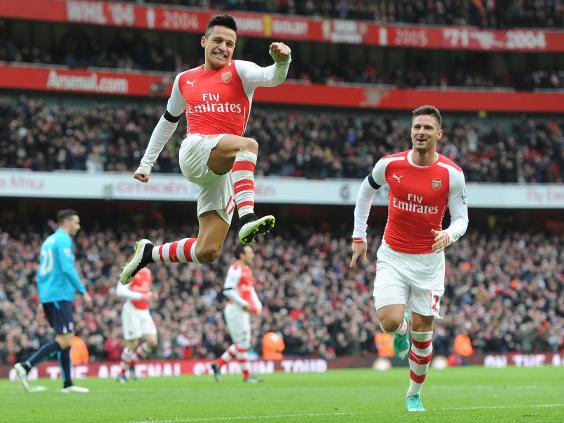 Nobody is suggesting Liverpool will find life without Gerrard nearly so smooth. Henry believes they should not even try to find a similar midfielder.
"Listen, you will never replace Steven Gerrard," he said. "Someone else will come in to do something different but you will not replace Steven Gerrard. You cannot directly replace what he does."
Henry's first match as an analyst will be Sunday's encounter between Manchester City and Arsenal. Last Sunday, he was in the stands at the Emirates, watching Alexis Sanchez, whom Henry reckons to be Wenger's best signing since he left the club, demolish Stoke.
"I am trying to think if there has been a better signing in the last five or six years," he said. "Arsenal were looking for a player who could deliver on a daily basis and they have found one.
"He sees the game brilliantly as you saw on Sunday. He doesn't need a lot of opportunities to put the ball in the net and that is very important. He is always going to score goals but it is his  all-round game I am impressed with. That has no price. I, like any Arsenal fan, was waiting to have a player like him. Finally, we have one."
Henry rejects the suggestion that Arsenal will become over-reliant on the Chilean, pointing out that Sanchez did not play well against West Ham and Queen's Park Rangers recently, both games that Arsenal won. But Sanchez cannot  take them back to the  Premier League's summit unaided. "That is going to take a team effort."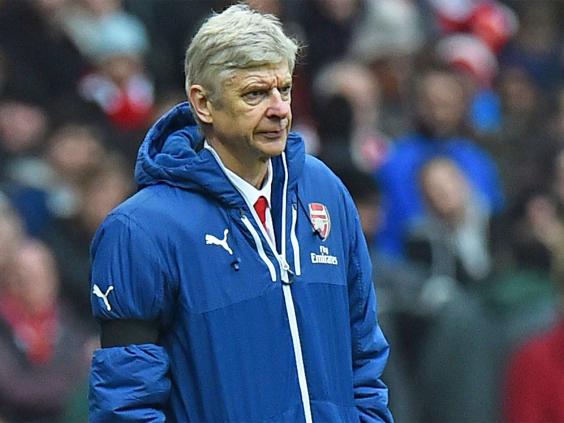 As an Arsenal fan, Henry was horrified by the actions of other Arsenal fans, those who jostled and booed Wenger at Stoke railway station and those who took a banner to West Bromwich Albion calling for his resignation.
"I thought it was a joke when I first heard about it," he said. "You can be upset, I totally understand that, but when I saw what had happened at Stoke it was totally unnecessary. Fans do have a voice but that was out of order. But in the game we have at the moment, that, unfortunately, is the way it is."
Arsenal offer new deal to in-demand Akpom
Arsenal have offered Chuba Akpom a new three-year contract as they try to keep  the striker at the club. The 19-year-old, who has made three first-team appearances this year, has six months remaining on his Arsenal deal and is therefore allowed to speak to interested foreign clubs about a pre-contract. Feyenoord, FC Twente and Borussia Dortmund have all made Akpom offers to join in the summer.
There is also interest from Premier League clubs in signing Akpom when his contract is up but, in the meantime, he will stay at Arsenal for the rest of the season after the departure of Lukas Podolski and the loan of Yaya Sanogo to Crystal Palace.
Arsenal are close to completing a deal for Legia Warsaw's 17-year-old holding midfielder Krystian Bielik. Hamburg were also interested but Arsenal were close to offering the £2.5m asking price.
Reuse content