When David Moyes sits down in the dugout at the Riazor Stadium this evening, he will feel that mixture of excitement at a new challenge and nerves for what it might hold – while back in Britain, the home-grown management fraternity will look on with great interest. My hope is that he makes a big success of the job at Real Sociedad.
Partly because, as a manager, I would like to see a fellow coach get his career back on track. And partly, because I am selfish. I would love to see a British manager thrive in Spain because it would begin to change the way in which we are all viewed in a European game that often thinks the vast majority of British managers are not worth the trouble.
Football is a game of perception. A successful season for David in Spain will change a great deal about the way that he is perceived, and also the way British coaches are perceived. Look at the credibility that Dutch coaches have. It has been earned over the years by their track record and their willingness to work all over the world. It also plays in their favour. Rightly or wrongly, they are a trusted brand, whom club chairman are comfortable employing.
The attitude towards sacked managers seems to be very different in Europe to the one in the United Kingdom. Here, if a manager loses a job we are suspicious of him. What has he done wrong? Is he damaged goods? In Europe it is simply taken as part of the development process, and rightly so. Some of the best managers in the business have been sacked: Sir Alex Ferguson, Fabio Capello, Rafa Benitez, Carlo Ancelotti – even Jose Mourinho was dropped by Benfica, his first job, after a presidential election.
The career of Luis Enrique at Barcelona is a case in point. He started off at Barcelona "B", succeeding Pep Guardiola. Then Franco Baldini took him to Roma, where things went badly and he left after a season. Enrique had a year at Celta Vigo and then went back to Barcelona as manager last summer. Yet all along it felt that he was being groomed by Barça to be their manager, no matter what. That what happened to him at Roma was never going to count against him in the long term.
There was no stigma attached to Enrique. What Barcelona had seen in him as a coach in charge of their second team, and the fact that they valued him as a former player, was not about to be changed by one bad season. He knows the philosophy of the club. It does not guarantee he will be a success at Barcelona, but it is evidence of long-term thinking.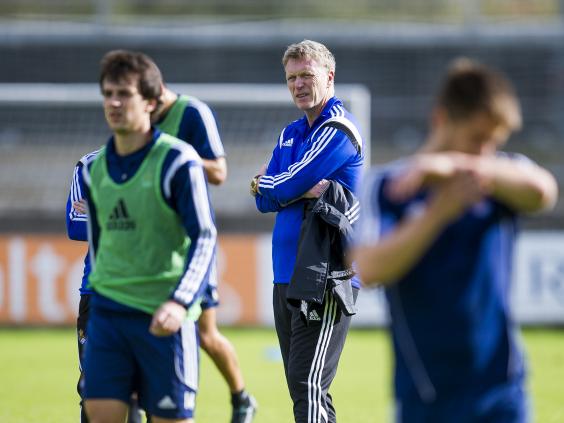 David Moyes had one bad season. If anything he will have learnt more from the experience of that nine months at Manchester United than any period in his career. The clubs he manages from now on will benefit from that. Steve McClaren had come out of a difficult time when he joined FC Twente, and he won a Dutch title there.
The language barrier will be a problem for David, and that is often what holds British coaches back from managing in countries like Spain, where there is little English spoken. Obviously, that is hardest when you are on the training pitch. The only way to communicate is to be ultra-thorough, to stop play and move players around. It means getting a lot of eye contact and a real intensity about how you work.
During my time at Tottenham I organised Spanish lessons for myself, and my coaches Les Ferdinand and Chris Ramsey. For our Spanish teacher, I am not sure it was the most gifted class she has ever taught but at least we tried very hard. We felt it was important because the club had so many Spanish-speaking players. We learnt some key football words, although we are a long way from being fluent.
Brendan Rodgers is an excellent Spanish speaker and that will have benefited him a lot in dealing with his Spanish-speaking players. David will use an interpreter at Sociedad for the time being, but that only gets you so far. It does not always allow you to convey the emotions that you need to connect with players: urgency, sympathy, anger.
There are lots of other details that need to be taken into consideration when you make the kind of move that David has. They might seem trivial but they turn out a lot more important, day to day. An 18-month contract is fine if you happen to be a young, single coach who can up and leave quickly. When you have young children there are huge considerations. Do you uproot them from schools, given that you could be out of a job in a year and a half?
Since I left Spurs I have had a few inquiries from clubs outside the United Kingdom. All of them were interesting, although none were quite right. There was one which, for reasons of location, generated a lot of excitement among my wife and four daughters. In fact, I think they may even have begun packing at one point. In the end, I decided against it but if I was to take a job overseas then it would be only right that they are a key part in my thinking.
I believe David's children are grown-up, but that still means he has to leave close family behind. He is very close to his father, who I would often see with him scouting games. It is difficult to leave behind people who have been such an important part of your life. Again, these may sound like small issues, but they add up to a lot more.
I admire David for going it alone without an assistant. McClaren did that in the Netherlands, and Roy Hodgson, my old boss, has done it at many of the places that he has worked – including Blackburn Rovers. Roy's approach has always been to take on the existing staff and educate them in the way that he wants things done. He is very good at it. To do it well you need a certain type of confidence and you need the time to develop people.
As for the Spanish league itself, I wonder if David will feel that it has the intensity of atmosphere he is used to in the Premier League, especially in games against the teams lower in the league. I have watched a lot of it in person over the years, especially at Malaga. I have travelled all over Spain trying to find suitable teams to place loan players from Tottenham, and watched those players perform, and my feeling is that outside the top sides it lacks that edge you get in Premier League football.
At the smaller clubs in Spain, the crowd is very civilised. Going to the game, especially the late kick-offs, feels like a nice thing to do in the evening. English football is different. For the fans the game is the event that the whole week leads up to. You could go to Leicester City v Sunderland today and there will be an intensity about that match you would not see at the equivalent in Spain.
I am fascinated to see how David gets on, to see what kind of style he develops in his team. Sociedad are 15th in La Liga, but I know David will have assessed their strengths carefully before taking the job. He must be very confident they are strong enough to survive. I wish him all the very best in climbing that league.
Reuse content