The two biggest moves of my career as a footballer were mid-season – in February in the days before the transfer window – and my abiding memory of both was how much I wanted to make a good impression and get into the team quickly. Most of the focus in January nowadays is on the clubs, and who they want to sign – what gets overlooked is how a new player adapts.
The best January signings tend to be those made with the long-term in mind – like Nemanja Vidic and Patrice Evra. Luis Suarez came good the following season for Liverpool. Daniel Sturridge hit the ground running at the same club. Christophe Dugarry had an immediate effect at Birmingham City. There are many who sank without trace. For the players themselves, the challenge is to integrate quickly and make sure they are in the team from the start.
My move from Norwich City to Blackburn Rovers in February 1992 involved me dropping down from the old First Division to the Second Division to join Rovers, who were pushing for promotion. I had scored a few goals from midfield that season for Norwich and Derby County were keen to sign me. I went to meet their manager, Arthur Cox, and agreed in principle to join Derby.
When I got home, I was called by Kenny Dalglish (I am pretty sure those were the days before even professional footballers had mobile telephones) and that changed the picture altogether. It did not take long for Kenny to sell me the dream. Funded by Jack Walker, Blackburn wanted to be league champions and the presence of Kenny there as manager was a major draw for any footballer.
A little while after I had taken the call from Kenny, Arthur Cox rang me back. "You've had the big man on, haven't you?" he said. I admitted that Blackburn's offer was very tempting. They were battling with Derby for promotion to what would be the first ever Premier League. I will never forget what Arthur said to me that day: "If you were my son, I would probably tell you to sign for Kenny."
I joined Blackburn desperate to impress, but I had a hernia that needed operating on at the end of the season and I was struggling. I played very little in the end of that season in the Second Division as the team dropped into the play-off places. If you had said to the Blackburn fans then that I would end up as the club captain, I don't think they would have believed you. They weren't too impressed.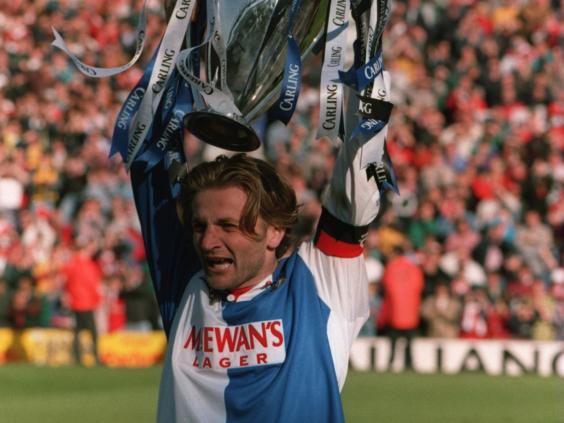 Instead it was the players whom Kenny had inherited like Gordon Cowans and Mark Atkins, two excellent footballers, who got Blackburn up. Blackburn beat Derby County in the play-off semi-finals and, before the game at Ewood Park, Arthur Cox and the squad checked into the same hotel in Preston as I was then living in. I bumped into them in the lobby. The transfer had been one of those Sliding Doors moments. I could so easily have been playing for them.
When I joined Spurs seven years later, I went to meet George Graham at his home in Hampstead and he told me what the squad was like, and what he wanted from me. He wanted me to be a leader in the dressing room and help him get the best out of the squad.
When you join a new club, the differences in approach are immediate. At Blackburn with Jack Walker it was all about the players. He asked us all the time, "What do you want? What do you need?" It was all about winning matches. If we didn't fancy doing something, we didn't do it. At Spurs it was much stricter. If you were down to make an appearance on behalf of the club, you had to do it.
At Blackburn, they never even changed the shirt design the season after we won the Premier League in 1995. Most clubs would have seen that as the ideal opportunity to launch a new shirt to cash in on the good feeling among the fans. Perhaps it should be admired that they did not. At Blackburn, that kind of thing was never important. Blackburn was the best club of my career, because of what we won. Spurs were the biggest.
At Spurs, our chairman was Alan Sugar up until 2001, when Daniel Levy took over. I liked Sugar. You knew where you stood with him. In an interview after he stepped down as chairman he said that he regarded all footballers as "total scum". I recall a similar comment when he was still Spurs chairman and we used to joke with him about it at the time. Things like, "Scumbags coming through!" when we walked past him in a corridor. He always took it well.
The biggest preoccupation when you join a new club is impressing the manager and your new team-mates. You have to gain their respect because the manager has brought you in to improve the team. As a new signing, you have an advantage. The manager's credibility is bound up with your own, so you know he is going to give you enough chances to make an impression. Equally, when he brings in a new player in your position, you know you have a battle on your hands to keep your place.
Over the years I saw lots of players come in and struggle to make an impression. One who went on to have a fantastic career was Kevin Davies. He was signed by Blackburn at 21 from Southampton for £7.5m, a big fee in those days. It just did not work out for him but you could see he was a good player. There were others, like the Danish international Per Pedersen, who never quite made the grade in English football.
I will never forget the Blackburn team-mate who found out what Alan Shearer was earning and went in to see Jack Walker to ask for a similar pay rise. He later told us what Jack told him. "Of course, you can have what Alan is on," Jack had said. "Just as soon as you start scoring 30 goals a season too".
For all but a very few players, moving clubs is one of the defining parts of their career. How quickly they settle in goes a long way to defining how it will work out in the long-term. Don't underestimate the challenge of having to walk into a new dressing room full of big reputations and big characters, even for the most experienced professionals.
Despite all the controversy, you'd want Costa at your club
Every top club, including Tottenham, scouted Diego Costa when he broke into the Atletico Madrid first team. What a good player. Not the quickest, not the greatest technically but his will to win, his desire to score goals, are fantastic. He scores scruffy goals. He affects the game and he is a winner. It is no coincidence he has played in winning teams at Atletico. For all that has happened this week, you would want him at your club.
Eight points would be a huge mountain for City to climb
I see Saturday's game between Chelsea and Manchester City as a game City cannot afford to lose. I think eight points would be a big gap for this stage of the season, and one that is difficult to close. You might make up some of it, but not all of it by the end of May.
Reuse content