Handling the maverick talents has always been one of the big challenges that face a manager, and I saw a few of them during my playing career. They require a little more leeway when it comes to the hard and fast rules that apply to the rest of the squad – but in return they have to weigh in with the match-winning performances that make all the difference.
Getting that balance right is a very difficult question for a manager and I guess Brendan Rodgers is wrestling with it now with Mario Balotelli. The problem with Balotelli is that if he requires that special treatment then he is not delivering on his side of the bargain to win matches for Liverpool.
As a manager you know that looking from the outside on players and squads it is impossible for anyone to get a true measure of the situation. Having been in that position myself, I know that no one can truly understand the challenges that face a manager.
Throughout my career there were always players who required handling differently to the rest of us, and it was the same last season at Tottenham.
When I was a player at Spurs, David Ginola was our potential matchwinner but there were times when he didn't do the tracking back that George Graham wanted him to do. My feeling was that you have to play to the strengths of a player like that and look to what he can do, rather than what he cannot, or will not.
When David was in those moments when he was left out the side and things were not working out for him, I used to remind him of his effect on opposing teams. I told him that were his name not on the team-sheet when it went into the opposition's dressing room, it would give them an immediate lift. That told you everything you needed to know about how he was regarded.
At the end of my playing career, when I won the Championship with Portsmouth, there were times when Paul Merson would win games for us on his own. By his own admission he was at a difficult stage of his life off the pitch and as a result Harry Redknapp would give him the leeway to do the things he needed to get himself right. It was not a privilege afforded to every player, but Paul had earned it.
Liverpool 0 Real Madrid 3 player ratings
Liverpool 0 Real Madrid 3 player ratings
1/22 Liverpool: Simon Mignolet

Could do nothing about the first two goals but the third was a defensive mess. Made one very fine save from Cristiano Ronaldo - 6/10

2/22 Glen Johnson

If it was not Ronaldo sprinting down Real's left, it was full-back Marcelo, adding up to a difficult night for Johnson, who also allowed Karim Benzema a free header for the second goal - 5

3/22 Martin Skrtel

Beaten by the brilliance of Ronaldo for the first goal then outmuscled by Pepe for the third - 5

4/22 Dejan Lovren

This was a thoroughly uncomfortable night for the Liverpool defence as a whole, but Lovren fared a little better than his team-mates - 6

5/22 Alberto Moreno

An early threat going forward but given a tough time by Real's attacking triumvirate - 5

6/22 Jordan Henderson

Worked hard but gave the ball away too often as Real overpowered Liverpool in midfield - 5

7/22 Steven Gerrard

Began brightly and tested Iker Casillas with a fine shot in the 11th minute. Thereafter occupied trying to stifle Real's attacking threat - 6

8/22 Joe Allen

Had one of Liverpool's better efforts on goal in the first half but outclassed in midfield - 5

9/22 Raheem Sterling

Looked Liverpool's most dangerous attacker, with his pace troubling Real, but too often had to try to do the whole lot himself - 6

10/22 Mario Balotelli

Retained despite heavy criticism but very ineffective and hauled off at half-time - 4

11/22 Philippe Coutinho

Looked bright to start with before fading as Real took over. Hit the post with a fine effort at the end of the first half before being substituted in the second - 5

12/22 Iker Casillas

The veteran Spain goalkeeper was making his 143th Champions League appearance, equalling all-time record holder Xavi. His form has been shaky but dealt with the few threats that came his way very capably - 6

13/22 Alvaro Arbeloa

The former Liverpool full-back enjoyed a good tussle with Sterling and then Lallana - 6

14/22 Raphael Varane

Not too much to worry about for the young French defender - 6

15/22 Pepe

Set up the third goal with his persistence and had a comfortable night in defence - 6

16/22 Marcelo

A real presence in Real's attack and Liverpool did not manage to exploit the gaps he left - 7

17/22 Isco

A fine, energetic performance from the midfielder - 7

18/22 Luka Modric

Instrumental in Real's control of the midfield - 8

19/22 Toni Kroos

Immaculate in front of the back four and set up Benzema's goal with a fine cross. Booked for fouling Sterling - 8

20/22 James Rodriguez

Had to be patched up after an early blow to the head and had done little until his lovely chip set up Ronaldo - 7

21/22 James Rodriguez

Two goals for the Frenchman and it might have been more - 8

22/22 Cristiano Ronaldo

The former Manchester United man, not surprisingly, was greeted by plenty of boos. He had scored more goals this season than Liverpool's entire team and it took him only 23 minutes to add another sublime strike. A constant threat and substituted with Saturday's Clasico in mind - 8
When I took over at Tottenham last year, my brief from the club was to win games and play more attractive football. I looked at the assets we had and it was obvious to me that Emmanuel Adebayor was the best option, even though for much of the previous weeks under Andre Villas-Boas he had been training with my development squad and not the first team.
I never had a moment's trouble from Ade. The deal was that I would treat him with respect and vice versa. When he had been training with the development squad away from the first team, he had always been a good professional. I told him then that for the young lads he was working with it was a privilege to train alongside him and, in return, he needed to help show them how to behave and work.
When you bring a player like that into the first-team squad – or in Ade's case, bring him back into the squad – it is important that he is accepted by the group. The same goes for Balotelli.
Normally, once a player is appreciated and valued by his team-mates, that filters through to the crowd and they feel the same way about him.
In Ade's case, he was always a strong personality and it was not long before he was fully integrated back into the first-team squad. He was always a very hard worker and extremely fit.
You wonder where Balotelli is in that process. He needs to earn the acceptance and respect of his team-mates and that is not always a given. I have to say that on Wednesday night I felt there was a bit more of a buzz about Liverpool after he was substituted at half-time.
I could understand why Brendan went for Balotelli. At a fee of £16m, it is not a financial risk. Liverpool could recoup that in the next transfer window if they wanted. What is a risk is how he affects the dynamic of the group, which I am sure Brendan will want to protect. Players like Balotelli are under the greatest scrutiny. They cannot compensate for a poor performance by running around all over the pitch. That is just not what they do.
If they have a quiet game it is there for everyone to see and because so much is expected of them, then the disappointment is that much greater if it is felt that they do not deliver.
Unfortunately for Balotelli, he is following in the footsteps of Luis Suarez, one of the true world-class players in the game. Balotelli, it's plain to see, is not on that level. He is capable of good moments in games, but playing for Liverpool, and playing in the Champions League, you have to have more than just moments. You need to change games.
Over my career I encountered a lot of players who thought they were special and deserving of different treatment when in fact they were not good enough to merit it. Judging who justifies it, and how much slack they can be afforded without damaging the group, is the big challenge for any manager.
Citizen Kane's still working towards a happy ending
I was delighted to see Harry Kane score a hat-trick in the Europa League on Thursday night (although the goalkeeping might take some more work). Harry is a great example to young footballers of the kind of ability and character you need to make it in the game.
He has had people doubt him all the way. Even now I get scouts saying to me: "Yes, but when is he going to make it?" My reply is simple: he is making it.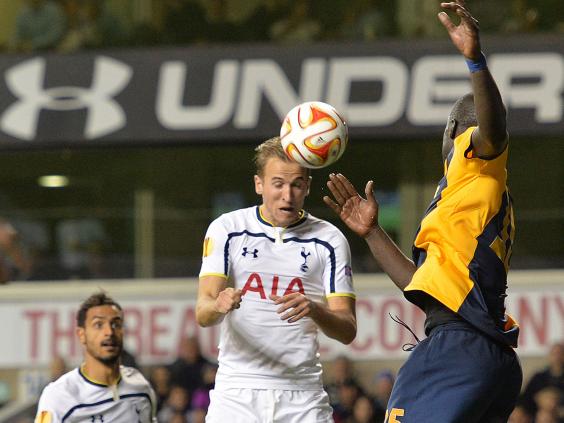 He is Tottenham's top goalscorer this season. His record for England Under-21s is fantastic. What more do they want at this stage?
Harry's attitude is second to none. He has worked on his finishing, on his physique and he is a very intelligent lad. When you give him instructions he listens, and he is not afraid to ask if he's not sure.
He is a local boy from Chingford who has been at White Hart Lane most of his life and he has always had that single-minded determination that he was going to make it at the club.
I started picking him ahead of Roberto Soldado last season because Harry's performances in training left me no option. He was outstanding. When I put him in he scored three in three games. In those games when he hadn't scored after a half an hour, you could hear the crowd singing Soldado's name. Not that it ever bothered Harry. He backs himself all the  way and now he is among the top young English strikers.
Reuse content